Covid in Scotland: How do the rules compare to last year?
By Paul Hastie & Marc Ellison
BBC Scotland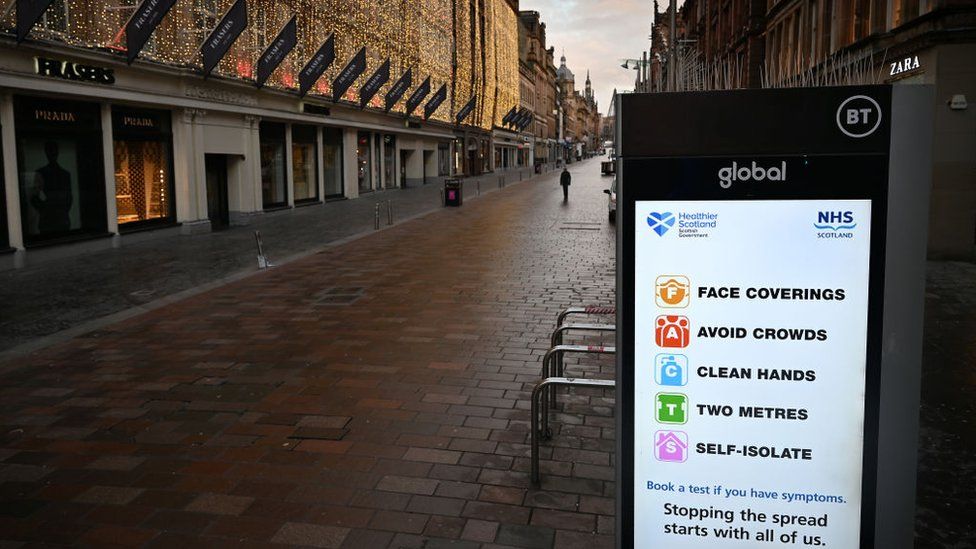 As Scotland's hospitals fill with Covid patients and the daily-registered death toll passes 5,000, there are concerns the "stay at home" message has not had the same impact it did during last year's lockdown.
Some of the restrictions announced by Nicola Sturgeon in early January have now been tightened even further.
Last March outdoor exercise was allowed only if people were alone or with someone from the same household. It was initially limited to once a day, before this restriction was eased in May 2020.
All exercise had to be done close to home. No mixing with other households or other any outdoor relaxation was allowed.
Now up to two people from separate households can meet for outdoor sport or exercise. Children under 12 years old do not count towards this number.
There is no limit on how many times you can go out to exercise each day, but you should still stay close to home and avoid crowded areas.
Prof Jason Leitch, Scotland's clinical director, says police enforcement is used as "last resort" against people who break the rules.
These rules are not expected to change in Scotland. However, the UK government has warned that exercise restrictions may be tightened after "large groups" have flouted their own two-person rule.
Last March non-essential shops were ordered to shut along with cafes, bars, restaurants and cinemas. Supermarkets and pharmacies were among premises which could stay open.
In July a new law made it compulsory to wear a face covering in shops across Scotland.
All pubs, restaurants and cafes must remain closed in Scotland's level four areas - although they can still serve takeaway food. The definition of "essential retail" has also been narrowed, forcing homeware shops and garden centres to close once again.
Rules on click and collect will be tightened from 16 January. The service will be limited to retailers selling essential items and access inside premises for collection will not be allowed.
Takeaway customers will also no longer be allowed inside premises for pick-up from 16 January. Businesses will have to operate from a serving hatch or doorway.
Schools and nurseries were closed last March, with First Minister Nicola Sturgeon saying there were too many absent staff to continue.
Many teachers prepared homeworking packs and some online learning. Parents and pupils had to get used to home schooling.
Children of essential workers and vulnerable pupils were looked after by staff in childcare hubs.
Schools began the January 2021 term largely via online and remote learning.
As before, only children of key workers and vulnerable children are allowed in classrooms - but this time there is more focus on learning than simply child care.
The number of pupils attending school is much higher than last year.
Prof Leitch suggests this may be because Scotland has "too much open" in the rest of society with working adults in greater need of childcare. He said a "sweet spot" needs to be found to keep children and adults safe.
The Scottish government hopes pupils can return to the classroom in February, but this plan is to be kept under review.
Where are Scotland's Covid hotspots?
See where coronavirus case rates have been rising in Scotland with this interactive map.
People were told to stay at home except for essential shopping for food or medicine, going out for their daily exercise, or to care for the vulnerable.
Employers were asked to make provisions for staff to work from home. Wearing of face coverings on public transport was not initially required, but became mandatory in Scotland in June.
It is a legal requirement not to leave home for anything other than essential purposes. A "reasonable excuse" can include essential shopping, exercise or caring responsibilities.
People should only go out to work if it absolutely cannot be done from home. It is illegal to travel between Scotland and other parts of the UK unless the journey is essential.
There are no expectations of enhanced travel restrictions, as the rules are already "pretty tight" says Prof Leitch.
"We have a stay at home law, it is illegal to fly overseas, it is illegal to travel, it is illegal to leave your home without a reason to do so," he added.
The latest contact tracing figures from Public Health Scotland show that since November, shops have accounted for 19% of the places visited by people the week before their positive test.
While these figures don't tell us whether people contracted the virus in a specific location, they do suggest the most likely sources.
The number of cases traced to shopping-related locations increased by 83% between 27 December and 3 January.
Other large increases were seen when:
Visiting friends (328%)
Attending private events (177%)
People worked in the retail sector (154%)
Working in food production and warehouses (148%)
Accessing personal care services (125%)
In your own home (124%)
Business and construction
In March "essential" was the key word for all employers. Businesses were told they could only stay open if what they do was "essential" to the effort of tackling Covid or the wellbeing of society.
Nicola Sturgeon said building sites should close unless they involved work on an "essential building" such as a hospital. Visits from tradespeople were allowed only for "essential repairs".
Outdoor workplaces, construction, manufacturing, veterinary services and film and TV production can remain open. Employers have been told to plan for the minimum number of people needed on site to operate safely and effectively.
Home visits by tradespeople are still allowed for essential maintenance. This guidance is being put into law from 16 January.
Prof Leitch says the Scottish government continues to examine rules around what constitutes essential and non-essential construction.