Covid in Scotland: NHS staff shortages 'major problem'
A shortage of NHS staff could prevent the opening of the NHS Louisa Jordan to Covid patients if capacity is exceeded elsewhere, a leading doctor has said.
President of the Royal College of Surgeons in Edinburgh, Prof Mike Griffin, said the increasing numbers off work was a "major problem".
The NHS Louisa Jordan is currently being used for outpatient services.
It was not used for Covid care during the first surge of the pandemic and has since been made available for outpatient services, such as orthopaedics, plastic surgery and dermatology.
It is also being used for Covid vaccinations.
"Particularly in Glasgow and Lanarkshire, there's been significant increases recently because of the new variant. Without any doubt, that new variant is increasing transmissibility, and therefore increasing infection rates and increasing hospital admissions," he said.
"But it's not just the admissions that's the problem. Our doctors, surgeons, nurses and everyone are really working extremely hard - but there is an increase in absenteeism because of illness and because of self-isolation amongst nursing staff."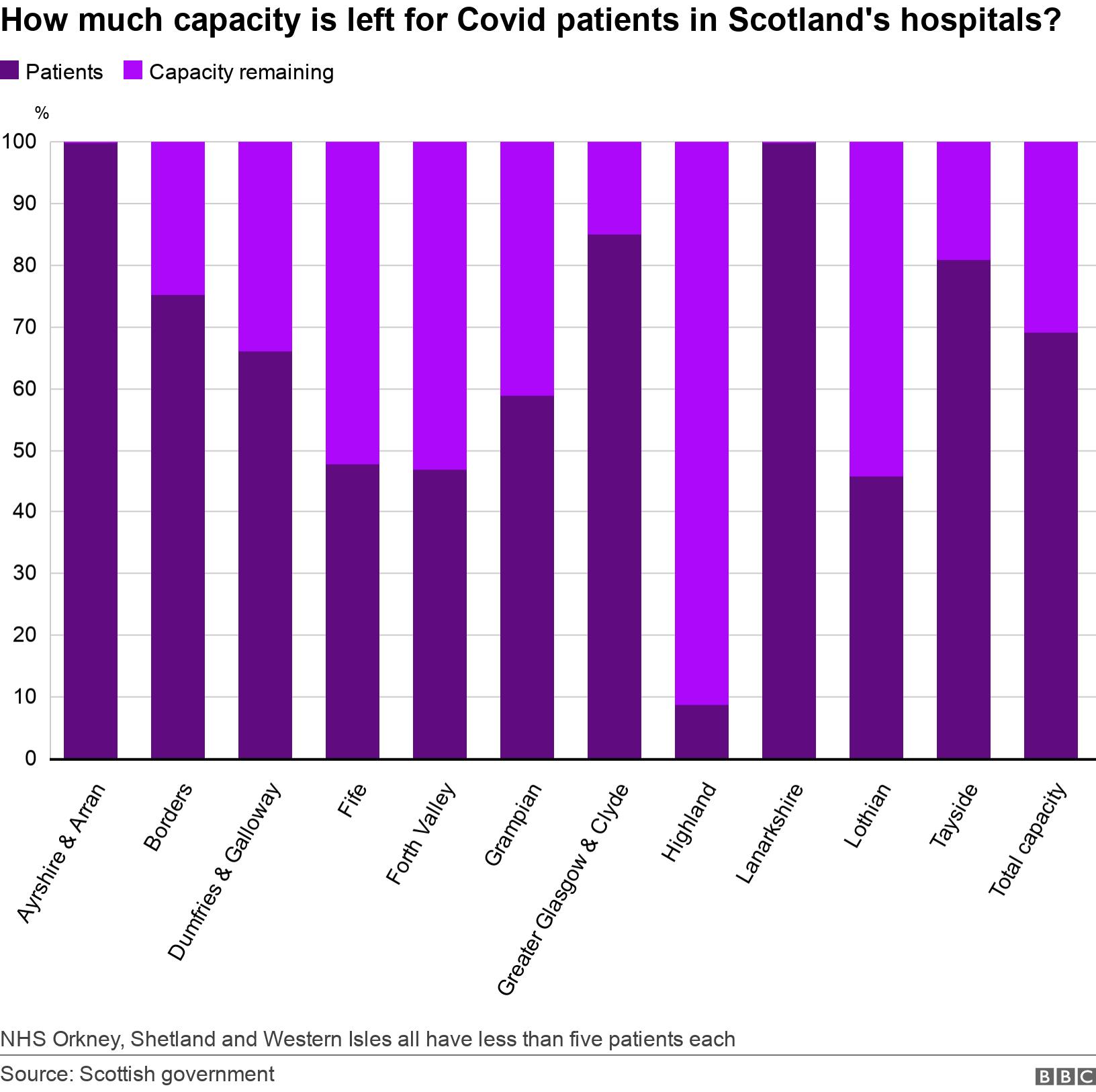 Two of Scotland's health boards - NHS Ayrshire and Arran and NHS Lanarkshire - are currently over their capacity for Covid patients.
The NHS Louisa Jordan has capacity for 1,000 Covid patients if it is needed, but Prof Griffin said that using it as a Covid facility could be dependent on retired or former staff returning to work for NHS Scotland.
"Opening the Louisa Jordan as a Covid institution without staff is impossible," he said.
"It is equipped to be able to do it. And if the staffing is there, if we get returners and so on, then perhaps that might happen."
Better treatments
The number of Covid patients in hospital across Scotland is now higher than it was in April, although the numbers in intensive care are lower.
Numbers initially appeared to be declining in November, but never reached low levels and began to climb sharply again at the end of the year.
Prof Griffin added that it was likely that better treatments for Covid patients were also reducing mortality and so keeping those patients in hospital for longer.
This is down from a capacity of about 3,600 in the autumn because of additional seasonal pressures on the NHS, including weather-related issues and increased staff absence.
Scotland's national clinical director, Prof Jason Leitch, accepted that having around 1,500 patients in hospital with Covid had forced the cancellation of procedures such as cataract operations and hip replacements.
But he said that ability to "flex" within the system meant that the NHS remained within capacity.
Prof Leitch also pointed to the situation in England where there have been reports of limits being put on the amount of oxygen that patients can receive and some intensive care patients having to be treated in non-ICU beds.
Speaking at the first minister's coronavirus briefing, he said: "People shouldn't be scared that the health service is full or overwhelmed - it isn't.
"It is fragile, and you just have to look a few hundred miles south to see what happens when it is even more fragile.
"So we need to avoid that as much as we can in Scotland."