Covid in Scotland: All over-80s to be vaccinated by February
Everyone aged 80 or over in Scotland will be given the Covid vaccine by February, the health secretary has said.
Jeane Freeman also said care home staff and residents, as well as front-line health and social care staff would be vaccinated in the next few weeks.
As of Sunday, 163,377 Scots had been given a first dose of vaccine.
Ms Freeman told BBC Scotland that just under 560,000 people will have been vaccinated by the end of the month.
The Oxford vaccine will be available at more than 1,100 locations from Monday.
Scotland has been given an initial allocation of more than 500,000 doses to use in January.
Ms Freeman told BBC Radio's Good Morning Scotland programme: "We intend that by the end of this month, the very beginning of February, we will have vaccinated all residents in care homes and staff, all front-line health and social care workers and all those aged 80 or over.
"So that's just under 560,000. We've already vaccinated about 70% of people in care homes and about half of the health and social care workforce."
She said the Scottish government was on course to match the UK government's commitment to offer a vaccine jab to everyone in the top four priority groups by the middle of February.
The health service will be able to vaccinate people as supplies of the jabs arrive, she said, with over-80s being contacted by their GPs.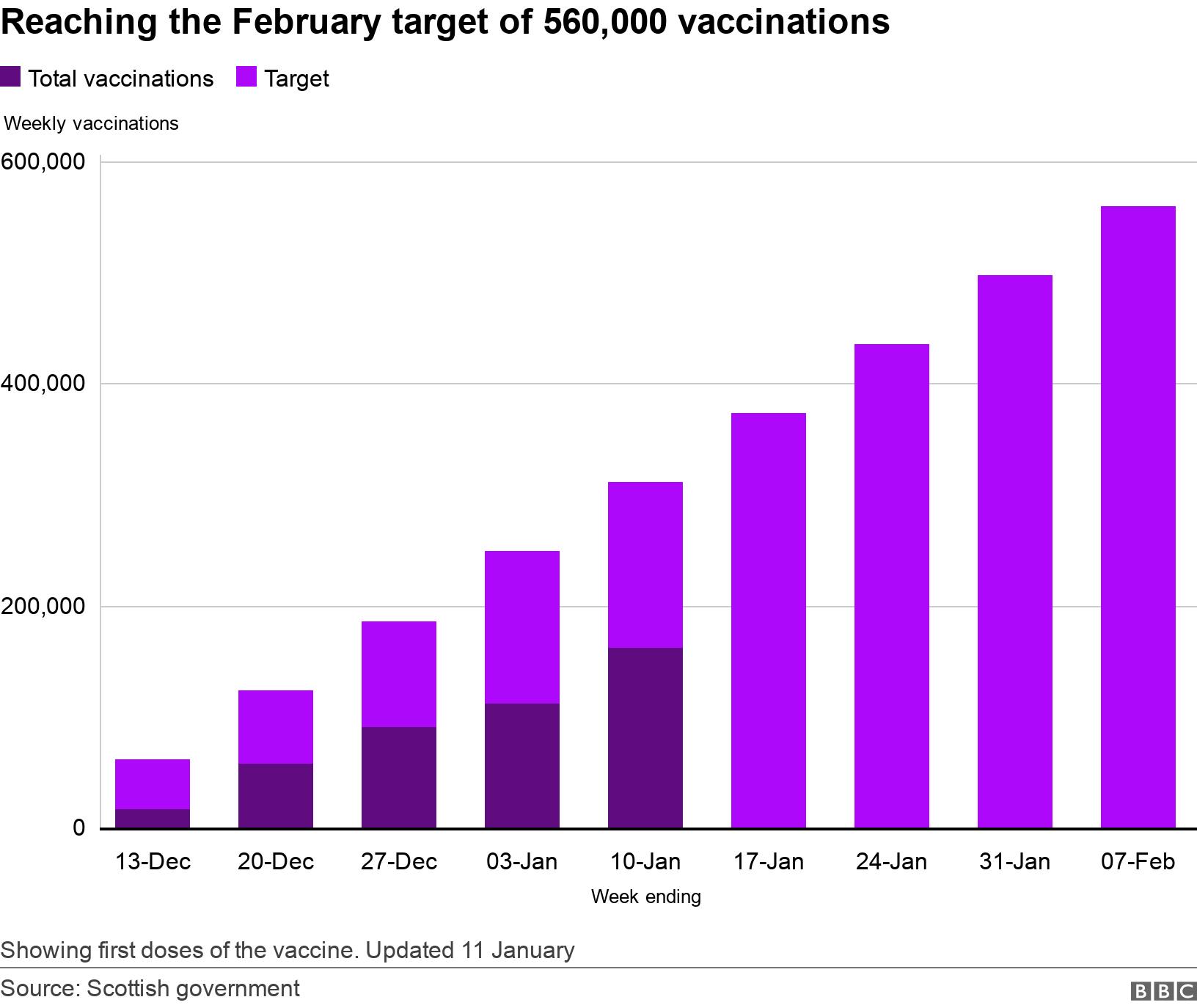 The government has now started publishing vaccination figures on a daily basis, with 163,377 Scots having been given a first dose as of Sunday.
First Minister Nicola Sturgeon said the health authorities in Scotland now had enough supplies to give jabs to all over-80s over the coming four weeks.
This had been expected to be complete by mid-May, but Ms Sturgeon said she was "very, very hopeful we will be able to accelerate that to an earlier point".
A total of 1,664 people are in hospital being treated for Covid-19, the highest number since the pandemic began - with Ms Sturgeon saying the country was in a "dangerous situation".
The Oxford/AstraZeneca vaccine has already been administered in the Tayside, Lothian, Orkney and Highlands health board areas but this week will see it being used at vaccination centres across the whole country.
Recent figures suggest a slight fall in the average positivity rates for Covid in many parts of Scotland, but pressures on the NHS have intensified.
The number of patients in hospital in with Covid rose to new highs at the weekend, and Sunday saw a sharp increase in the number of patients requiring treatment in intensive care.
The majority of Scotland's schools are closed until at least February with pupils now learning from home as the new term begins this week..
Only vulnerable pupils and the children of key workers will receive face-to-face teaching.
Local authorities said schools were better prepared to roll out digital learning than they were during the first lockdown.
But one parents' group has raised concerns about "equal and fair access to home learning".