Covid in Scotland: Tougher virus restrictions for three council areas
Three Scottish council areas are to have tougher coronavirus restrictions imposed from Friday in a bid to reverse rising numbers of cases.
Aberdeen, Aberdeenshire and East Lothian will all move from level two to level three of the five-tiered system.
It means people will no longer be allowed to travel outside of their own council area unless it is essential.
Pubs, cafes and restaurants will have to stop serving alcohol and must shut at 18:00.
And indoor entertainment venues such as cinemas, bingo halls and amusement arcades will also have to close.
All of the country's other 29 council areas will remain in their current levels, including Edinburgh - which had been pushing to be downgraded from level three to level two.
It means that 80% of Scotland's population - about 4.35 million people - across 21 local authorities will be living under the level three rules when the changes come into force at 18:00 on Friday.
Only four - Angus, Argyll and Bute, Falkirk and Inverclyde - remain in level two.
However, Argyll and Bute is likely to move down to level one next week - and people living on the outer Argyll islands such as Islay, Mull and Iona will be able to meet in houses in groups of up to six from two households from Friday of this week.
The Scottish Borders, Dumfries and Galloway, Highland, Moray, Orkney, Shetland and the Western Isles are all already in level one, with no councils currently in the lowest level zero tier.
All of the levels will be reviewed again next Tuesday as a precaution ahead of the festive period.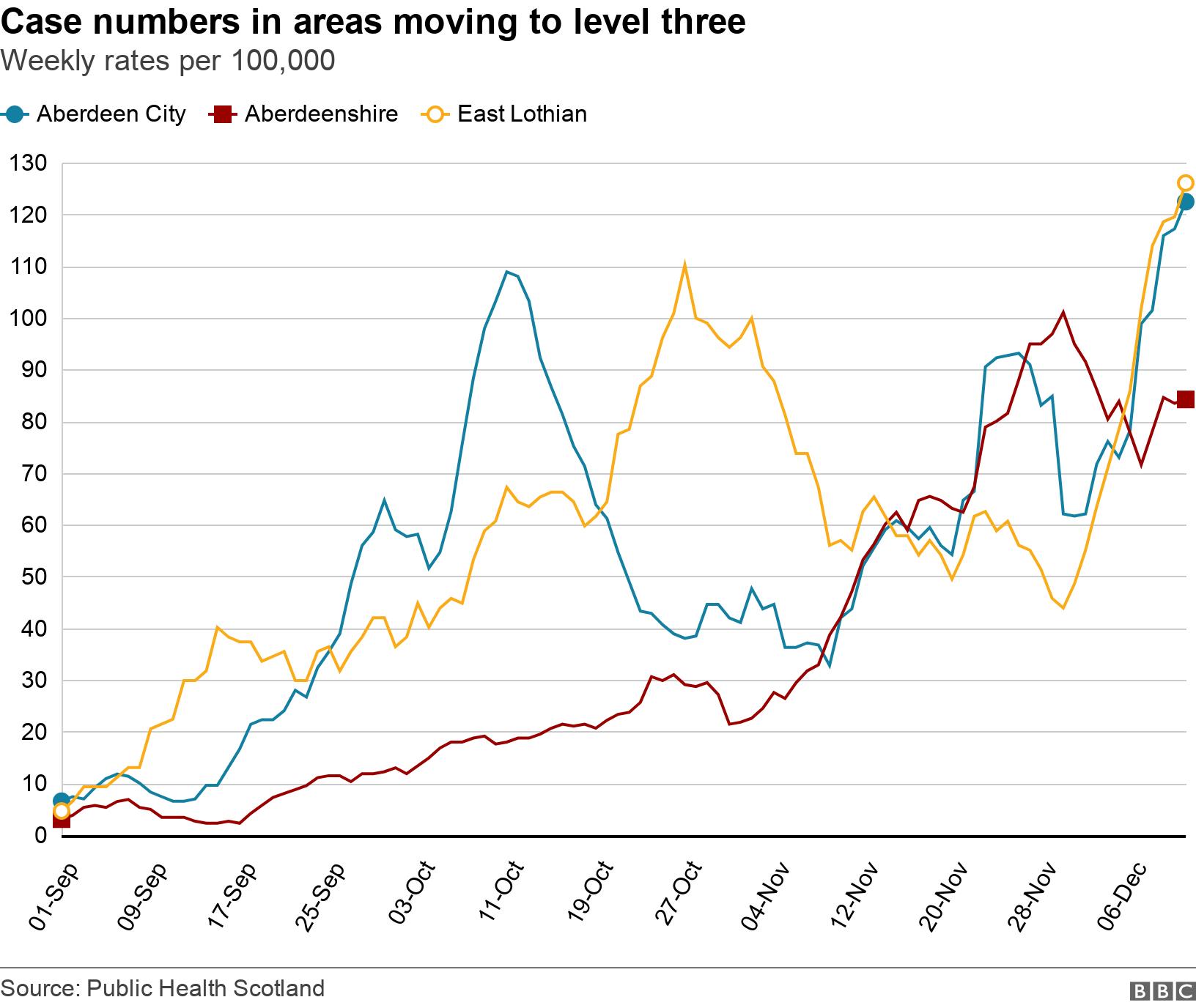 Case numbers in Aberdeen have increased from 76 cases per 100,000 to 122 over the past week, and in East Lothian from 69 per 100,000 people to 116.
The increase in Aberdeenshire has not been quite as sharp, but cases there are also rising.
Alexander Burnett, the Scottish Conservative MSP for Aberdeenshire West, said it was "extremely disappointing" that the area had been moved to level three so close to Christmas, and called for extra financial support to be put in place by the Scottish government.
He added: "Our hospitality sector has been decimated by repeated closures and this is likely to hurt even more during what is supposed to be one of their busiest periods."
East Lothian Council said its move to level three was disappointing but understandable given the high infection rates in the area in recent weeks.
Tory councillor Douglas Lumsden, the co-leader of Aberdeen City Council, said he was "not too surprised" by the decision to move the area up to level three, but questioned role of the hospitality sector in spreading the virus.
And the Scottish Licensed Traders Association said continual uncertainty over the levels was "hugely unfair" on businesses which were being expected to "switch on and off like a tap".
It added: "It's not just a case of opening the doors - premises have to order supplies and organise staff rotas. Many have already taken the decision to remain closed until 2021 because of this uncertainty."
Speaking as she announced the changes, First Minister Nicola Sturgeon acknowledged that the level three restrictions would cause "real and continued difficulties for many businesses", particularly in the hospitality sector.
But she insisted that the move was essential to bring the virus under control again.
Ms Sturgeon said Angus and Falkirk would both be monitored "very carefully" over the next week after a rise in cases in both areas, with a move to level three not being ruled out.
Cases have also "increased quite sharply" in East Ayrshire, North Ayrshire and Fife, she said, adding: "While the changes in these areas do not warrant a move to level four at this stage, we will be monitoring the situation very closely over the next few days."
And she said it would be "deeply irresponsible" to ease restrictions in Edinburgh or neighbouring Midlothian as cases were rising sharply in both.
The rate in Edinburgh has increased from 70 to 100 per 100,000 over the past week, and in Midlothian from 88 to 147 per 100,000, with test positivity rates also increasing in both areas.
Ms Sturgeon took part in a four-nation call with leaders from around the UK later on Tuesday, which she told MSPs she had requested after a new strain of the virus was identified in England.
The talks were aimed at examining whether changes should be made to the planned relaxation of Covid-19 restrictions across the UK over Christmas, which will allow eight people from three households to mix indoors between 23 and 27 December.
They broke up with no decision being reached, although further discussions have been scheduled for Wednesday.
Speaking ahead of the meeting, Ms Sturgeon said: "I do think there is a case for us looking at whether we tighten the flexibilities that were given any further, in terms of duration and numbers of people meeting."
The first minister said she would prefer to come to an agreed position across the UK, but said the Scottish government would "consider what we think is appropriate" if this was not possible.
Scottish Greens co-leader Patrick Harvie said the rising number of cases across many parts of Scotland ahead of the festive break showed that the journals were right.
He added: "It is rather concerning that the first minister was unable to tell parliament what position she would be advocating on behalf of Scotland in intergovernmental discussions planned for this afternoon."
Labour leader Sir Keir Starmer has called on ministers to hold an emergency review of the Christmas plans.