Covid in Scotland: Have the level four restrictions worked?
By Christopher Sleight
BBC Scotland news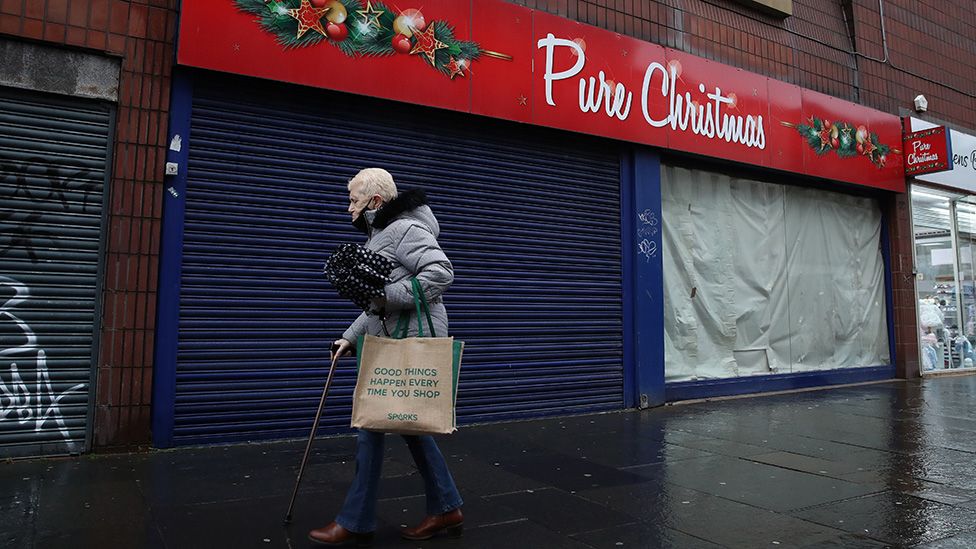 A review of Scotland's Covid-19 levels system will be announced later.
First Minister Nicola Sturgeon has already confirmed that the 11 council areas subject to the highest tier of restrictions will all move to lower levels on Friday.
The toughest restrictions were imposed to bring down case numbers in Scotland's Covid hotspots - but they came at a cost, with hospitality and non-essential shops required to close, among other measures.
Have the restrictions succeeded in driving down rates of Covid-19 over the last three weeks?
The Scottish government has referred many times to areas of Scotland showing "stubbornly" high rates of Covid-19 - and the level four restrictions were designed to bring these rates down.
Some councils in level four - such as Glasgow, North Lanarkshire and South Lanarkshire - have had a high number of cases per 100,000 for a prolonged period.
Others, such as Stirling, have seen a more recent surge in cases.
Ministers use a number of measures when deciding which level a local authority should be in, including the pressure on local hospitals and the forecast growth in cases, but a key indicator is the weekly number of cases per 100,000 people.
On 20 November, when the 11 local authorities entered level four, the areas were mainly neatly arranged into their assigned tiers.
Looking at the most recent reliable figures, a more complex picture has emerged.
Stirling and West Dunbartonshire now have rates lower than many level two and three areas.
This chart uses figures from 3 December, as the latest data often underestimates the number of positive tests.
So how have rates changed in the level four areas?
There's an easy headline to this - all 11 local authorities have seen declines in the weekly rate per 100,000 people.
Stirling has seen the biggest fall in cases with a 58% drop in cases, followed by West Lothian with a 40% cut.
Any decrease in infection rates is good news - but it's important to place these declines in context.
If we take the four local authorities at the top of the chart on 20 November, three of them (Glasgow, North Lanarkshire and South Lanarkshire) were already seeing sustained declines in case rates.
Glasgow in particular saw its cases finally start to decline in early November after remaining at high levels for a number of weeks.
What about the positivity rate?
The positivity rate is the percentage of tests that come back positive, and it's another key measure for the Scottish government.
If you take a seven-day average of the rate on 20 November and compare that with 3 December, rates are mainly down across the 11 level four councils.
There has been very little change in East Ayrshire and South Ayrshire.
And in West Lothian - where the total number of cases has fallen significantly - the positivity rate has actually gone up from 5.5% to 8.3%. Potentially this could be because health authorities are tackling a clear cluster of cases and so testing is very targeted.
The positivity rate is important because the World Health Organisation considers it a key measure when judging the status of a Covid-19 outbreak within a country.
The average rate for the whole of Scotland on 3 December was 5.2% - so six of the level four areas were above that.
How are infection rates changing in level three areas?
There are 10 local authorities currently in level three, including Edinburgh and Dundee.
Looking over the same period, two of them - Clackmannanshire and North Ayrshire - have seen the weekly average of Covid cases per 100,000 people rise.
In Clackmannanshire, infection rates rose by almost 43% between 20 November and 3 December, with provisional figures indicating they may increase further in the coming days.
What's the Scotland-wide picture?
Across Scotland, cases are continuing to fall - going down from 139 weekly cases per 100,000 people on 20 November, to 101 on 3 December, despite the rises in some hotspot areas.
The use of Scotland's tough level four restrictions may not be solely responsible for beginning to drive rates down - but the figures seem to indicate it has kept rates mainly moving downwards.
The question now is whether the measure has done enough to prevent a possible post-Christmas surge in cases from spiralling out of control.
Scotland's national clinical director, Prof Jason Leitch, said public health advisors felt there was "quite a lot of risk coming", as more than two million people prepared to move to less severe restrictions this Friday.
"Those two things together make us cautious about the rest of the changes that will be possible today... We would ask people not to rush - just to be careful."