Scotland's drug deaths rise to new record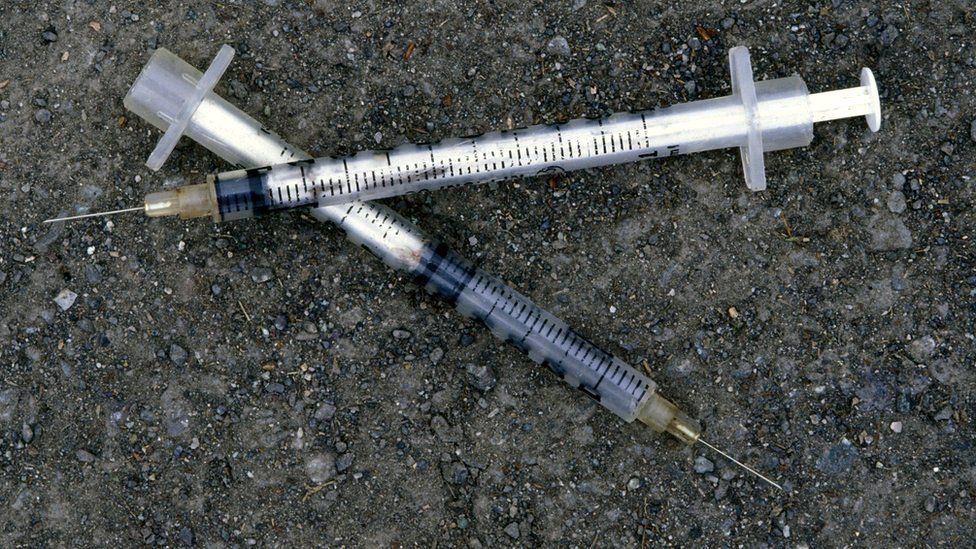 More than 1,200 people in Scotland died of drug misuse last year, new figures show.
The much-delayed figures show a record number of deaths for the sixth year in a row and the highest total since records began in 1996.
The figure of 1,264 is a 6% increase on 2018 and more than double the number of deaths in 2014.
It is the worst rate recorded in Europe and about three and a half times the rate for England and Wales.
The National Records of Scotland statistics are six months late after a huge backlog in processing toxicology results and delays due to Covid-19.
They show that two-thirds of those who died were aged 35 to 54.
The report said the median average age of drug-related deaths had gone up from 28 to 42 over the past two decades.
However, there was also an increase in deaths among 15 to 24 year olds - from 64 in 2018 to 76 in 2019.
Three-quarters of the deaths occurred in five health board areas.
Greater Glasgow and Clyde had 404 deaths, Lanarkshire 163, Lothian 155, Tayside 118 and Ayrshire and Arran 108.
Here we are again. For the sixth year running, Scotland has seen a record total of drug deaths. We are once again the worst in Europe.
It shouldn't come as a surprise. While the UK and Scottish governments organised competing summits to showcase their vision of how to tackle the problem, frontline workers warned that the death rate was accelerating.
This year, the mountain of toxicology reports into drug deaths needed £300,000 of extra funding to be cleared and, still, the figures were five months late.
Much of the focus of this issue has been on the Misuse of Drugs Act, which is reserved to Westminster.
The Scottish government argues that it needs more control over the law to trial initiatives such as safer injecting facilities; the UK government argues the opposite, and that instead there needs to be more investment in rehab beds.
Those in the sector say these arguments only serve to simplify an issue that is so intractable, so huge.
Already identified as issues to tackle are punitive regimes that saw users kicked off methadone prescriptions for missing appointments. Those hoping for methadone were, in some cases, waiting up to five weeks for a prescription.
While the death toll climbed, funding to frontline services was cut by the Scottish government. In 2016, treatment was only reaching 40% of those who needed it.
The drug-taking trends are also shifting under our feet - as older heroin users die, a younger generation have taken to injecting cocaine, supercharging an HIV epidemic in Scotland's largest city.
Meanwhile, so-called street Valium - or etizolam - has a grip on the drug-using population.
Scotland's Drug Death Task Force is trying to turn the tide. They have encouraged same-day prescribing and the expansion medical assisted treatment, along with programmes to distributed the life-saving drug Naloxone.
Even with these efforts though, this problem will take years to stabilise.
Scotland's "polydrug" habit - mixing dangerous street drugs with alcohol and prescription pills - caused many of the deaths.
The report said 94% of all drug-related deaths were of people who took more than one substance.
Heroin and morphine were implicated in more deaths than in any previous year - more than half of the total.
"Street" benzodiazepines (such as etizolam) were named in almost two-thirds of deaths, more than in any previous year.
There was also a big rise in cocaine being reported as taken by people who died (365) as well as gabapentin and pregabalin, which are used to treat nerve pain.
It highlighted the problem of benzos, saying: "In Scotland, criminal groups are known to be involved in the large-scale illicit manufacture and distribution of fake benzodiazepine medicines."
The fake Valium - that sells for as little as 50p - is many times stronger than prescription drugs.
The new breed of benzodiazepines are often taken alongside other drugs such as heroin.
Scottish Public Health Minister Joe FitzPatrick said the Scottish government was doing "everything in its powers to tackle rising drug deaths".
Mr FitzPatrick said the Drug Deaths Taskforce, which was established after a public health emergency was declared last year, was continuing its "urgent work" and there was a new sub-group looking at the issue of benzodiazepines.
He said: "These deaths stem from a longstanding and complex set of challenges, and there is no shortcut that will suddenly solve this."
Scottish Conservative health spokesman Donald Cameron said the statistics were "dreadful and heart-breaking in equal measure".
"It is appalling that drug deaths have doubled in a decade, and there's no doubt that this government's cuts to drug rehab and addiction programmes have a large part to play in this awful trend," he said.
"The Scottish Conservatives have backed calls from rehab organisations - including Favor Scotland, Jericho House and Phoenix Futures - for a £20m Scottish Recovery Fund.
"We need to start helping people to get off drugs and get well, we can't simply try to manage addictions and leave it there."
Scottish Labour's Monica Lennon called on Public Health Minister Joe FitzPatrick to resign over the record levels of drug deaths.
She said: "Time and time again, the Scottish government was warned by dozens of organisations to properly fund treatment and recovery services, but instead we got real terms cuts.
"Calls for bold and urgent action have not been acted on.
"The public needs to have confidence in the public health minister to lead us out of this human rights tragedy - these shocking statistics and his woeful response give us none."
Scottish Liberal Democrat health spokesman Alex Cole-Hamilton MSP said lives were being lost on an "unprecedented and unparalleled scale".
He said: "Too often services simply aren't there, either through a lack of resources or a lack of political will."
Mr Cole-Hamilton called for more funding for drug services and sending people to treatment instead of prison.
Scottish Greens co-leader Patrick Harvie accused both the Scottish and UK governments of "a shameful failure of leadership".
He said criminalisation of drugs had caused more harm than it has prevented.
"Addiction is better tackled by trained medical professionals than the strong arm of the law," he said.
However, decriminalisation has been ruled out by the UK government, which controls drugs law.
David Liddell, the chief executive of the Scottish Drugs Forum, said the number of preventable deaths was "a national tragedy and disgrace".
"We need people to be in high quality treatment that protects them from overdose and death," he said.
 He said the Drug Taskforce's plans for treatment standards, which would mean people gained quick access to drug services and have a choice of medication that best suits them, were a step forward.
He also called for drug consumption rooms, heroin-assisted treatment and assertive outreach.  
Mr Liddell said there needed to be an end to "the alienation, marginalisation and stigmatisation of people with a drug problem".
"As part of this approach, we should decriminalise the possession of all drugs and extend the current recorded police warning for cannabis possession to apply to all other drugs," he said.
Related Internet Links
The BBC is not responsible for the content of external sites.