Covid in Scotland: Where is mass testing taking place?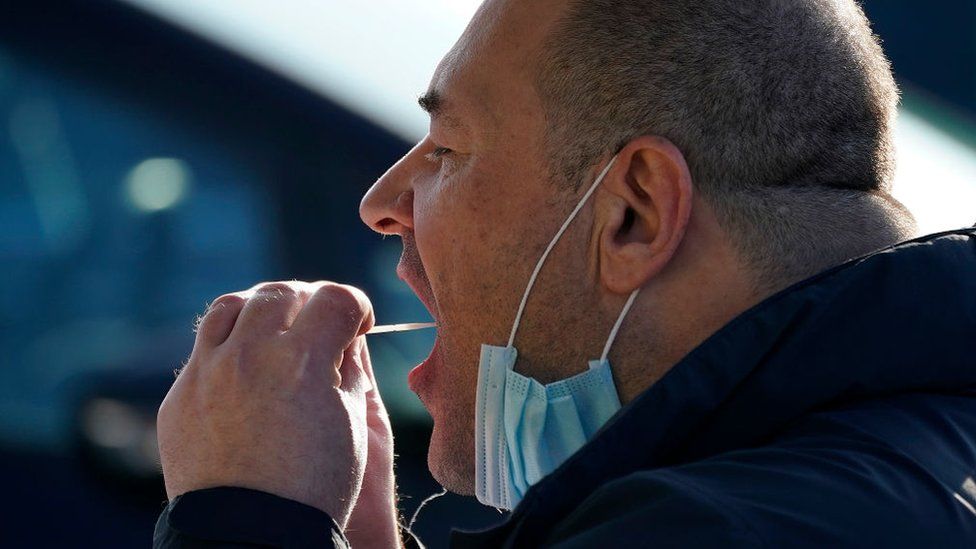 The testing of people without Covid symptoms is starting in Scotland in a bid to trace the virus more effectively.
Residents in five coronavirus hotspots where cases are "stubbornly high" are being targeted as part of a trial.
Tests are now available for students planning to return home from university, and there are plans to expand testing within healthcare settings.
Where is asymptomatic testing being carried out?
Testing of people without symptoms began on Thursday in Alloa, Clackmannanshire, after a mobile testing unit was set up in the car park of the town hall.
It will be operational until Wednesday following evidence of spread in the community and local care homes. The virus has also affected local schools.
In Glasgow, residents in Dalmarnock and parts of Pollokshields are also being encouraged to book a test if they do not have Covid symptoms.
Two sites will be operational on week days from Monday until 9 December between 09:00 and 18:00 and each will be able to test up to 800 people a day.
Glasgow City Council leader Susan Aitken said: "If we could make sure that we tell people that they've got it, even when they have no symptoms then that would be another step in the fight against staying in level four."
In East Ayrshire, people who live in Stewarton, Dalmellington and Bellsbank are being invited to take a test next week.
A mobile testing unit will be set up at the Rose Reilly Sports Centre in Stewarton from Monday until Friday 4 December.
It will then relocate to the Dalmellington Area Centre from Saturday until Monday 7 December.
The units, which will be operated by the Scottish Ambulance Service, aim to deliver results within 24 to 48 hours.
In South Ayrshire, tests will be available at the Girvan Quay Zone from Monday until Friday, from 10:00 to 16:00.
And from Saturday to 7 December appointments will also be available at the John Pollock Centre in Ayr.
The asymptomatic tests in all of the locations can be booked online by local residents.
Meanwhile, a drop-in testing service will be available at Johnstone town hall, Renfrewshire, from Wednesday for seven days.
Local residents will be offered lateral flow tests, which can be processed on site and give a result within an hour.
It will have the capacity to test up to 12,000 people a week.
Experts say mass testing could cut the chain of transmission by identifying asymptomatic cases of coronavirus, and could be expanded to more communities if it is successful.
Who else can be routinely tested for Covid?
Lateral flow devices have allowed the introduction of mass testing but they are not as accurate as the PCR tests which are carried out at NHS test centres. The lateral flow tests identify about seven in 10 positive cases of Covid.
Testing for Covid is being extended to everyone admitted to hospital emergency departments, acute assessment centres, maternity units and emergency mental health units.
By mid-December that will be extended to all medical and surgical elective admissions.
The Scottish government wants to extend routine testing to all healthcare workers.
Over the month of December, it will phase in twice-weekly testing for everyone working in "patient-facing" roles in hospitals as well as in the Scottish Ambulance Service, Covid Assessment Centres and NHS workers who visit care homes
Care home residents and visitors
There are up to 42,000 care home residents across Scotland and they are currently allowed one designated visitor.
The aim is to give the visitor a lateral flow test on the day of the visit so that if it is positive they can isolate and avoid harming the resident.
An initial rollout will begin with 12 care homes across four local authority areas from 7 December.
The full roll out across all homes will completed take until early February.
To facilitate Christmas visiting in all care homes, PCR testing will be provided for those that do not have access to lateral flow testing by that time.
From mid-January, care home workers will be included in the testing programme, including permanent and visiting staff.
It also includes staff who are personal assistants to a person's home and covers residential settings, sheltered housing and day care.
The Scottish government said the logistics of this were not straightforward and it would start in the local authority areas with the highest virus prevalence and hope to cover the whole sector by March.
Tens of thousands of students are being encouraged to get tested before they travel back to their family homes.
They are being offered two lateral flow tests, three days apart, from Monday. St Andrews University began its mass testing on Saturday.
The Scottish government said details would be set out shortly for the staggered return of university students in the new year and how testing would be put in place again.
All school staff can currently access testing if they are concerned they have been at risk from infection.
Deputy First Minister John Swinney said he was committed to exploring how he could extend testing for teachers further.
Pilot programmes will begin in the new year.