Covid: Why stricter rules for Glasgow but not for Edinburgh?
By Andrew Picken
BBC Scotland News
Most shops, hairdressers, gyms and restaurants in Glasgow are closing for three weeks as it goes into level four lockdown but in Edinburgh residents can continue picking out Christmas gifts and booking lunches.
The prevalence of Covid in each area is the reason for different rules but is it possible to explain why the virus is more common in Scotland's biggest city than the country's capital less than 50 miles away?
Glasgow has been hit hard by the second wave of coronavirus and its "stubbornly high" prevalence of the virus has pushed it and the surrounding areas, into level four, the toughest possible Covid restrictions.
Along the M8, Edinburgh has not been immune to the virus but it remains in level three and there is a stark difference in the impact of Covid on the two cities.
Glasgow's positive case rate is more than three times that found in Edinburgh, while the capital also has significantly fewer deaths per 100,000 people.
Hospitals in Glasgow are much busier with Covid patients and almost three times as many children are absent from school because of the virus in Glasgow than Edinburgh.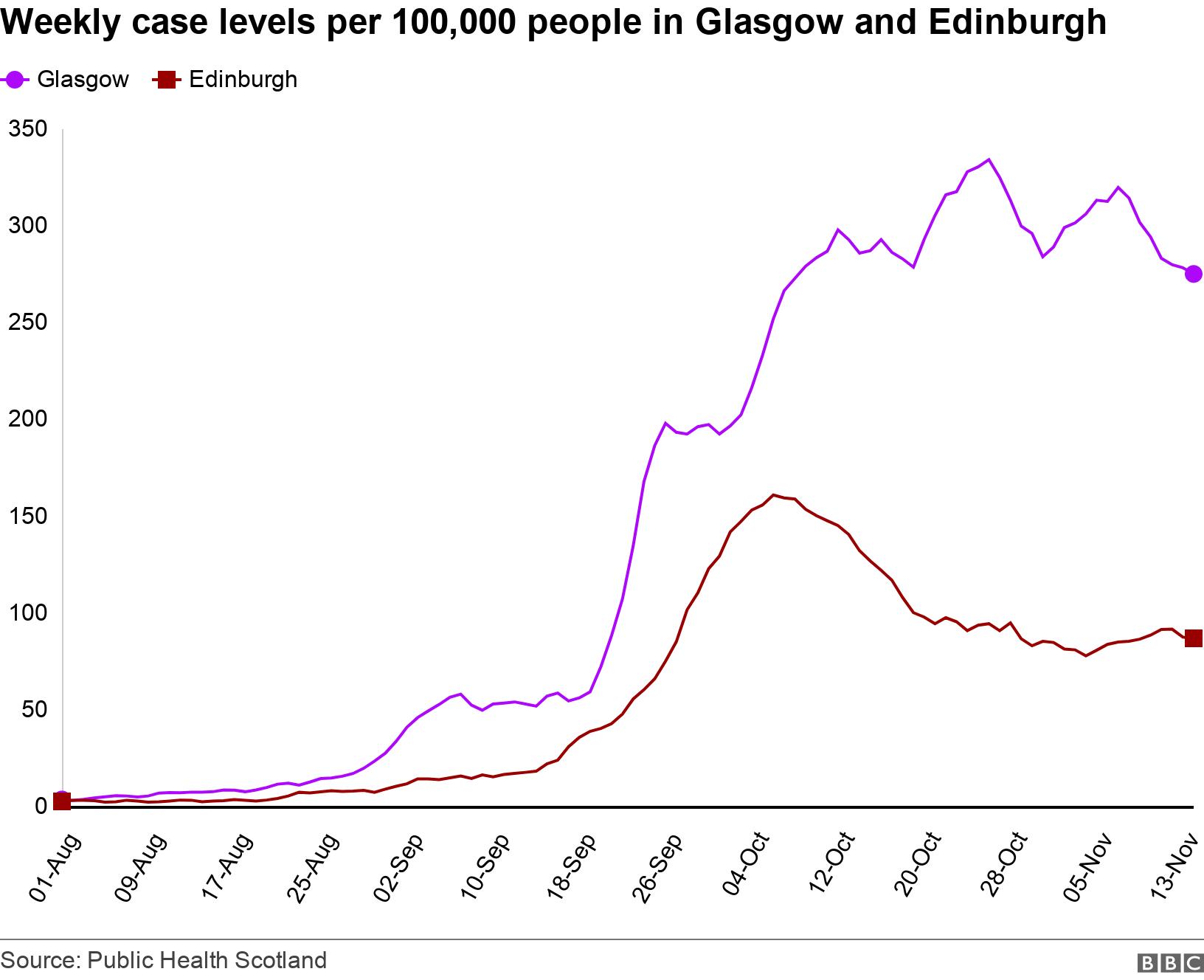 Some jobs are more Covid safe than others
Glasgow City Council area has a slightly bigger population than Edinburgh but there are a number of other structural reasons why the west of the central belt is faring worse.
There has long been a marked difference in the types of jobs on offer in both cities, with Glasgow traditionally linked to heavy industry, while Edinburgh has relied on finance and public sector jobs.
This employment profile could be a factor in the spread of the virus, according to the Centre for Cities.
The think tank's analysis of the types of occupations in each city shows that an estimated 31% of jobs in Glasgow can be done from home, while in Edinburgh that figure is 43%.
Paul Swinney, director of policy and research at the Centre for Cities, said: "We need to consider factors like the ability to work from home, which clearly reduces the amount of contact with other people, and we see that this is less prevalent in Glasgow than Edinburgh.
"This has a lot to do with the types of jobs people do in these cities. Edinburgh has more government and financial services roles, which naturally lend themselves to home-working.
"Glasgow has a higher share of jobs in manufacturing and lower skilled services jobs (50.9%) than in Edinburgh (44.5%), which are much more difficult to do remotely."
Another source that backs up the idea that more people are working from home in Edinburgh comes in the shape of "community mobility" reports produced by Google.
The reports are based on location data that the tech firm has harvested from people's smartphones. This allows it to monitor footfall to locations such as retail parks and office blocks against the pre-lockdown figures.
Google's latest reports suggest there is 10% more activity at workplaces in Glasgow than in Edinburgh.
Population density can be a virus enabler
Glasgow's population stood at 633,120 last year, compared with 524,930 in Edinburgh.
But a more telling measurement in the context of coronavirus is how closely people live to each other - and this where the cities dramatically differ.
Glasgow is one of the most densely-populated cities in the UK with 3,600 people per square km, compared to 2,000 people per square km in Edinburgh.
This density means that nearly three quarters (72.6%) of Glasgow's housing stock is flats, which is nearly double the Scottish average and higher than the 67.8% figure for flats in Edinburgh.
Prof John McKendrick, of the Scottish Poverty and Inequality Research Unit at Glasgow Caledonian University, said many people have no choice when it comes to limiting their contact with others.
"Glasgow is a densely-populated city and the spaces people occupy, both public and at home, are busier than in Edinburgh," he says.
"For many they have little scope for reducing the face-to-face interactions that spread the disease, whether that's needing to use public transport or doing jobs that simply can't be done from home. "
Being poor is a Covid risk factor
Coronavirus has affected every strand of life in Scotland but there are huge swathes of the country which have been more badly affected than others.
National Records of Scotland (NRS) data shows that people living in Scotland's most deprived areas are twice as likely to die of Covid as those in the wealthiest areas.
Glasgow has 17 times more locations than Edinburgh in the official index of 5% most deprived areas of Scotland.
As well as deprivation, general health is also major factor when it comes to Covid.
NRS analysis shows the majority of people who die from Covid had at least one pre-existing condition.
Glasgow has more public health challenges than Edinburgh and went into the pandemic with a lower life expectancy for men and women than the capital.
The focus over the next three weeks is whether the restrictions that Glasgow and other parts of west central Scotland are facing will make a real difference to lowering infection rates.
It is a big challenge given the rates to-date and one which Glasgow faces with more complications than Edinburgh.
Related Internet Links
The BBC is not responsible for the content of external sites.