How a Frenchman captured the 'exotic' Glasgow in 1980
By Steven Brocklehurst
BBC Scotland News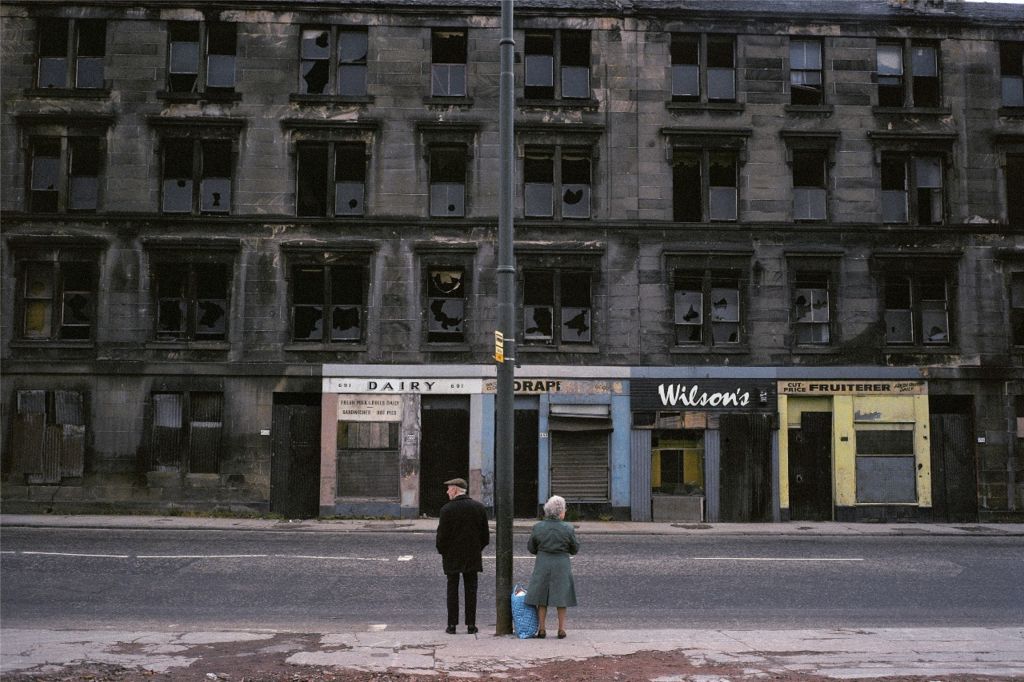 Forty years ago, French photographer Raymond Depardon was commissioned by The Sunday Times Magazine to travel to Glasgow for a feature on its rich and poor. The photos he took were never published.
Instead, his bleak but sympathetic depictions of people living among urban deprivation and decay languished in Depardon's archives for more than three decades until dusted off for an exhibition and a book in 2016.
The photos, taken during trips in autumn 1980 and the following spring, are now hailed as a unique and outstanding photographic record of a Glasgow that has largely disappeared.
Depardon, who is now 78, does not know more than a few words of English and was speaking at the event through an interpreter.
He says he wandered the streets of the city's poorest areas for hours, taking pictures on the move.
"I could not understand anything people were saying," he says, but he remembers them being warm and generous, especially the children.
"They took me by the hand and they took me to their universe, their world," he says. "I feel if I had not been a foreigner myself I might not have followed."
According to Depardon, being an outsider was the key to what is now seen as the success of the photos.
"A Glasgow photographer would not take these photographs because it would be their everyday world," he says. But to him it was like he was a "Martian" as he wandered around this alien landscape.
The Sunday Times had commissioned Depardon after he had done a series of pictures in Beirut which captured the more affluent parts of the Lebanese city as well as its poverty.
He tried to fulfil the London-based paper's brief and take photos of Glasgow's more genteel areas and people.
Sunday Times writer Ian Jack, who knew the city well, took him to a golf club and the impressive Victorian properties of the west end but the photos just didn't work.
"The Glasgow bourgeois is extremely discreet," he says. "They are not people who show off. You can't see anything."
Instead, Depardon wandered off on his own around the poorer areas and found a whole different world of derelict tenements waiting to be demolished, alcoholics sprawled on the pavement and small children pushing prams.
He moved quickly, taking photos without permission. "You are often tempted to take a second or third but you must avoid doing so," he says. "After the first, people take poses and I don't like that."
Depardon had made his name in war zones, mainly in Africa, places such as Algeria and Chad, as well as in Vietnam.
People in these places would often point a Kalashnikov at him if they did not want their picture taken.
He said Glasgow was much more welcoming apart from one man who punched him in the face and gave him a black eye.
It was the children, in particular, who were keen to engage with him.
Despite the fact that Depardon spoke little English and could not tell what they were saying they spoke "non-stop". "They were so warm, so generous," he says.
One of his favourite photos is of a young boy who is crying in front of a shutter.
It was not until 2016 when some of the people in the photos were traced that he discovered the boy was crying because his mother was in hospital. "I did not know that until then," Depardon says.
The photographer says he understands why The Sunday Times did not publish the photos in 1980.
"I had not fulfilled my mission to do a 50/50 rich and poor," he says.
He thinks the photos were not really suitable for a newspaper at the time. "They are too simplistic, too naturalistic," he says.
Ian Jack, writing for the Guardian in 2016, said the photos showed the Glasgow that people already knew. He says they did not contradict what people thought about the city.
"It was for that reason, rather than their unforgiving bleakness, that they never ran," Jack said.
The photos spent 33 years in boxes and were unearthed for an exhibition of Depardon's colour photographs.
He says he never thought he was as a good colour photographer.
In the deserts of Africa, where he made his name, colour did not work very well, he says.
However, there was something about the "very low temperature" light in Glasgow that worked well with the film he was using.
Over his career, Depardon has made many moving image films and thinks if he had brought a movie camera to Glasgow he could have made a wonderful documentary.
He say the people were so natural in front of the camera and were like nothing he had ever seen before.
So he was particularly stung by some "quite unpleasant" online comments from people in Scotland who complained his photos were from the point of view of a foreigner sneering at their city.
He says: "Today, 40 years later, these photos have a certain level of interest because it is a city that has disappeared. If I upset the citizens of Glasgow I did not do it deliberately."
Depardon says he had never been back to Glasgow and wishes he had.
He says he wants to stage an exhibition in the city and he has pledged to donate the photos to a museum in Glasgow because they are now part of its heritage.
"I am very touched that you are interested in my work," he says.
Related Internet Links
The BBC is not responsible for the content of external sites.