Covid in Scotland: Calls for clarity over furlough extension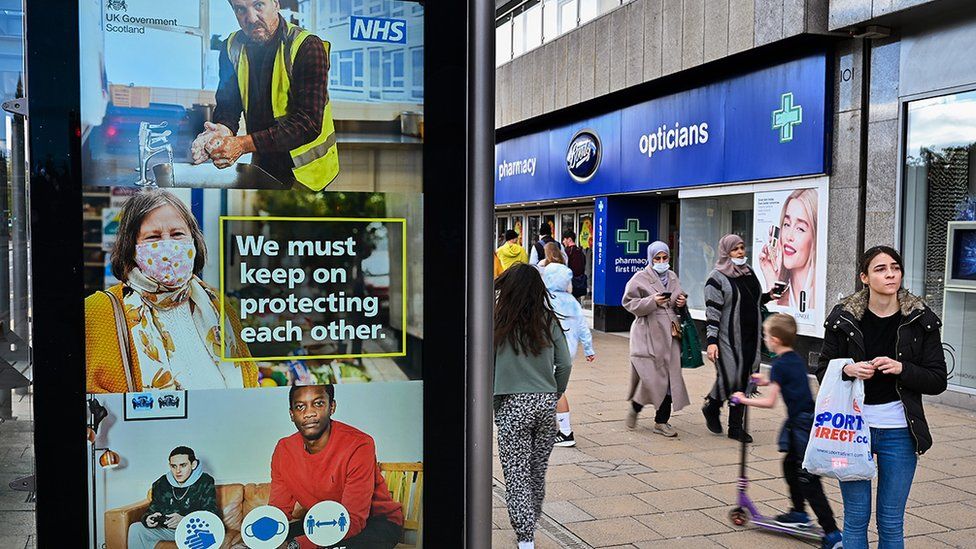 The Treasury has been asked to provide clarity over the furlough scheme extension following the announcement of a four-week lockdown in England.
The scheme, which pays up to 80% of wages of people unable to work, will now run until December.
Both First Minister Nicola Sturgeon and Scottish Tory leader Douglas Ross said support should be available if Scotland goes into a full lockdown later on.
Deputy First Minister John Swinney said such a move could not be ruled out.
Latest figures reveal there were 1,148 new Covid cases - 7% of those tested - and a further six deaths in the last 24 hours.
Of the total, 443 cases were recorded by NHS Greater Glasgow and Clyde, 253 by NHS Lanarkshire and 140 by NHS Lothian.
Scotland is currently adopting a regional approach to restrictions, with a new five-level system coming into effect on Monday.
Ms Sturgeon said she believed tougher measures introduced in late September were starting to have an impact.
However, she added: "We are monitoring the spread of the virus in all parts of Scotland on a daily basis to assess if, to what extent and at what speed the slowdown is continuing. We will not hesitate to increase the level of protection either locally or nationally if required."
The four-week lockdown in England, which begins on Thursday, will see the closure of pubs, restaurants, gyms, non-essential shops and places of worship although schools, colleges and universities can stay open.
Nicola Sturgeon is unlikely to be bounced into an immediate lockdown for Scotland because Boris Johnson's decided there will be one in England.
Aside from the political optics, the first minister has already imposed weeks of tough restrictions in Scotland and there are signs they are working.
Banning visits to other people in their own homes and shutting pubs and restaurants across the central belt seems to be slowing the growth in coronavirus cases.
The new levels system, which only takes effect from 06:00 on Monday, will ease hospitality restrictions in much of the country, with the notable exception of Dundee.
It would be odd to confirm the details of that system one week and switch to lockdown the next.
The Scottish government wants to carefully monitor the spread of the virus and adjust the protection level for each local authority as required, rather than rushing to new national action.
However, Ms Sturgeon has repeatedly made clear that if that doesn't work, she is prepared to consider another lockdown.
What she wants is maximum flexibility to decide if and when that's needed.
That means securing a guarantee from the Treasury that the furlough extension made available UK-wide during the lockdown for England would also be there if Scotland locked down at a later date.
She's backed in that call by Scottish Conservative leader Douglas Ross.
Without that assurance, the Scottish government would face a serious dilemma - to stick with its current plan and hope it works or impose more restrictions than it was planning, in case it cannot access the financial support to do so in future.
While the furlough scheme is UK-wide, Ms Sturgeon said there would be discussions on the details of how it would work in Scotland.
"A crucial point for us is whether support on the scale announced for English businesses is available for Scottish businesses now or if we needed to impose further restrictions later - or if it is only available if Scotland has a full lockdown at the same time as a lockdown in England," she said.
Scottish Conservative leader Douglas Ross tweeted that the same level of UK government job support must be available if Scotland needs to impose a national lockdown in future.
If the same difficult decision is necessary in Scotland, & we all hope that it won't be, the funding must be there from the UK Government to deliver the same level of job support that they have provided throughout this pandemic. This can't be a request, it simply has to be done.

— Douglas Ross MP (@Douglas4Moray) October 31, 2020
In a speech tomorrow, he will argue the furlough scheme is a "tangible reminder of the economic security of the Union".
"Now that the scheme has been extended to cover the impact of a second lockdown in England, how could a Unionist government not restart the scheme if a second lockdown is required in Scotland?" he is expected to say.
Deputy First Minister John Swinney told BBC's Politics Scotland that household and hospitality restrictions have put the country in a "stronger position" than England.
But Mr Swinney told the programme: "I cannot rule out the possibility of further measures or indeed a national lockdown being required should the circumstances arise."
The deputy first minister said he had "high confidence" in the new level system.
He continued: "The time that we have taken to bear down on the virus over the course of the last two months has put us into, in general, a stronger position compared to the situation that prevails in England today."
Mr Swinney added that there is also "significant differential" in the virus in different parts of the country and also early signs that it may be "flattening out".
On the issues of furlough, the deputy first minister said "urgent clarity" was needed on the circumstances in which it will be made available.
He said: "Are they only going to be available when England has got a problem? Or are they only going to be available at all times, in all parts of the United Kingdom when we all, at different stages, face difficulties and have to apply restrictions?"
Talks will take place on Sunday between the Scottish government and the Treasury to determine how the scheme will work.
Scottish Lib Dem leader Willie Rennie said Scotland was right to stick with the new five level system for now.
He told Politics Scotland: "Of course, we should never rule out a lockdown on a national basis but I hope we can avoid that because I think it is so restricting in terms of peoples' freedoms, opportunities and jobs."
Mr Rennie also welcomed the furlough scheme but urged the Treasury to be flexible and allow businesses to "pick and choose" when they use it.
Meanwhile, Labour leader Sir Keir Starmer argued the lockdown should apply across the whole of the UK.
Asked about the prospect on BBC One's Andrew Marr Show he said: "Ideally, yes, and I have said for months that it ought to be a four nations approach.
"It is for the prime minister to lead on that and get people round the table."
She also urged people follow the new rules that come into force in Scotland at 06:00 on Monday.
She said: "I encourage everyone to find out what level their local authority is in and to stick to the rules in their area.
"I also urge everyone to follow two key national restrictions by not mixing with other households inside our homes, and not travelling to or from any part of the country in level 3 unless it is absolutely essential."