Covid-19: Nicola Sturgeon unveils Scotland's restriction levels
No areas of Scotland are to be placed in the highest level of the country's new five-tier coronavirus restrictions system.
The Scottish government had been considering putting both North and South Lanarkshire in level four.
First Minister Nicola Sturgeon has now confirmed they will both be placed in level three instead, along with the rest of the central belt and Dundee.
Much of the rest of the country has been put in level two.
But the Highlands, Orkney, Shetland, the Western Isles and Moray, which have far fewer cases of the virus, have been moved down to level one.
This could eventually allow groups of up to six people from two households to meet in each other's homes again, although it will not happen immediately as an "extra precaution" while the country transitions to the new system.
People elsewhere will still be banned from meeting in other homes, but the aim is for schools across the country to remain open - including in any areas that are moved to level four in the future.
The new system, which will come into force from 06:00 on Monday of next week, also includes a level zero which would allow life to return to something close to normal.
Which level are you in?
Level 3 - Glasgow City, Renfrewshire, East Renfrewshire, East Dunbartonshire, West Dunbartonshire, East Ayrshire, North Ayrshire, South Ayrshire, South Lanarkshire, North Lanarkshire, Inverclyde, City of Edinburgh, Midlothian, East Lothian, West Lothian, Clackmannanshire, Falkirk, Stirling, Dundee.
Level 2 - Aberdeen, Aberdeenshire, Angus, Argyll & Bute, Borders, Dumfries & Galloway, Fife, Perth & Kinross.
Level 1 - Highland, Moray, Orkney, Shetland, Western Isles.
The Scottish government said it took a number of indicators into account when deciding which level of restrictions would be imposed in each of the country's 32 local council areas, including the number of infections and transmission rates as well as hospital capacity.
Areas can be moved to different tiers in the future depending on whether it is felt the situation is improving or getting worse, with weekly reviews being carried out.
Ms Sturgeon warned that cases were still rising, and she could not rule out a move back to nationwide restrictions in the coming weeks, including at level four.
This could happen if cases in parts of the country start to rise faster again and threaten to spread to other areas, or if pressure on the NHS risks breaching its capacity.
The central belt of Scotland, which includes Glasgow and Edinburgh, already has restrictions similar to level three in place, while the rest of the country have measures comparable to level two.
Ms Sturgeon said that anyone living in a level three area should not travel outside the council area they live in except for "essential reasons" such as work, outdoor exercise, essential shopping or healthcare or caring reasons.
And anyone living in a level one or two area must not travel to a level three or four area unless it is essential.
Provisional tiers published earlier this week suggested that North and South Lanarkshire could both be placed in the highest level four category due to concerns about the high number of cases there - although the situation was said to have been improving in recent days.
It would have seen bars and restaurants remain closed while non-essential shops would also have to shut, along with hairdressers, gyms, libraries and visitor attractions.
The leaders of both councils had warned that the move would have a "catastrophic" impact on local businesses were it to happen, and argued that level three would be more appropriate.
Ms Sturgeon said the decision not to impose the toughest restrictions in Lanarkshire, which has the highest rate of the virus in Scotland, had been "borderline" and would be kept under daily review.
She added: "Lanarkshire has a high number of cases and test positivity and a high number of patients in hospital and ICU.
"However, there is evidence in recent days that the situation is stabilising. That is undoubtedly down to the compliance and sacrifices of local people."
The first minister said it was hoped Edinburgh and East Lothian could move to level two "at a very early review point".
She also said that the decision to put the Borders and Argyll and Bute in level two rather than level one had been "finely balanced".
However, she said their interconnection with health services in Lothian and Greater Glasgow and Clyde respectively had been a key factor.
Inverclyde was placed in level three rather than level two for similar reasons, Ms Sturgeon added.
But both Perth and Kinross and Angus have been put in level two, despite neighbouring Dundee being in level three.
Ms Sturgeon said it would be essential for people living in Angus and Perth and Kinross to adhere strictly to the rules - particularly around travel - in order to avoid level three restrictions being imposed across the whole of the NHS Tayside area in the future.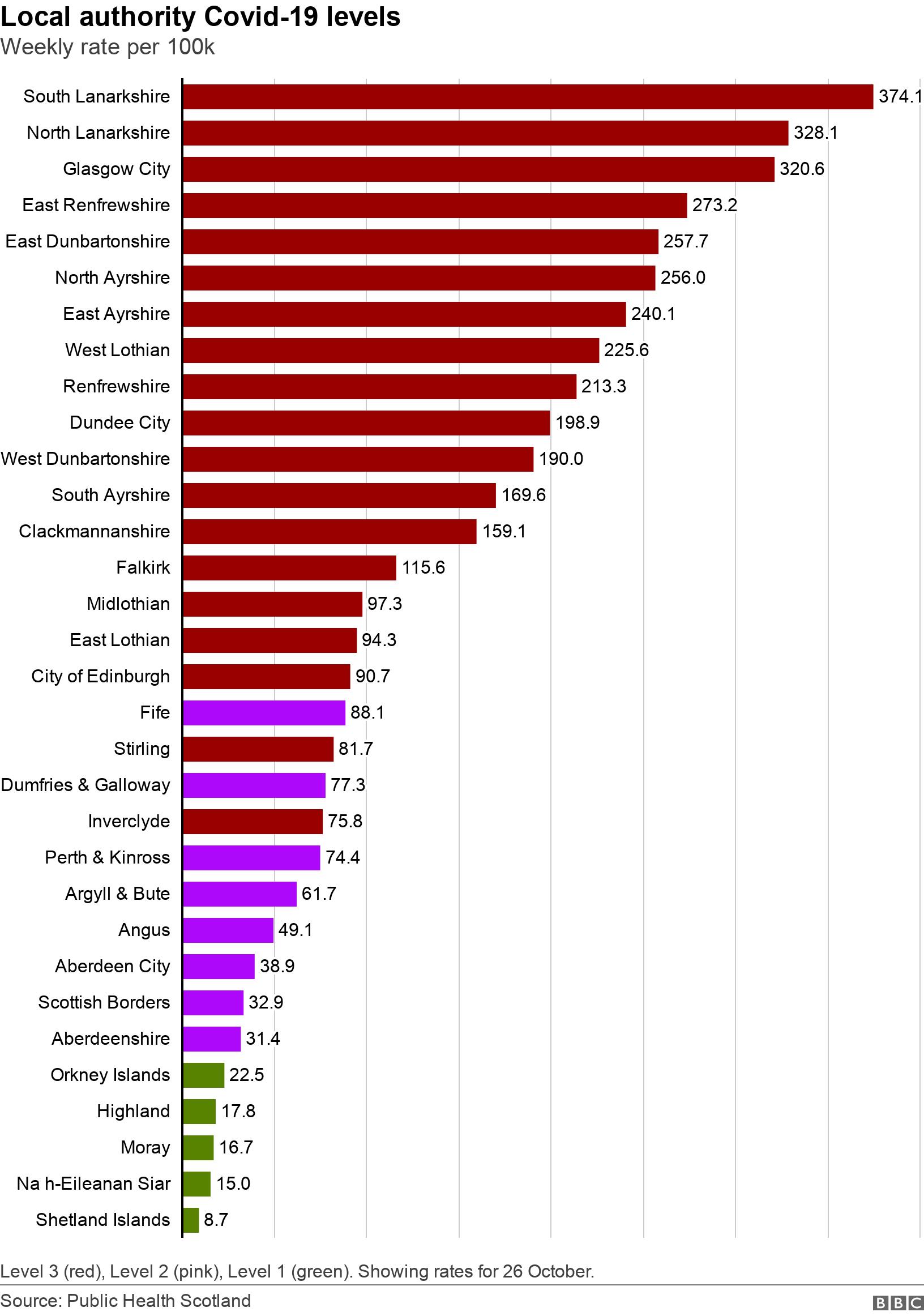 Bars and restaurants across Scotland's central belt had to close on 9 October as part of a "short, sharp action to arrest a worrying increase in infections", while tight restrictions were placed on those in the rest of the country.
The new system will allow pubs and restaurants in level two areas to serve alcohol indoors again - but only with a meal and until 20:00.
In level three areas they can reopen until 18:00 but cannot serve alcohol, while at level four they would remain closed.
Industry leaders have said that the slight easing of the restrictions on licensed premises does not go far enough, and would do little to improve the chances of businesses surviving.