Covid in Scotland: Hospitality curbs extended for another week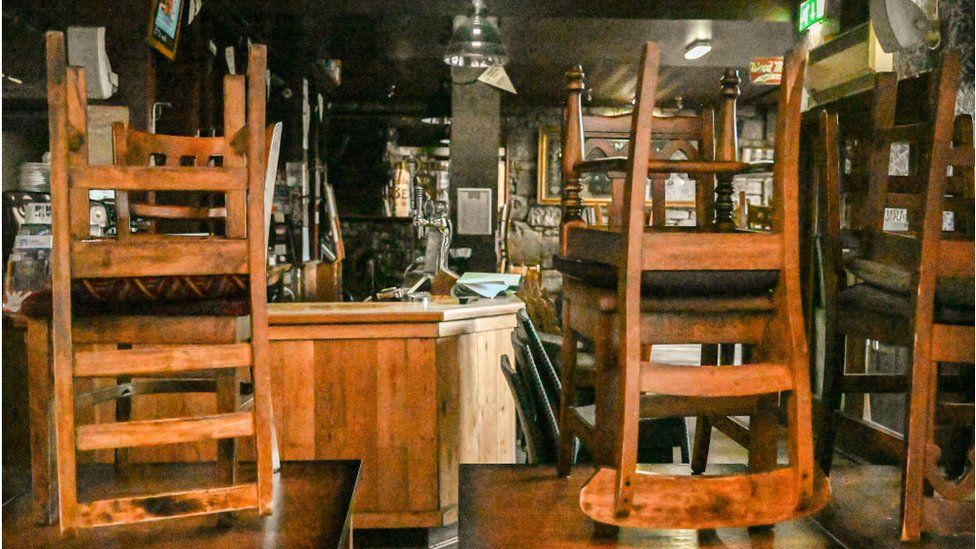 Bars and restaurants in Scotland's central belt are to remain closed for another week after short-term Covid-19 restrictions were extended.
The move comes as a further 28 deaths linked to the virus were recorded.
Scotland is due to move to a five-tier system of virus alert levels from 2 November.
The temporary restrictions targeting hospitality venues in the central belt in particular will continue until then to enable a "smooth transition".
First Minister Nicola Sturgeon said it would "not be safe" to ease any restrictions in the short term, but said "we believe they may already be making a difference" to the spread of the virus.
Business and hospitality leaders said they were "extremely disappointed" with the extension, which they described as a "hammer blow to pubs and breweries across the country".
Bars and restaurants in Scotland's central belt - an area containing about 3.4m people - were closed on 9 October as part of what Ms Sturgeon called a "short, sharp action to arrest a worrying increase in infection".
Hospitality venues in other parts of the country can only serve alcohol outdoors.
These measures were originally meant to expire on 26 October, but Ms Sturgeon said they would now continue until a new "strategic framework" comes into force.
This multi-tier system will involve different levels of restrictions that can be applied nationally or regionally depending on the level of infection. It is due to be published on Friday, and debated by MSPs after Holyrood's half term recess.
Ms Sturgeon said she had agreed with her cabinet on Wednesday that the short-term restrictions should remain in place in the interim to ensure a "smooth transition to the new system".
Business groups hit out at the move, with Liz Cameron of the Scottish Chambers of Commerce saying the hospitality sector in particular would be "absolutely devastated that restrictions now look to be in place indefinitely".
Joe Crawford from the Campaign for Real Ale group said the move was a "hammer blow" to pubs and breweries "who feel like they're being offered up as a sacrificial lamb without sufficient evidence".
And Andrew McRae from the Federation of Small Businesses said the current measures had a "disproportionate" impact on smaller firms, adding: "This new strategy must have meaningful input from the business community."
Ms Sturgeon said the move was "first and foremost a public health decision", having earlier set out rising numbers of cases, people being treated in hospitals, and deaths.
The latest figures include:
a further 1,739 cases logged in Scotland on Wednesday, although that includes "catch-up" figures following problems with tests at the weekend
an increase of 49 in the number of people in hospital, taking the total to 873
a further 28 deaths registered in the past 24 hours - the highest number reflected in the daily statistics since 21 May.
In her briefing, the first minister set out details of how the new five-tier system will work, saying the middle three would be "broadly equivalent" to the three-tier system in use in England.
The Scottish system will add an extra tier at the bottom - which Ms Sturgeon said will be "the closest to normality we can reasonably expect to live with until we have a vaccine" - and one at the top.
She said: "When England published their system the chief medical officer at the time said he thought the top level was not enough to necessarily, in all circumstances, get the virus down.
"We think we need one above that, not identical to but perhaps close to a full lockdown, if things got to be that serious."
The new five-tier framework will include details of financial support for businesses hit by enforced closures, which Ms Sturgeon said will be "broadly similar" to that on offer in other parts of the UK.
She said: "While the level of support we set out will be the maximum that the Scottish government is able to provide within the resources available to us, it is the minimum we think is necessary.
"In common with other devolved administrations and many councils in England we will continue to pursue urgent discussions with the Treasury about provision of adequate support to help businesses and individuals through the restrictions likely to be necessary in the time ahead."
Ms Sturgeon said the continuing rise in infections and deaths was "clearly concerning", but she believed it "should not be taken as an indication that the current restrictions we are living under are not having any impact".
She said: "We do believe these restrictions will make a difference, and we believe they may already be making a difference. Even allowing for today's figures, we may be seeing a reduction in the rate at which new cases are increasing."
The first minister discussed the new strategic framework with opposition party leaders on Tuesday.
The Scottish Conservatives said the government must stop "stalling" and get support to businesses, saying they had been given "barely any notice" of the changes.
Leader Douglas Ross said: "There's a very real risk that the SNP take so long to get support out to these businesses that it will too little, too late. Promises of support sometime in the future won't protect Scottish jobs today."
Scottish Labour's Richard Leonard said Ms Sturgeon's administration "must take the right action to control the virus" as positive cases, hospital patients and deaths increase.
He added that it was "clear" that the test and protect system was not working "well enough" to contain the virus, saying: "We need the government to step up and ensure our testing and tracing system is fit for purpose".
Lib Dem leader Willie Rennie said he was worried about "how things are developing" and said the government needed to "get on top of this situation" if the virus was going to be curbed.
He said: "We have had four strategies in three weeks, starting with the route map then the 16 days of restrictions that has now turned into 23 days, and we will have the new strategy announced on Friday. It doesn't look like we're in control of the situation."