Record numbers of P1 children have no tooth decay
By Reevel Alderson
BBC Scotland's social affairs correspondent
The state of children's teeth in Scotland has improved further, with nearly three quarters of P1 pupils showing no obvious signs of decay.
Dentists are also worried that coronavirus restrictions could hinder further progress.
The Scottish government said it was offering financial support to maintain NHS dental services.
The National Dental Inspection Programme (NDIP) looks at the teeth of two school year groups - P1 as children enter local authority schools and P7 before they move to secondary education.
In 2019-20 the teeth of more than 13,000 children - 22.5% of the estimated P1 population - were examined across Scotland.
While the inspections in school are not necessarily as rigorous as those conducted in a dental surgery, they do record obvious decay where disease has penetrated below the white enamel layer.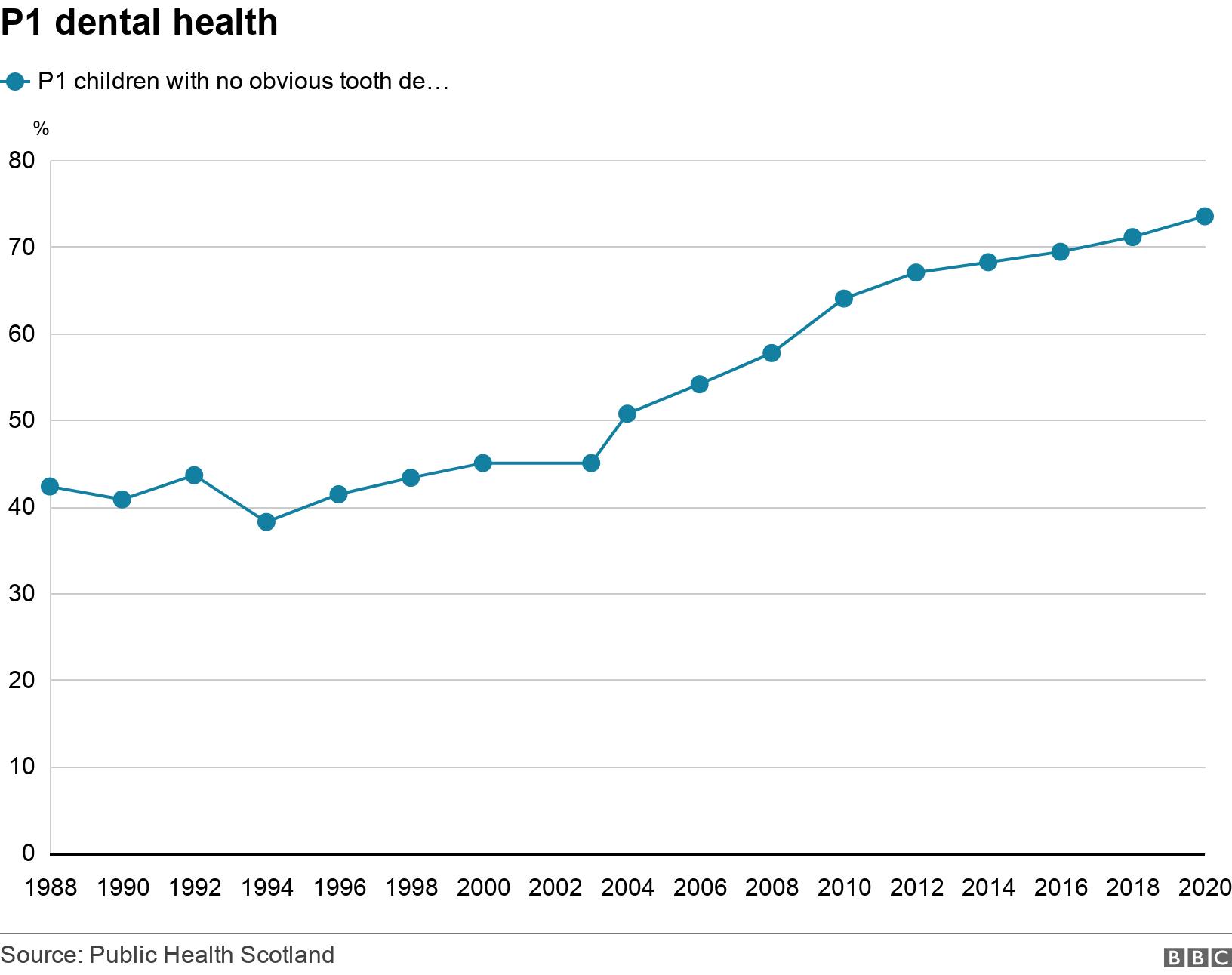 The findings, published by Public Health Scotland (PHS), show that nearly 74% of children in P1 had no obvious decay in their baby teeth - a three percentage point improvement on the previous year.
When the programme began in 2002-3, only 45% of P1 children were without evidence of tooth decay.
The figures also showed the average number of decayed, missing or filled teeth per child had reduced from 2.76 in 2002-03 to 1.04 in 2019-20.
Health inequalities
Despite the overall improvements, PHS highlighted the continuing link between deprivation and poor dental health.
Almost 42% of P1 children in the most deprived areas had obvious dental decay, compared with just over 13% in more affluent parts of Scotland.
P1 children in the most deprived communities experience more than four times the level of tooth decay - an average of 1.78 decayed, missing or filled teeth per child compared to 0.40 in the least deprived areas.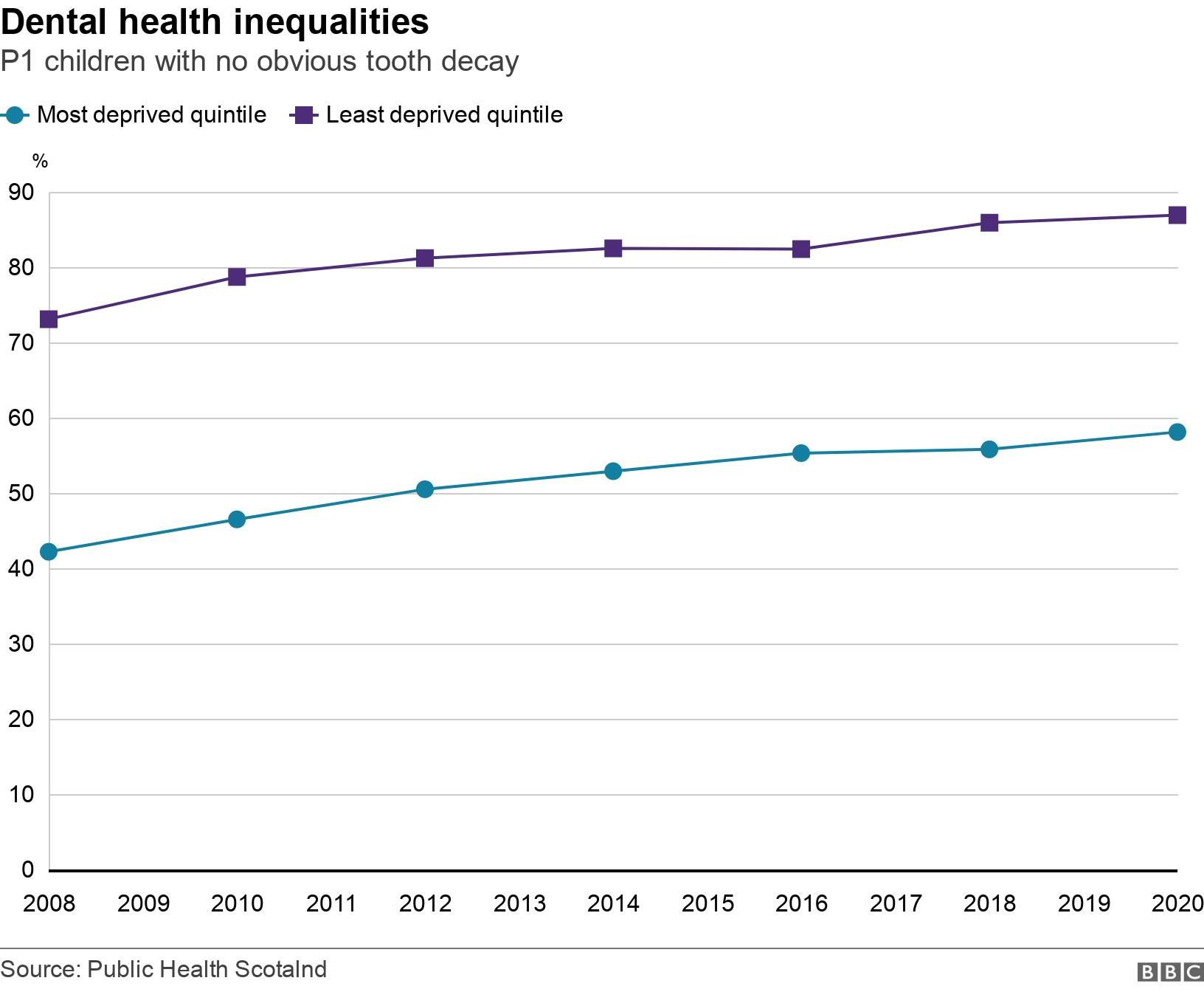 The report said the gap had narrowed in recent years, but the British Dental Association (BDA) warned decades of improvements could be at risk due to restrictions introduced during the coronavirus pandemic.
The BDA said "stark and persistent inequalities" could widen, given the collapse in access to routine services, the suspension of public health programmes and the impact of sugar-rich lockdown diets.
Robert Donald, chairman of the BDA Scottish Council, said: "Covid risks undoing decades of progress in improving the dental health of our children.
"Dentistry in Scotland is at a turning point. Routine check-ups remain off the cards for most families, our public health programmes are struggling, and high street practices face a deeply uncertain future.
"The oral health gap between rich and poor - which has proved so stubborn - will widen unless we see real commitment from the Scottish government."
NHS dental practices will be permitted to perform a full range of treatment from 1 November, but the BDA said practices would be operating at a fraction of their former capacity.
It warned ongoing restrictions, higher costs and reduced patient numbers could lead to a sharp decline in the number of NHS dental practices.
And it said a remobilisation plan for the pioneering Childsmile programme, paused since Scotland first entered lockdown in March, would depend on levels of Covid-19 in the community.
Financial support
The Scottish government said it was committed to improving child oral health and the report demonstrated the success of the Childsmile programme.
A spokesman said: "Our child oral health programmes have been paused due to the pandemic and we are actively looking at how these services can be safely restarted in local communities, nurseries and schools as soon as possible.
"We have put an unprecedented set of financial support measures in place to ensure NHS dental services can continue to provide effective oral healthcare, and as well as deploying the Scottish government budget for NHS dental services, we are investing an additional £2.75m per month.
"This means we are making exceptional payments to the value of £12m per month to support NHS dental incomes.
"As part of the next phase of remobilisation the intention is to raise the top-up, further confirmation of this government's commitment to NHS dental services."
The BBC is not responsible for the content of external sites.