Covid: Are hospitals in Scotland close to capacity?
By Steven Brocklehurst
BBC Scotland News
The number of people in hospital with Covid has risen rapidly over the past six weeks from 45 to more than 800. So, how close are Scotland's hospitals to reaching capacity?
The main difference between the second surge of Covid and the first in April and May is that hospitals are trying to keep more services running at the same time as treating coronavirus patients.
But as cases rise, this becomes more difficult.
At its peak, the first coronavirus wave created a huge load on Scotland's hospitals, with 1,520 Covid patients being treated across the country on 20 April.
The number of people in hospital is currently far lower than that - 824 on Tuesday - but has been rising steadily for more than a month.
Most people with Covid will not need treatment in an Intensive Care unit (ICU) but how many cases there are is an extreme indicator of the strain being put on the NHS.
Baseline capacity
At the start of the pandemic the baseline capacity across Scotland was 173 ICU patients but health boards confirmed the capability to provide invasive mechanical ventilation for 585 patients.
That baseline capacity was exceeded from 31 March to 24 April. It peaked at 45% above baseline on 9 April, meaning there were a total of 250 Covid and non-Covid patients in intensive care.
That number of patients remains substantially lower than the ICUs that had been made available.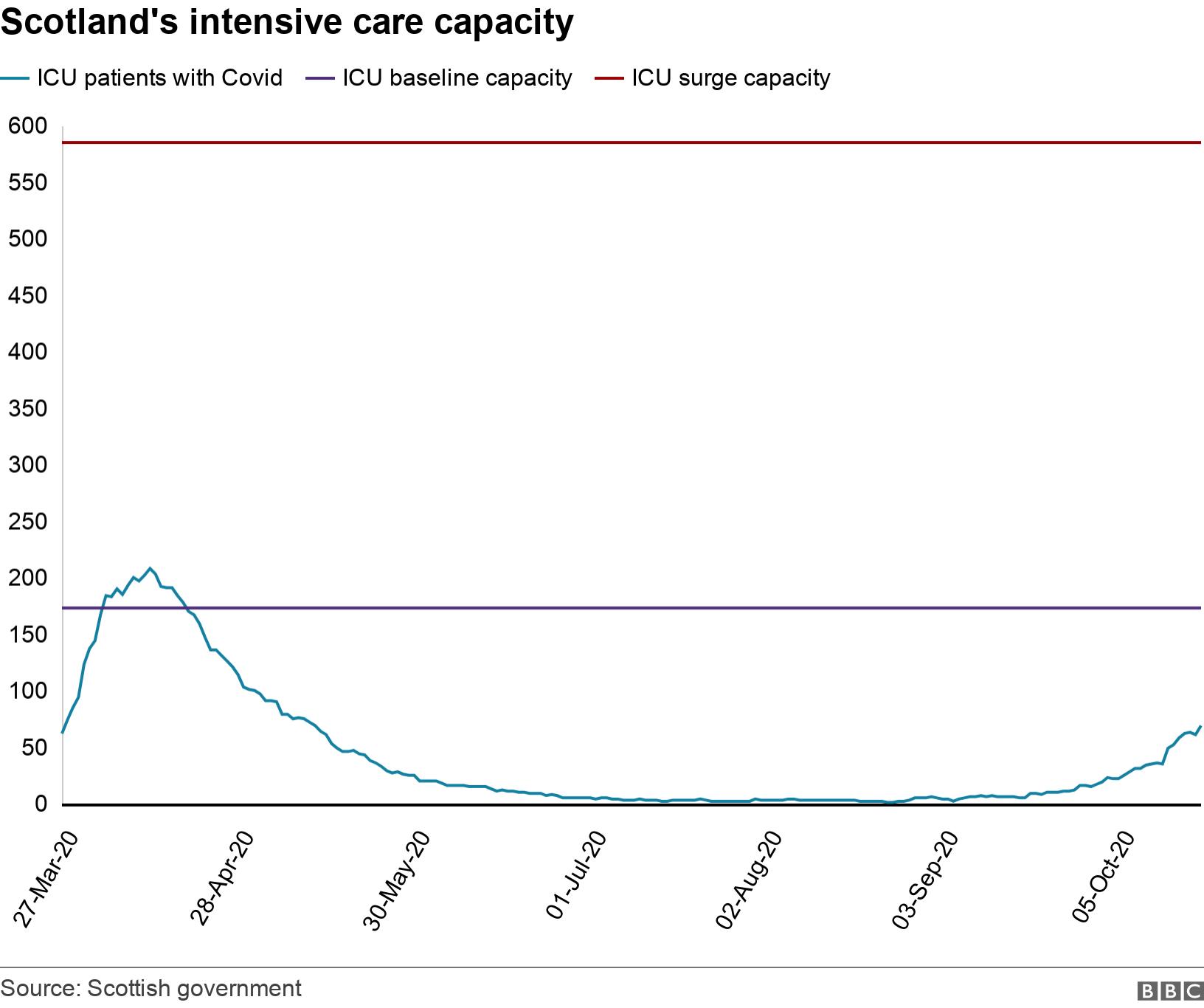 Patients with Covid were 73.5% of all those in ICUs during the period of peak capacity.
That means more than a quarter of intensive care activity during the peak of the pandemic was not related to Covid, despite a massive reduction in hospital procedures.
Surprisingly, ICU admissions per week across Scotland were lower in 2020 compared with the same period in 2019 but because Covid patients were spending much longer in ICU, the capacity was greatly reduced.
There are currently 69 people in ICU with Covid, a figure similar to the beginning of the lockdown at the end of March.
This is well below the baseline capacity but the figure has grown from just five on 18 September.
Scotland's National Clinical director Prof Jason Leitch told the daily media briefing on Tuesday that there were 200 Covid cases in ICU at the peak of the pandemic in April.
He said that at the moment there are 69 people in ICU with Covid but the total number, including non-Covid, is 171, close to baseline capacity.
Emergency medicine consultant Dr David Chung believed another 1,000 hospital beds in Scotland could be needed within the next fortnight to cope with virus admissions.
Speaking to BBC Scotland's The Nine programme he said: "We need to be vigilant and careful, right now we have the same number of patients we had on the 1st April, two weeks after that we had the peak.
"We need to be able to find potentially another 1,000 beds within the system in two weeks, but thankfully ICU doesn't appear to be under the same pressure from Covid but because we haven't cancelled elective care, there are patients there."
But he added that if hospitals were able to escalate capacity "quickly" then the situation "will be ok".
Extra capacity
Beyond ICUs, much changed in hospitals during the pandemic.
Some surgery did continue but was reduced by as much as 63% at the time of maximum bed use in April.
Over the summer, the NHS tried to bring elective surgery back to previous levels but a surge in Covid is meaning hospitals are again having to reconfigure their resources and cancel non-urgent procedures.
Before the Covid pandemic, the average daily number of beds, which were staffed and available for patients for acute specialties was about 13,000.
Generally, when there is no Covid, about 46% of acute beds are taken by emergency admissions, 12% by elective admissions and 42% by day cases.
The number has been going down for many years in line with evolving models of healthcare provision which aims to reduce the frequency and duration of hospital admissions.
In response to concerns over hospital capacity in April, a temporary hospital was opened at the SEC in Glasgow.
The NHS Louisa Jordan was set up within two weeks and had an initial 300 beds but could be expanded to hold more than 1,000 patients.
It had no ICU capability and was not used for Covid care during the first surge of the pandemic but since then it has been made available for outpatient services, such as orthopaedics, plastic surgery and dermatology.
It has also expanded to try to clear a backlog in X-rays and CT scans.
Hospitals across Scotland have long operated close to capacity. The percentage acute bed occupancy rate for the last quarter of 2019 was 88.1%.
But the surge in Covid cases means that once again some difficult decisions will have to be taken over how to use that capacity.