Covid in Scotland: How does the testing system work?
A row has developed between the UK and Scottish governments about coronavirus testing, after the Scottish government said a "testing capacity issue" at a UK government lab had led to a delay in results being published.
So who is responsible for testing? What is a lighthouse lab? And what happens after you've had a Covid test?
What happens when I need a test?
If you need a coronavirus test, it will be done through the UK government or NHS Scotland.
The majority of the tests administered in Scotland are through the UK government's testing network.
That includes the tests done at drive through and walk in testing sites across Scotland.
It also includes test kits which are delivered to homes.
These tests are mostly for people who have Covid symptoms, or who have been identified as close contacts of those who have already tested positive.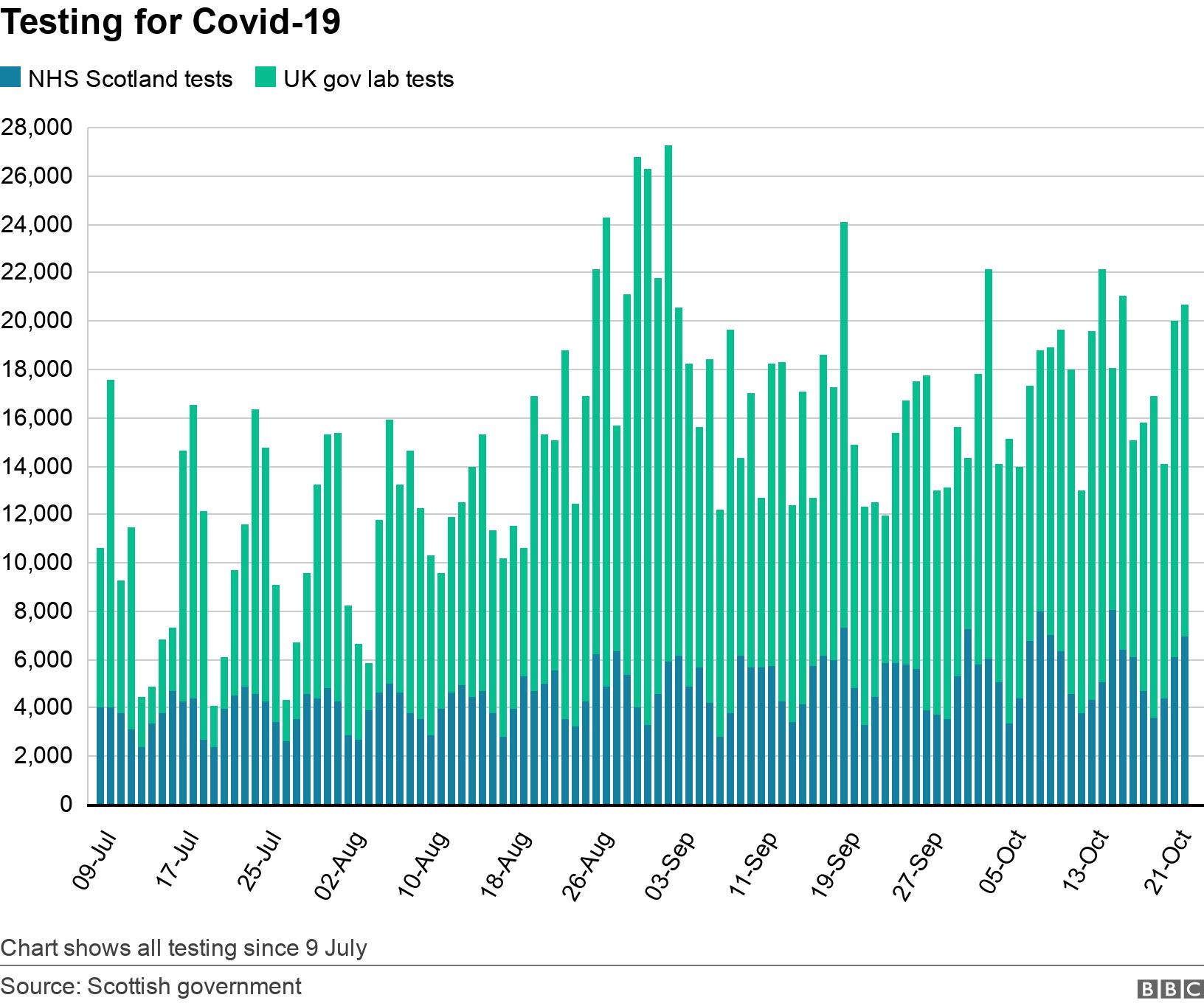 What is a lighthouse lab?
Early on in the pandemic, it became clear that testing was going to be needed on a massive scale to identify who had coronavirus.
The UK government set about arranging labs to process Covid tests across the country.
It is continuing to scale up testing capacity, and it says it hopes to be able to have 500,000 tests per day processed across the UK by the end of October.
In order to do this, it has funded what have been termed "lighthouse labs".
These laboratories are funded by the UK government but are partnerships with universities and big pharmaceutical companies like GSK and AstraZeneca.
Glasgow's lighthouse lab
One of the lighthouse labs is situated at the Queen Elizabeth University Hospital campus in Glasgow.
It is a Glasgow University lab that has been repurposed to process Covid test swabs.
It is stocked with equipment pulled together from around the university - including PCR machines and RNA extractors.
100 employees keep the lab running round the clock.
Which tests do the NHS process?
Some tests are also carried out by NHS Scotland.
These tests are for care home residents, hospital patients (including those being admitted for elective surgery) and health board workers.
To stop the virus being spread by healthcare workers without symptoms, some staff are routinely tested.
Symptomatic staff or members of their household can also be tested through NHS labs.
Some health boards also process tests for the emergency services and their household members.
The NHS Scotland labs are also taking over routine testing for care home staff, which had previously been the responsibility of the network of lighthouse labs.