Covid-19 in Scotland: Five numbers to watch
By Christopher Sleight
BBC Scotland news
First Minister Nicola Sturgeon says Scotland is in a "precarious" position in its fight to contain Covid-19. As the rise in confirmed cases continues to gather momentum, are we headed for another full wave of the virus? Here are five key numbers to watch.
1. The number being admitted to hospital
The daily number of new confirmed cases of Covid-19 is an important statistic - but it's difficult to make a comparison between now and March using this figure as the number of people being tested has risen so significantly.
One number that is arguably a better gauge of where Scotland is in this "second wave" is hospital admissions.
Scotland's seven-day average of Covid-19 hospital admissions hit a low on 18 July and since then it's mainly been rising.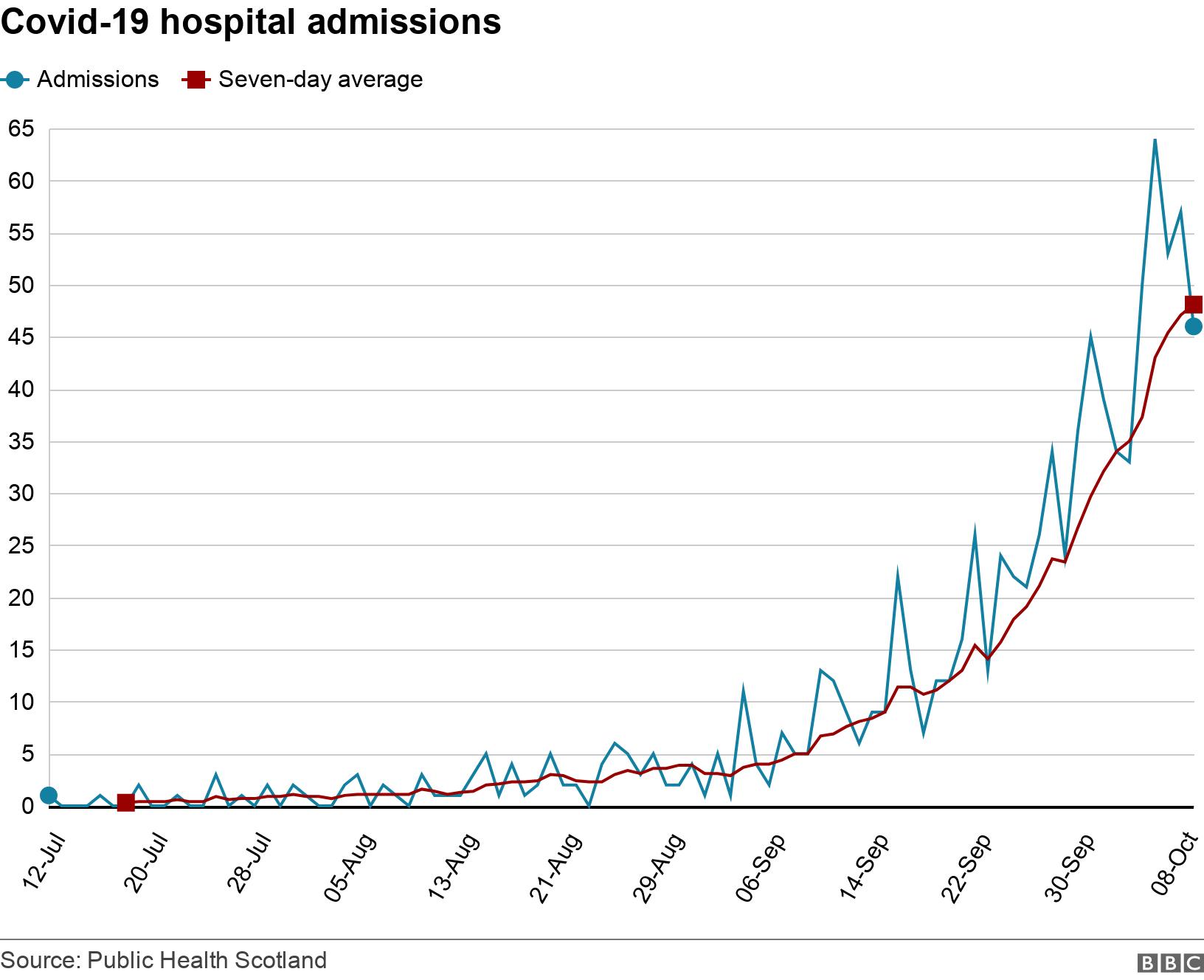 The growth in the number of daily admissions has been reasonably consistent, with the seven-day average growing by about 6% each day.
If this continues then we could see this average pass 100 in a week's time.
However, recent measures being put in place by the Scottish government are designed to bring this rate down - so watching this number could give us an indication of how well the restrictions are working.
There's no precise way of measuring how hospital admissions this time compare with March and April - but we can take the point where hospital admissions reached an average of 12 a day in the spring (7 March) and match it to when we reached this figure in the autumn (21 September).
In September, the rate of new admissions follows a very similar rate for almost two weeks, but now appear to be slowing in comparison with March.
In the spring, the seven-day average in hospital admissions peaked at 185 a day on 6 April - 30 days after average admissions were at 12 a day.
2. How many patients end up in intensive care
The sickest Covid-19 patients are likely to end up in intensive care - and the mortality rate is high.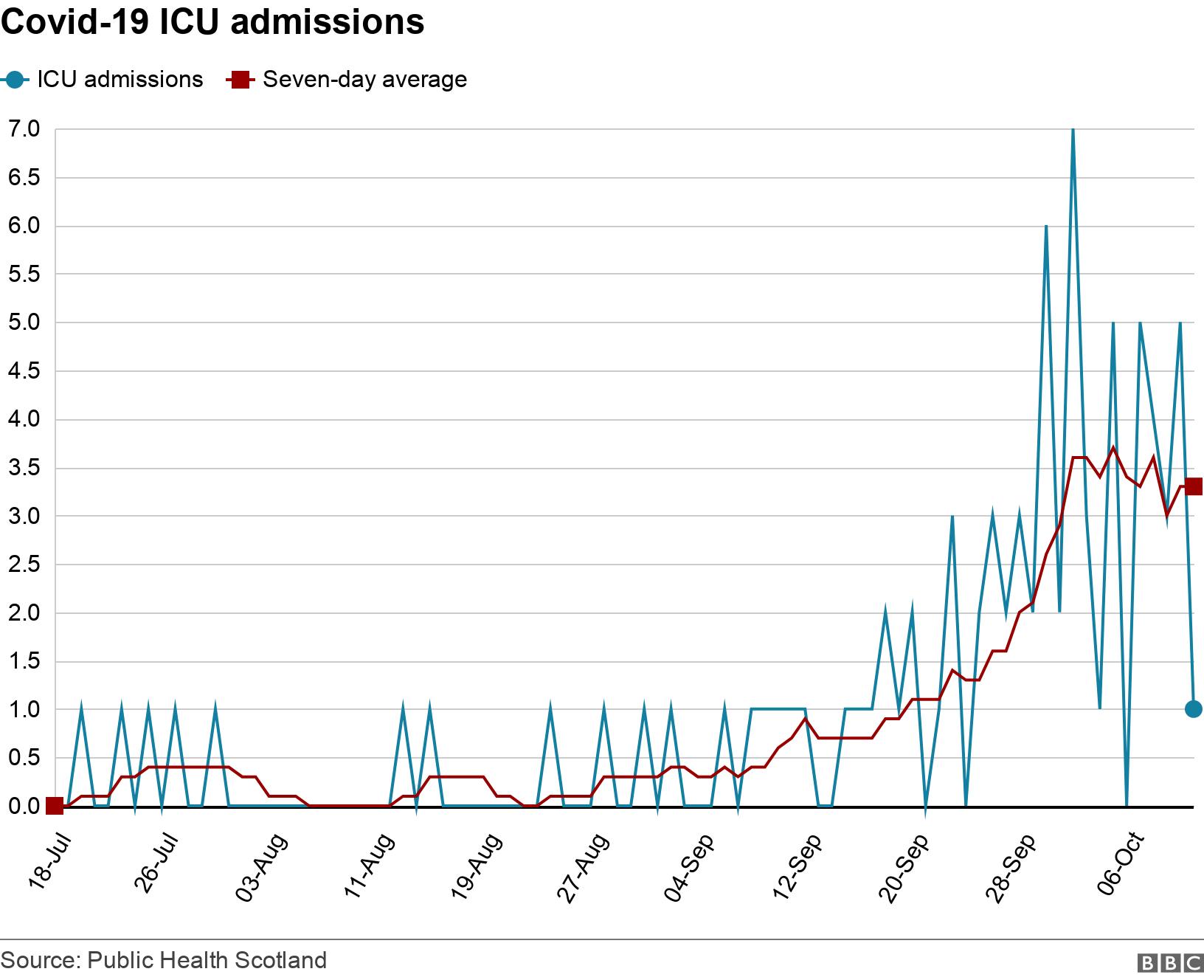 The numbers fluctuate day-to-day, but it is possible to see the average number of daily admissions rising steadily since the beginning of September.
The Scottish government also publishes figures on the numbers of Covid-19 patients in intensive each day.
On 15 October this stood at 51 - up from six on 11 September.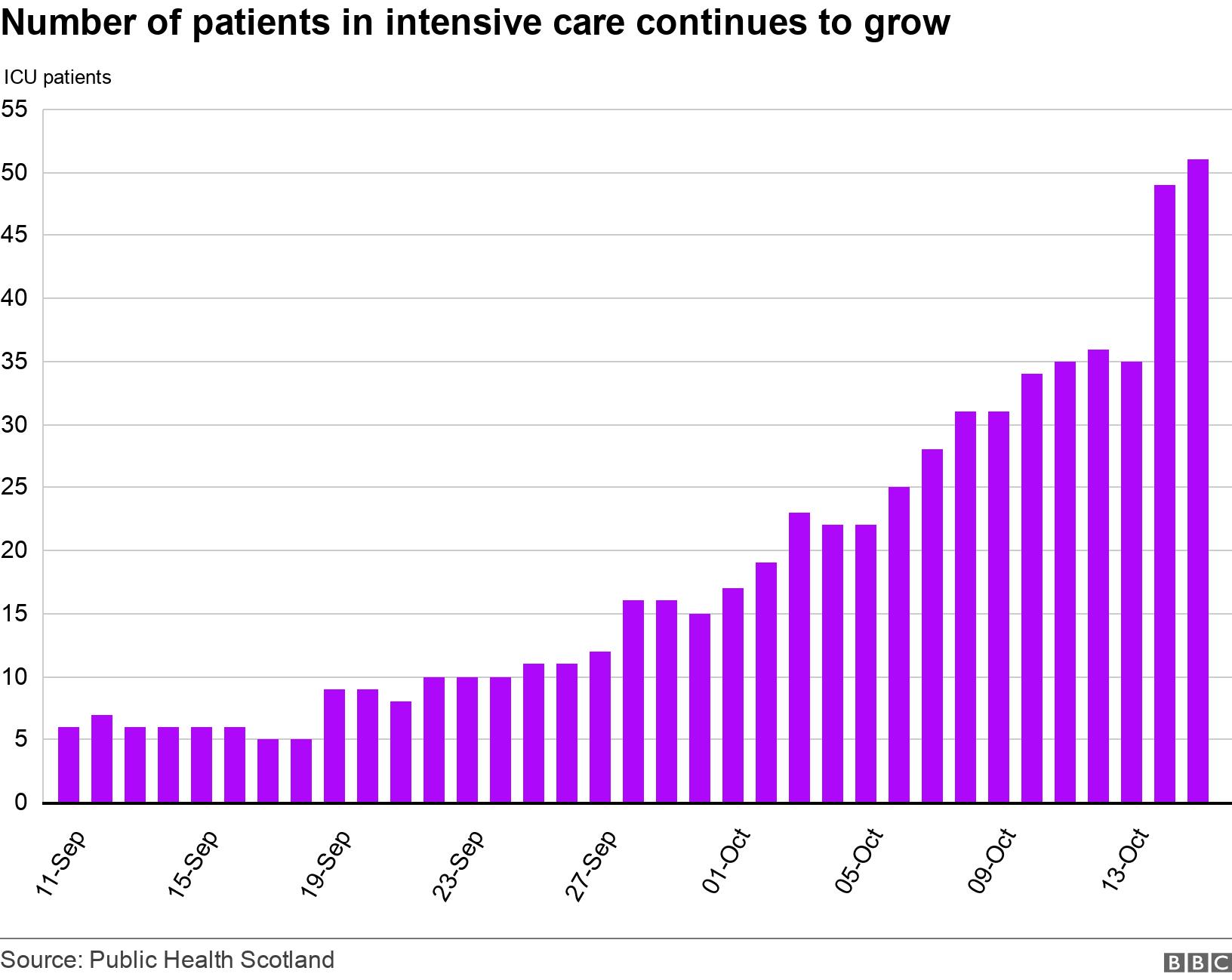 Figures for the daily total in intensive care start on 27 March, when there were already 62 patients in intensive care.
3. Will the death rate continue to rise?
The Scottish government announces daily figures of deaths within 28 days of a positive test for Covid-19.
Weekly figures, published by the National Records of Scotland, count all death certificates that mention Covid-19, even if the person had not been tested for the virus.
By both these measures, death rates are low in the context of April's peak.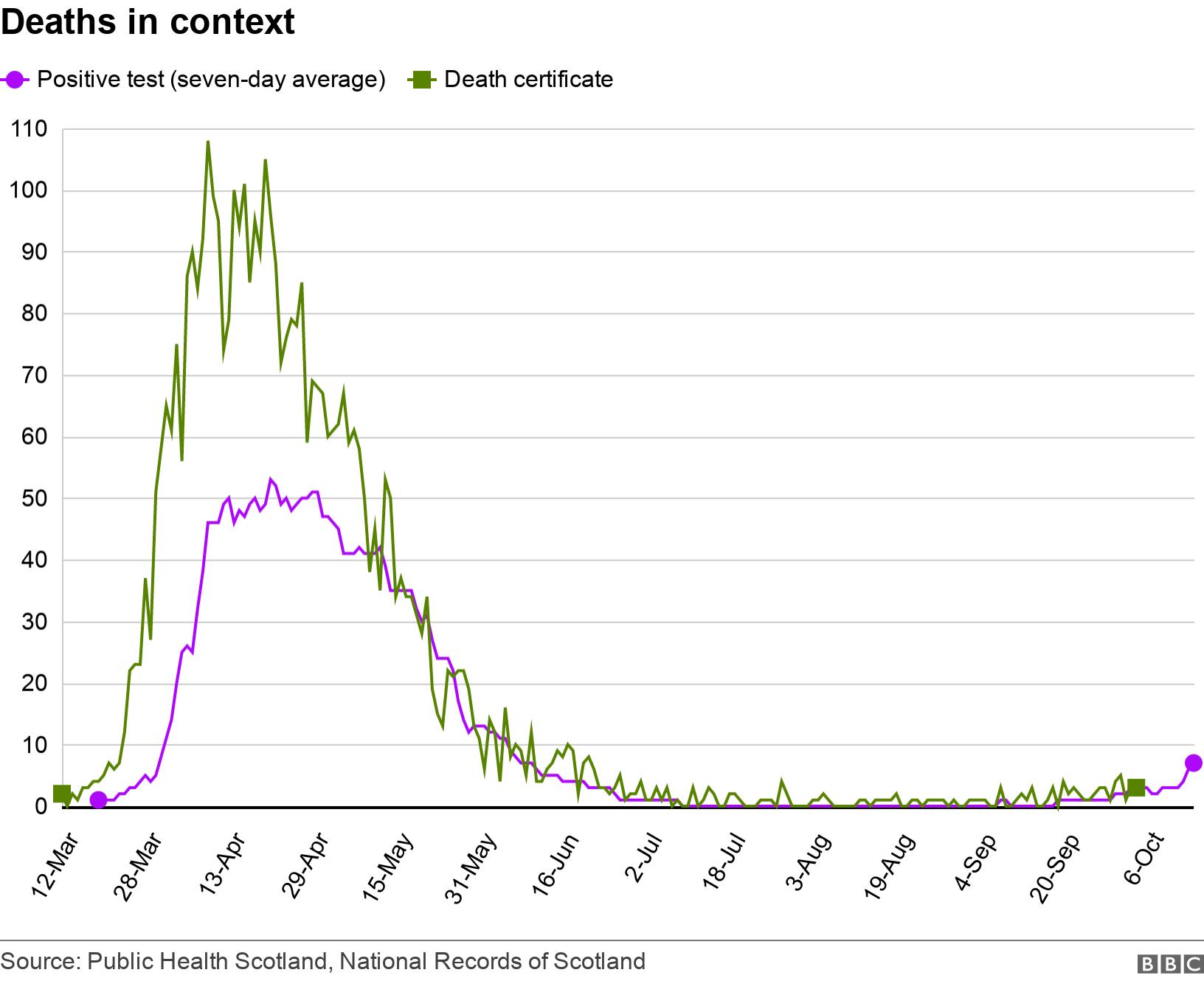 Looking at deaths following a positive test, Scotland went 40 days over the summer with no deaths recorded at all.
This a chart showing deaths since the end of that period on 26 August: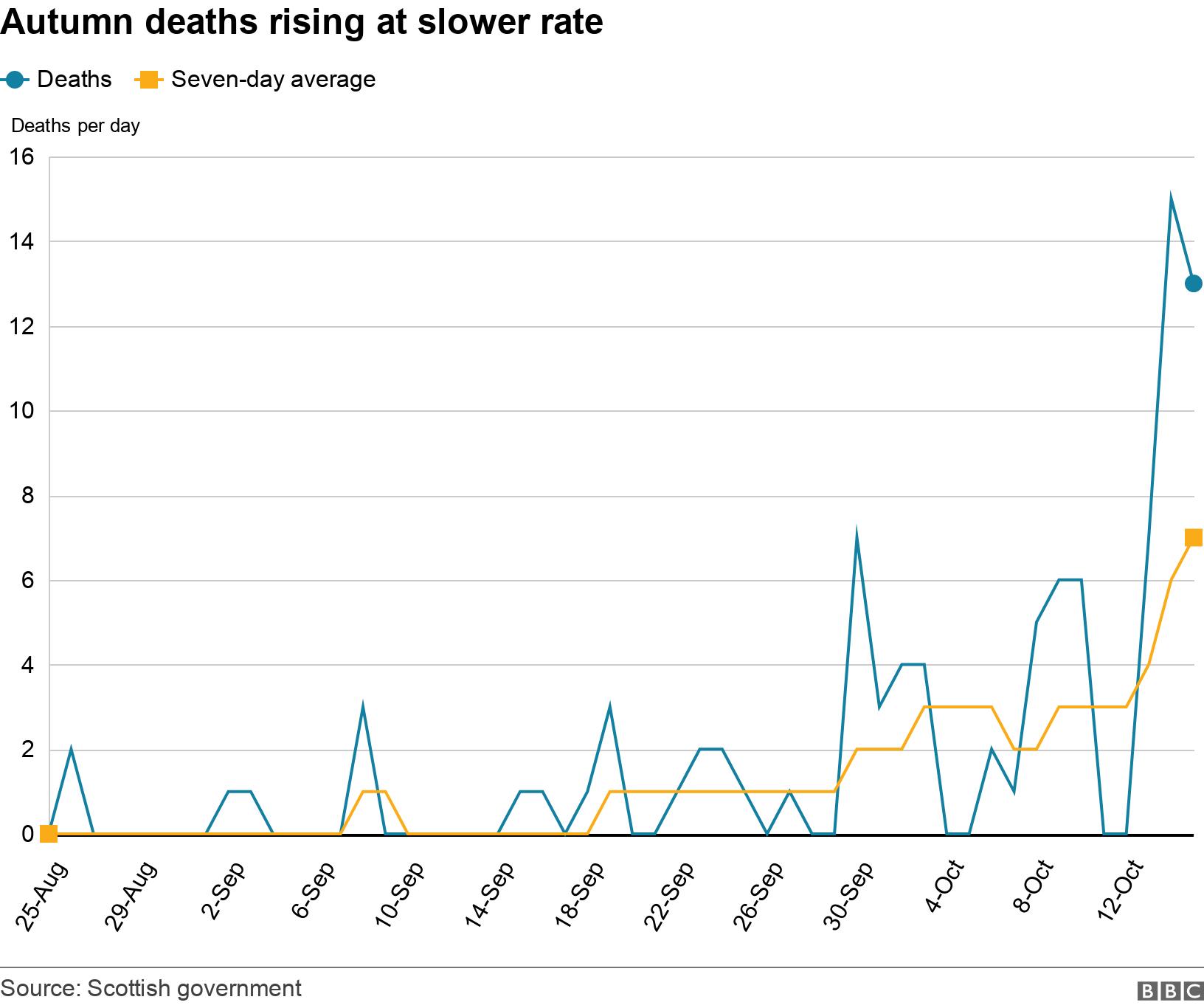 It's clear that the number of new deaths is rising - but at nowhere near the pace in March, when the seven-day average of new deaths per day went from one on 19 March to 50 in about a month.
4. Who is getting infected?
Currently, the rates of hospital admissions, ICU admissions and deaths are all growing - but much more slowly than they were in March and April.
So why is that when Scotland is undoubtedly seeing a huge surge in the number of new coronavirus cases?
Younger age groups are much less likely to end up in hospital, or die, from Covid-19.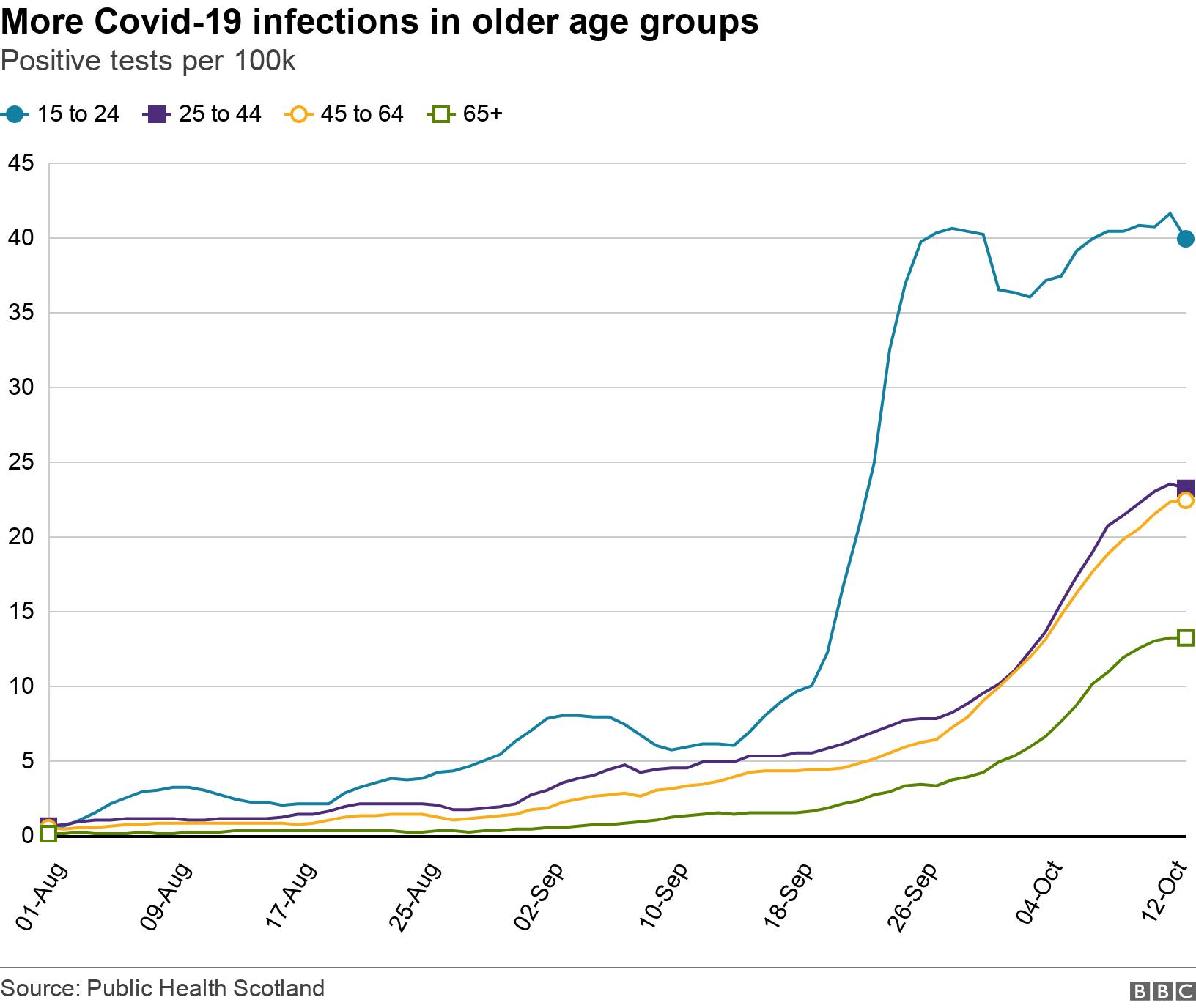 However, the rate in the youngest age group appears to be steadying, with those in older age groups clearly rising in recent weeks.
So this is a number worth watching: if older age groups begin to get infected in large numbers, then the rates of hospital and ICU admissions - and deaths - could accelerate.
5. The rates in areas under extra restrictions
The measures cover people living in the Greater Glasgow and Clyde, Lanarkshire, Forth Valley, Lothian and Ayrshire and Arran health board areas, affecting about 3.4 million people.
All pubs and restaurants are closed and there is strong advice for people not to leave the health board area they live in for non-essential journeys.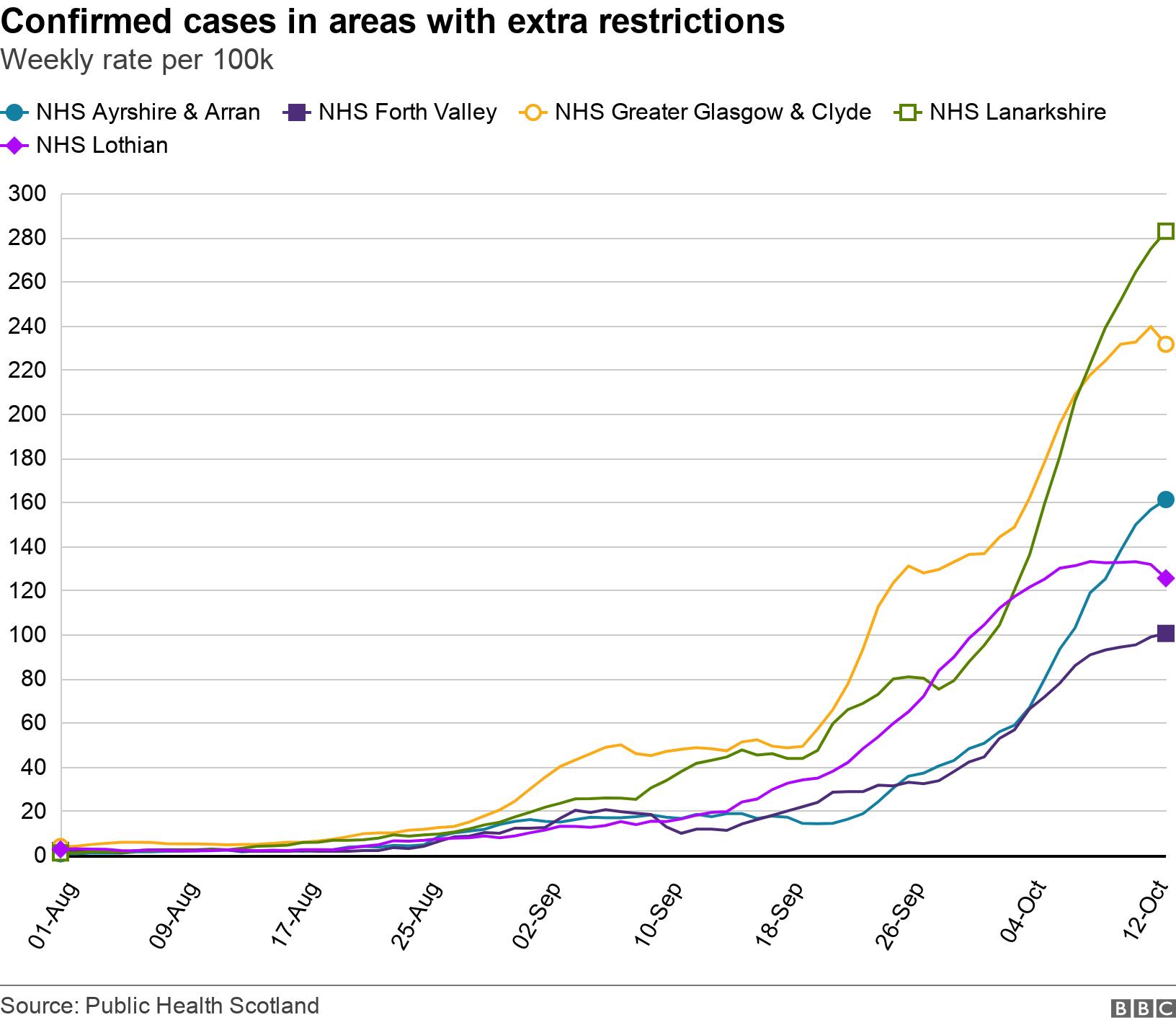 The Scottish government also publish figures on the number of people in hospitals with Covid-19 across each health board.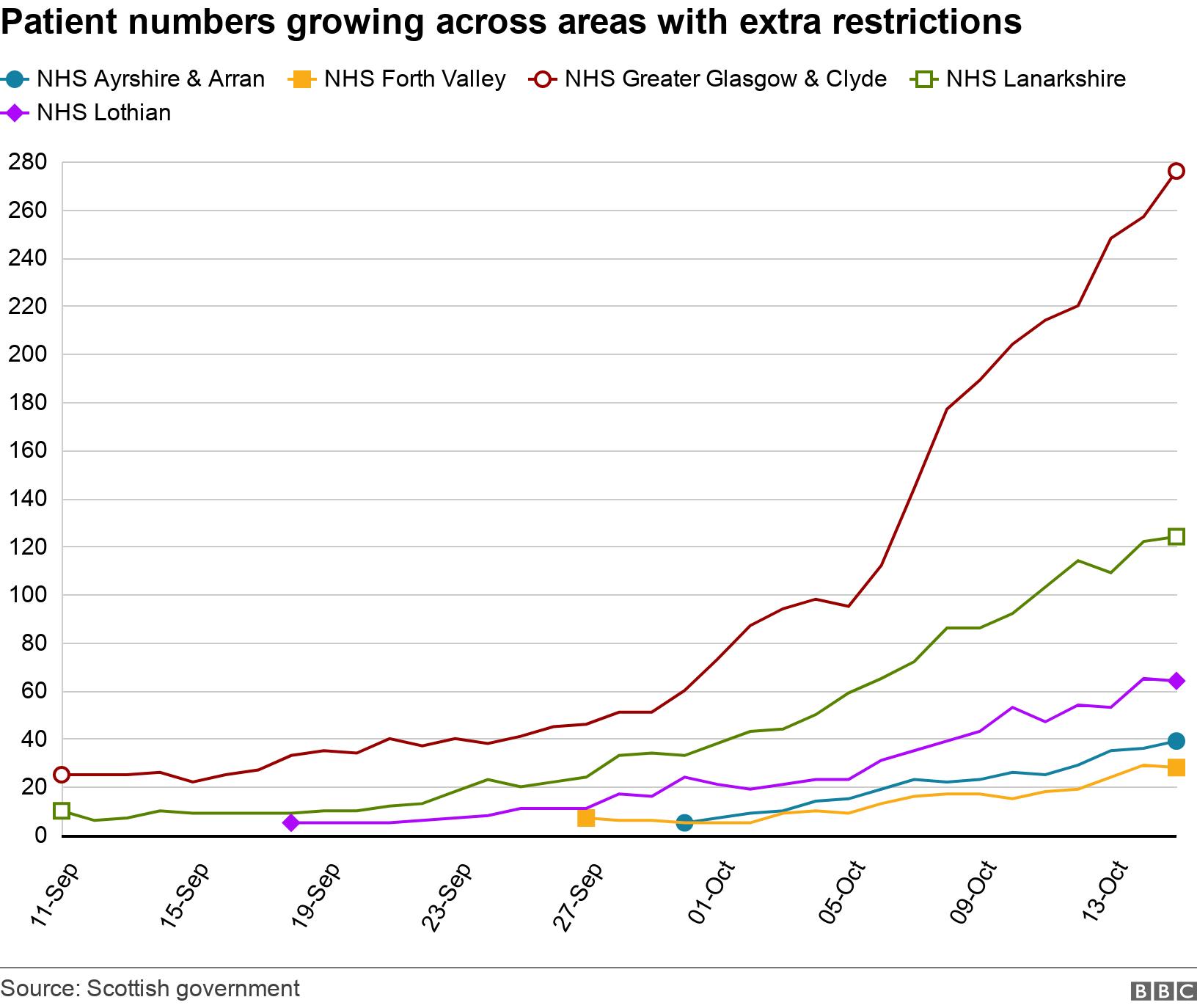 It is too soon to know if the extra restrictions are having an effect, but this is another number worth watching closely over the coming days and weeks.
If confirmed cases and hospital admissions continue to rise at a similar or increased pace, the Scottish government may well react by imposing even more stringent measures.