Police break up parties at Edinburgh student halls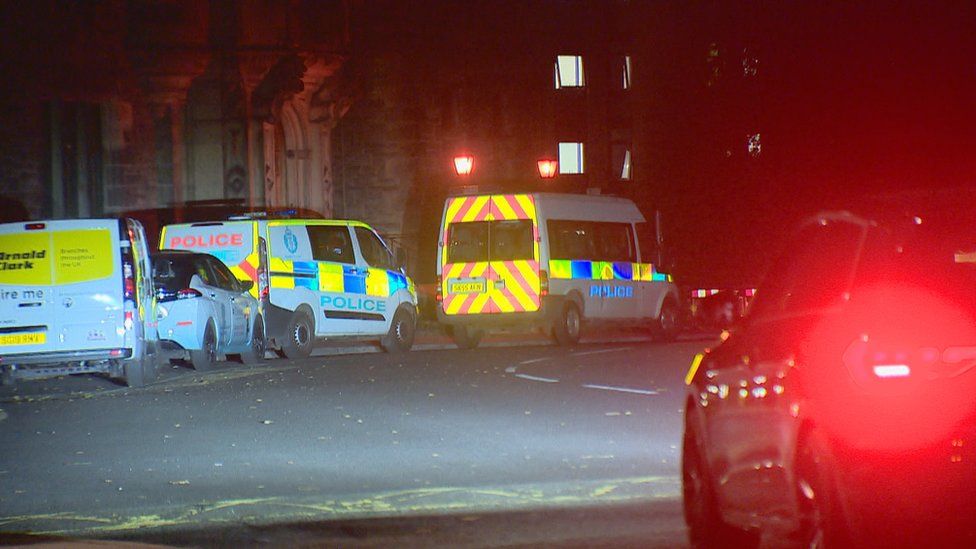 Police have been called to break up a number of parties at the University of Edinburgh's main halls of residence.
Officers said they had dispersed "numerous" groups on Friday night at Pollock Halls of Residence, which houses about 1,900 students.
The university said a "small number" of students had tested positive.
Some of the positive cases are understood to be at one of the Holland House blocks, which is part of Pollock Halls.
A Holland House resident, Reese Chamberlain, contacted BBC Scotland to say he had been told his entire block was "locked down" after a positive test was detected.
A spokesperson for the university said it was "not asking for whole halls of student accommodation to self-isolate".
Police Scotland confirmed they were called to Pollock Halls of Residence, on the edge of the Holyrood Park, after "informants" raised concerns the parties were breaching regulations that prevent more than one household mixing indoors.
Insp David Hughes told BBC Scotland: "Police Scotland attended and we've spoken to a number of the parties and dispersed those individuals. [Officers] provided education and advice as to what is and what isn't in line with current regulations.
"From a police perspective, we've been relatively well received there. We have had some people who were unhappy with the regulations - but more the laws that are in force currently rather than the police response."
Insp Hughes said officers had broken up a number of small parties of five to seven students with people who were "clearly not from the same household".
No arrests were made and no fines were issued, he said.
The officer added: "It must feel strange to people of that age and you can understand their frustrations in relation to the current regulations but overall the reason that that's there is to protect the health of the United Kingdom."
Universities in Scotland pledged last week to make it "absolutely clear" to students that they should not be holding parties or socialising with people outside their accommodation.
They have also been told they cannot return home under coronavirus laws in Scotland as they are deemed to have formed a new household with those they are now living with.
However, international student Mr Chamberlain said there had been an "exodus" of students supposed to be in isolation in the early hours of Saturday morning.
He told BBC Scotland the situation in his Holland House block was "dire".
"A Zoom meeting was just now held for affected students of the same household, where a representative told a small group of students that the entire building, not just the affected household, was to be locked down imminently, causing chaos in the community," he said.
"Food was not delivered until late afternoon leaving me hungry and without supplies for the first part of the day.
"Now people are panicking because no one has actually received any real details about this, and no-one knows how will it will be enforced either. Some are out and about getting supplies not knowing if this already goes against the rules."
A first-year student living in another block at Pollock Halls told the BBC there was a "pretty weird vibe" around the university.
"There's always police here now. It feels like we're being watched 24-7 which is a bit scary," she said.
"My friend's in Holland House and she said that the whole of the Holland House blocks had been locked down and there's been people patrolling to make sure that no-one's leaving."
Angus Graham-Rack, a first-year at the University of Edinburgh, said the restrictions placed on students had been a "kick in the teeth".
"We were all encouraged to come to halls of residence and meet new people, yet are now are being criticised for doing so," he said.
"We are all left wondering why we even bothered moving here since nobody I know has had any face-to-face interactions with staff yet - we may as well have done the course from home.
"It feels like we've been completely cheated as we were promised at least some sort of a student experience in the midst of the pandemic, yet now we're essentially confined to our own flats with signs plastered around the building ordering us to not socialise."
There are also outbreaks among students in Dundee and Aberdeen.
A University of Edinburgh it was working with NHS Lothian's Health Protection team to ensure students were provided with "the information and support they need". 
A spokesperson added: "We are asking students who have attended parties recently to be vigilant regarding any Covid-19 symptoms and for all students to follow guidance as appropriate.
"We are continuing to monitor the situation, keeping our students and staff informed as appropriate, and following all Scottish Government guidance.
"We are providing care and support - including mental health support - to those self-isolating both in University-owned and private accommodation."