Coronavirus in Scotland: New rules limit gatherings to six people
A new law has come into force limiting social gatherings in Scotland to a maximum of six people from two households.
The changed rules apply both indoors and outdoors - including in homes, gardens, pubs and restaurants.
Until now up to eight people from three homes were allowed to meet indoors, and 15 from five households outdoors.
Children aged under 12 will not count towards the total in the "rule of six" in Scotland.
More than 1.75m people in Glasgow and the surrounding areas are subject to even stricter restrictions.
Those living in Glasgow city, South and North Lanarkshire, East and West Dunbartonshire, Renfrewshire and East Renfrewshire cannot meet other households in their own homes.
Ms Sturgeon told her daily briefing that most parts of Scotland had seen a rise in cases in recent weeks.
"New cases in Scotland have been more than trebling every three weeks in the last few weeks. That pattern is not sustainable," she said.
"If we all act collectively now, our hope is that we can stem that increase."
She asked everyone to follow the new rules limiting gatherings to no more than six people from two households.
"I'm aware this restriction is a really tough one, but restricting the number of households that can meet is important in reducing transmission rates," she added.
Police Scotland said it would enforce the law if required.
Deputy Chief Constable Malcolm Graham said people were being asked to take personal responsibility and "do the right thing".
"Our officers will continue to engage with the public, explain the legislation and guidance and encourage compliance," he said.
"We will use enforcement as a last resort where there is a clear breach of the legislation."
It has also become mandatory for staff working in hospitality premises such as pubs and restaurants to wear face coverings, and for customers to wear them while moving around.
The changes follow an increase in the number of coronavirus cases across the country in recent weeks.
However, there were far fewer tests being carried out in May, meaning many people with the virus did not appear in the statistics.
Ms Sturgeon said on Monday that 70 new cases had been confirmed in the previous 24 hours, but that she did not believe those figures were complete.
"I have a very serious concern that the backlog of test results being faced by the UK laboratory network is starting to impact on the timeous reporting of Scottish results," she said.
Scotland's Clinical Director Jason Leitch earlier told BBC Radio's Good Morning Scotland programme that 60-70% of new cases were among those aged under 40.
He said: "The virus doesn't understand which age group it is infecting. We still have to protect the older group.
"In Spain there is interesting data - which is sobering - about it taking four, five, six weeks for the virus to go into the older age groups and we have got to avoid that at all costs."
It also emerged on Monday that more than 900,000 people had now downloaded the Protect Scotland contact tracing app.
Where are cases spreading in Scotland?
As of 12 September, West Dunbartonshire was the council area with the highest rate of new Covid-19 cases in Scotland, with 51.7 per 100,000 people.
The seven-day rate is calculated by adding up all the new cases over the previous week, and then dividing it by the total population of the area.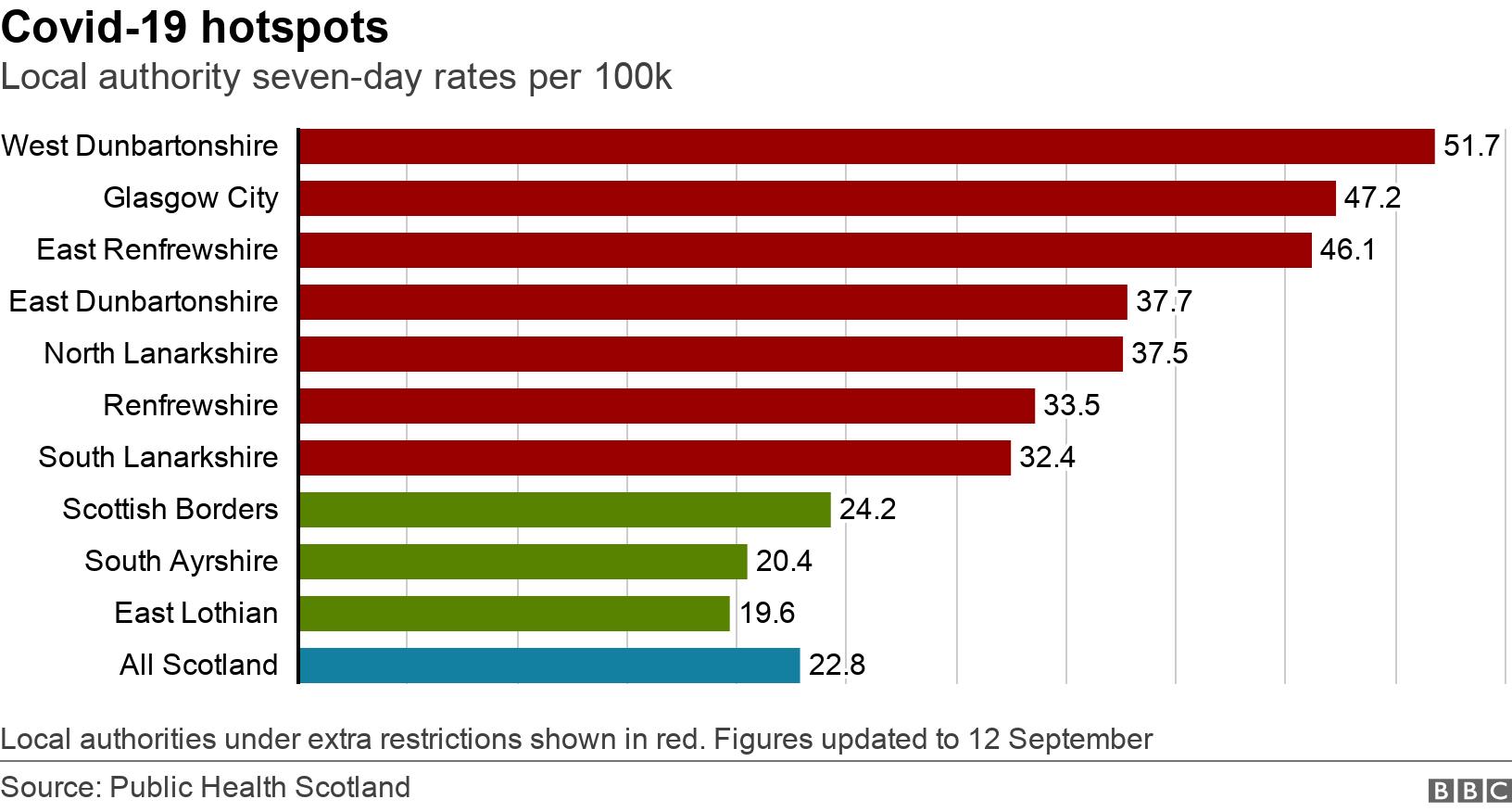 The seven local authorities with the highest rates on Saturday were all under extra restrictions imposed by the Scottish government as it tries to reduce infections in these areas.
The rates range from 51.7 in West Dunbartonshire to 32.4 in South Lanarkshire. Next in the table is the Scottish Borders, with a rate of 24.2.
On the same day, the Scotland-wide rate was 22.8.
It is also important to consider the percentage of positive tests to put the latest rise in cases in context.
The World Health Organisation says one measure that can indicate whether an epidemic is under control is whether - with a comprehensive testing system - less than 5% of samples return a positive result for Covid-19 over two weeks.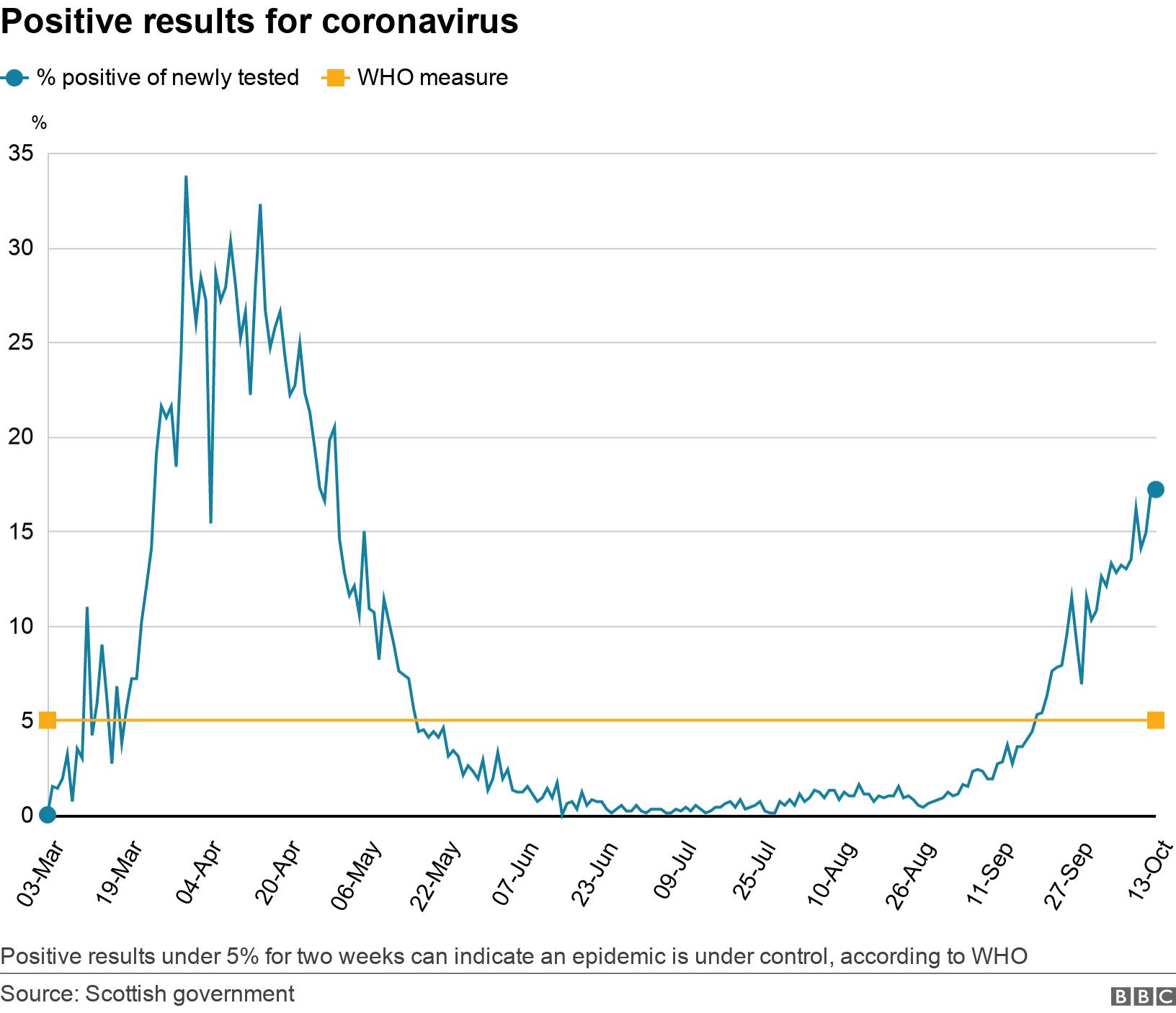 At the peak of the outbreak, the percentage of positive tests in Scotland reached 34% and was routinely between 20% and 30%.
The last time the figure was above 5% was 16 May, but it has been creeping up over the last few weeks, reaching 3.7% on Sunday - the highest since 22 May.