Coronavirus: Covid transmission within schools detected in Glasgow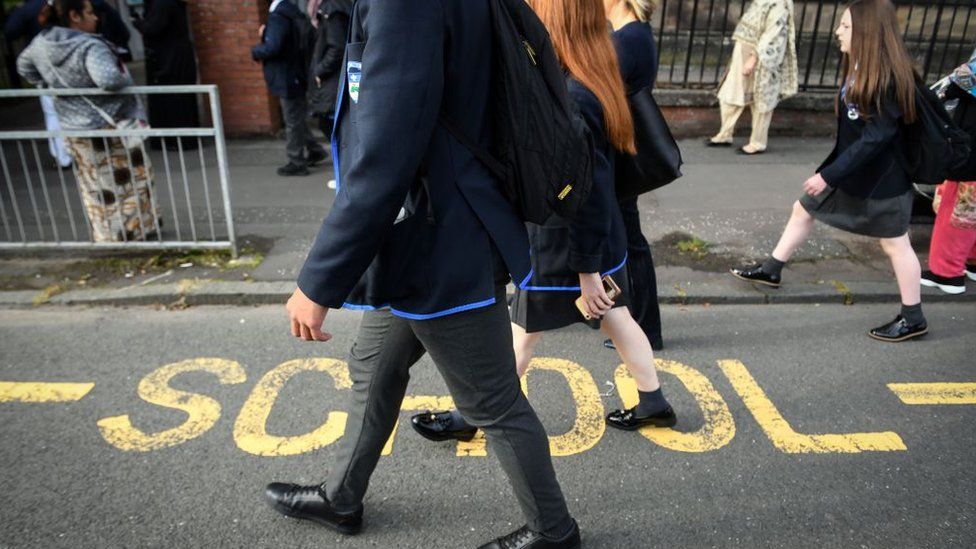 Health officials have found evidence of coronavirus spreading in two high schools in Glasgow.
The health board has not named the schools but said there was evidence of transmission of the virus "amongst a small number of cases".
It said the situation was being "carefully managed" and monitored and control measures had been put in place.
Meanwhile, contact tracing is taking place at Hutchesons Grammar School and Lochend Community High School.
Previously, officials said the virus was not being spread in schools and any positive cases were linked to community clusters.
Pupils began returning to school in Scotland about three weeks ago and since then the number of schoolchildren testing positive for the virus has been relatively low.
Of 29,500 tested across Scotland last week, 37 returned positive results. Two weeks ago, 17,500 children aged between two and 17 were tested and 49 were positive.
Youngsters in secondary schools have had to wear face coverings when moving between classrooms since Monday in an attempt to minimise transmission.
About 800,000 people in Glasgow City, West Dunbartonshire and East Renfrewshire are affected by the rules.
Among the new restrictions is the advice that all close contacts of positive cases and their households should self-isolate for 14-days.
In the rest of Scotland, only the person identified as a close contact is required to self-isolate.
The health board said staff and pupils at schools where contact tracing is happening should still attend school unless identified as a close contact.
NHSGGC said contact tracing is also underway at Renfrewshire Council and a number of staff at its Underwood Road recycling plant in Paisley were isolating at home.