Coronavirus: Aberdeen goes into lockdown as Covid cluster grows
Lockdown restrictions have been reimposed in Aberdeen due to a coronavirus cluster in the city, First Minister Nicola Sturgeon has announced.
Pubs and restaurants were ordered to close by 17:00 on Wednesday.
People are being told not to travel to Aberdeen, and those living in the city face travel restrictions.
Ms Sturgeon said there were now 54 cases in the "significant outbreak" and that community transmission could not be ruled out.
The restrictions mean that the 228,000 people who live in the Aberdeen city area are no longer allowed into each others' houses.
They are being told not to travel more than five miles for leisure purposes. Travelling for work or education is permitted, but other travel is not advised.
People who are visiting Aberdeen do not need to leave, but should follow the guidance and take "extra care" when they return home.
The restrictions will be reviewed next Wednesday and may be extended further if necessary.
Police Scotland said there would be additional patrols in Aberdeen, and that officers would continue the approach shown throughout the pandemic.
Deputy Chief Constable Will Kerr added: "Our officers will continue to explain the legislation and guidance but, for the minority who may choose to breach the regulations and risk the health of others, we will not hesitate to take enforcement action where appropriate."
Ms Sturgeon said the situation in Aberdeen should be "the biggest wake-up call" since the early days of the pandemic.
The first minister said the rise in cases around the world had been worrying her in recent weeks, but that for many people this could seem far away.
"There's always a sense of 'we're doing well and it won't happen here'," she said.
"It can happen here and it is happening here, in Aberdeen."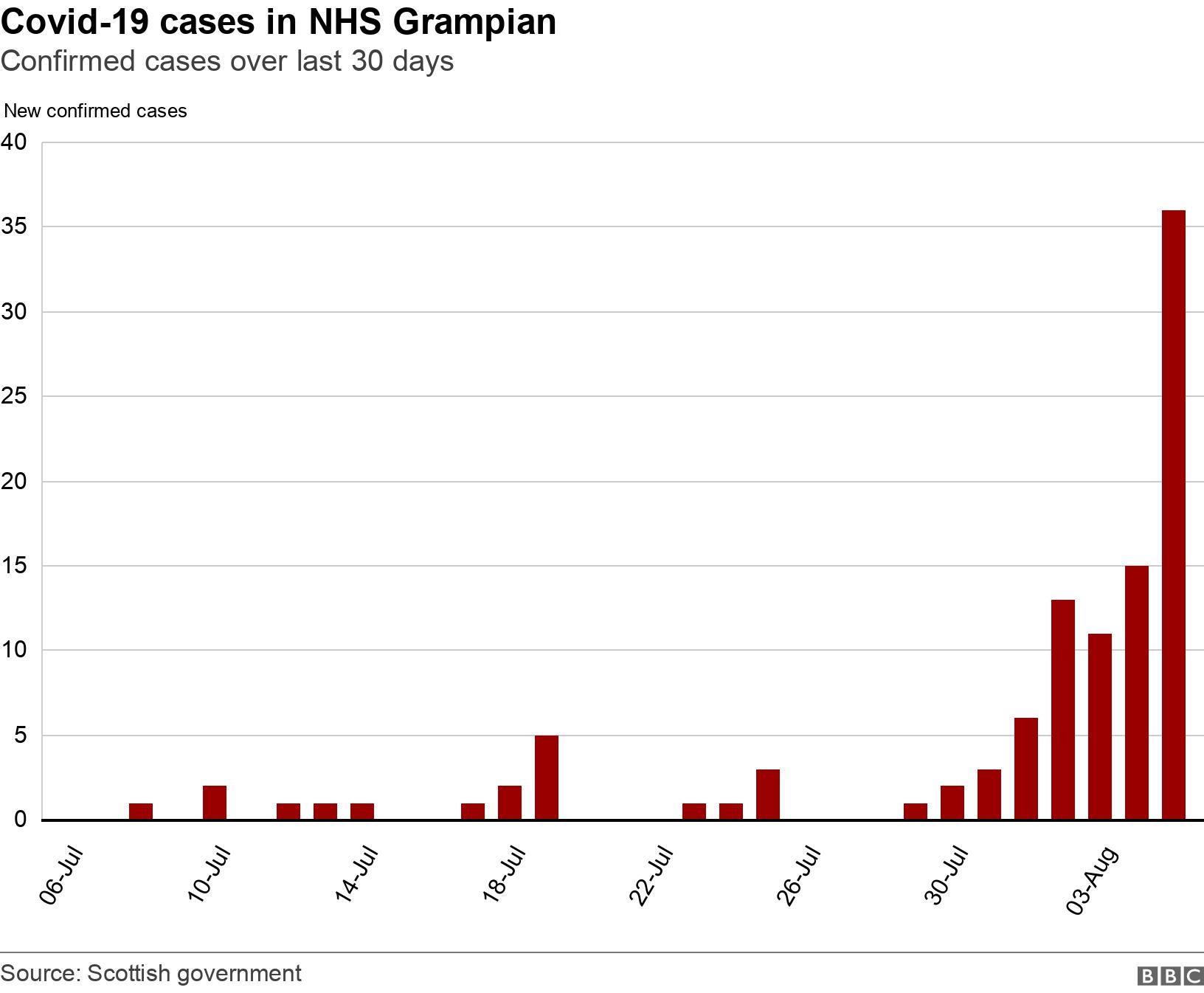 Details of the cluster, which was initially linked to people who had visited the Hawthorn Bar on 26 July, first emerged on Sunday.
Ms Sturgeon said 54 cases had now been associated with the cluster and 191 close contacts had been traced through the Test and Protect system.
NHS Grampian has published a list of venues which have been visited by people linked to the cluster, including 28 bars and cafes.
Bieldside Inn, Bobbin, Brewdog (Castlegate), Buckie Farm Carvery, Café Andaluz, Café Dag, Café Drummond, The Cock & Bull, College Bar, The Dutch Mill, Dyce Carvery, East End Social Club, Ferryhill House Hotel, Hawthorn/Adam Lounge, The Howff, The Justice Mill, The Marine Hotel, McGinty's, McNasty's, Malmaison, Moonfish Café, No.10 Bar, O'Donoghues, Old Bank Bar, Prohibition, Soul, Spider's Web, The Draft Project.
The list also includes Aboyne, Deeside and Hazelhead golf clubs, and the Banks O'Dee Football Club.
People who have visited any of these premises recently are being urged to be "extra vigilant" about symptoms.
Scotland has favoured a "boots on the ground" approach when it comes to Test and Protect.
As soon as a cluster is detected, local NHS health protection teams take charge of the incident. The belief is that local knowledge is the best way to break a cluster down.
It is about that basic principle of person, place and time, and local teams do the detective work. Where has the initial positive case been? Who have they been in contact with?
They need to build up a picture of risk from where transmission started.
Ms Sturgeon said the decision to reimpose restrictions had been taken "extremely reluctantly" after discussions with NHS Grampian, Police Scotland and the city council.
Asked if it was safe for schools to reopen in Aberdeen next week, the first minister said: "If it's a choice between hospitality and schools, we are choosing schools right now."
The first minister said restrictions on hospitality businesses would be backed by legislation and enforced if necessary.
But she added: "I would expect the way they have behaved in recent days the owners of these businesses in Aberdeen will act voluntarily, and I would thank businesses in hospitality for their co-operation so far."
The Federation of Small Businesses said government "at all levels" would need to "step up" and help those affected.
Andrew McRae said: "While local lockdowns might be necessary to prevent additional nationwide restrictions, today's announcement will be a hammer blow for independent firms in Aberdeen and the north east."
"I thought with the closure of some pubs in Aberdeen that that might be enough to allow us to continue. It is disappointing for the staff and for the customers, all of whom have abided by the regulations very carefully."
Asked if he thought it would be kept to last seven days, Mr Cameron replied: "I would hope it is, and I will count down the days, but I'm not sure. If it's longer, then that's unfortunate but I would like to see the customers back next Thursday."