Coronavirus: Pub cluster cases rise to 32 after FM warning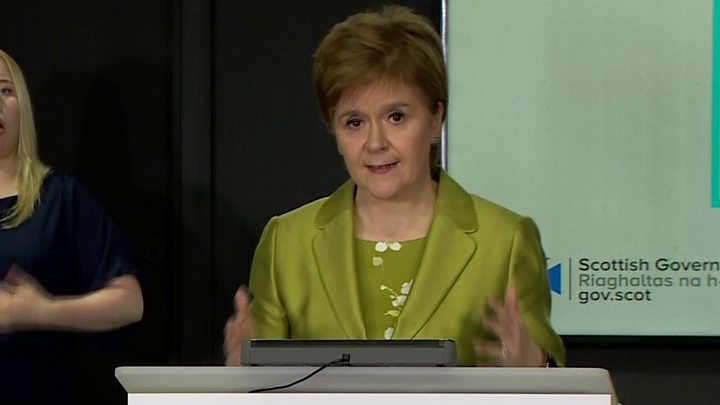 The number of cases of coronavirus linked to an Aberdeen pub has risen to 32 after the first minister issued a warning about the outbreak.
Nicola Sturgeon also announced that 15 of Scotland's 23 new positive cases were detected by NHS Grampian.
The cluster, linked to people who visited the Hawthorn Bar on 26 July, emerged on Sunday.
Two staff members have tested positive for Covid-19 and the pub has closed "as a precautionary step" for 14 days.
The first minister confirmed that 120 contacts had been identified through the test and protect system.
The incident management team, which is led by NHS Grampian, later confirmed the number of positive cases connected to the bar had increased from 27 to 32.
Ms Sturgeon said the team was continuing to "take all necessary steps to minimise transmission" and stressed investigations into the outbreak are ongoing.
She added: "This particular cluster is another reminder that this virus is still out there and hasn't gone away.
"It remains extremely infectious and, of course, it remains extremely dangerous and all of of us have a part to play in denying it the opportunities to spread."
The first minister made clear that anyone contacted by a test and protect team and advised they are a close contact of someone with coronavirus must self isolate for 14 days.
She said: "That should be seen as non-negotiable."
Ms Sturgeon emphasised the importance of self isolating for close contacts of positive cases, even if they themselves test negative, due to the incubation period of Covid-19.
She explained: "For example, on a Monday you might test negative for the virus but by the Tuesday you might have developed the virus without knowing it. At that point you could be infectious and yet it might not be until the Thursday or the Friday that you start to show any symptoms.
"In fact you might never show any symptoms at all but, if you are not isolating, you could nevertheless be spreading the virus."
Ms Sturgeon also urged employers not to think that testing a member of staff who is a close contact of a positive case is an alternative to self isolation.
She added: "That is simply not the case and I must stress that. There are simply no shortcuts here when it comes to trying to contain the spread of this virus."
What businesses have been affected?
Meanwhile, an Aberdeen hospitality firm has closed its bars with immediate effect after it was visited by a customer who tested positive for Covid-19.
PB Devco owns a number of businesses in the city, including Soul Bar, which was pictured with crowds gathered outside it at the weekend.
Owner and director Stuart Clarkson said his bars would close until "we feel safe to reopen."
Mr Clarkson added: "As soon as we heard someone who had tested positive had visited Soul, we immediately sought advice and followed the guidance of the government.
"However, we feel we now need to take the situation into our own hands to help limit the spread of the virus, as these are unprecedented times and things are escalating quickly."
He said the bar was still awaiting confirmation of the next steps for customers who visited Soul over the weekend.
In separate developments, the Cock and Bull in Balmedie confirmed it had been contacted by a customer who dined at the country inn on Sunday evening.
They did not have any symptoms but tested positive following a routine test before going offshore.
The owners said steps had been taken, including a deep clean, and they are confident any risk of the virus spreading has been minimised.
A statement posted on Facebook said: "Although we were not instructed to inform the public, we feel that transparency is key in these present circumstances therefore we wanted our customers to have this information in order to make an informed choice before choosing to dine with us."
And Deeside Golf Club has announced it was visited by someone in the last ten days who has since tested positive.
The club said it was alerted by environmental health officials and has undertaken additional cleaning and sanitising measures as a precaution.