Coronavirus: Scots warned to avoid Covid hotspots in England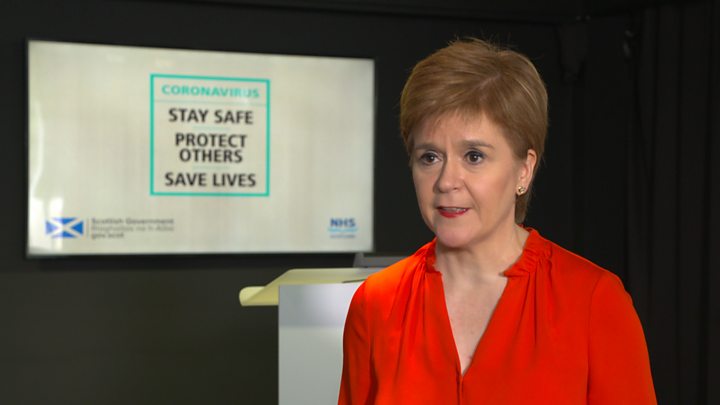 The Scottish government has warned people not to visit areas of England affected by new local lockdown rules.
It said travel between Scotland and Greater Manchester, East Lancashire and parts of West Yorkshire should only be undertaken if "absolutely essential".
First Minister Nicola Sturgeon said those already in the affected areas do not need to return to Scotland early.
But she said they should be "more careful than normal" after their return home.
They are being advised to minimise contact with other households for 14 days, avoid indoor hospitality and be vigilant in monitoring for symptoms.
The advice was issued as 30 new cases of coronavirus were confirmed in Scotland.
Ms Sturgeon said it was the first time in more than eight weeks that so many cases had been recorded in a single day.
She said the government was paying "close attention" to the figures - but pointed out that the number of tests being carried out had risen from 5,000 to 15,000 a day over the same period.
The positive cases represented less than 1% of those who had been tested, and were spread over nine health board areas.
Ms Sturgeon said the virus was "under control" in Scotland - but that need for caution was "more obvious" now than it had been since the outset of the pandemic.
She also said that about half the new cases confirmed in the last week had been among people aged between 20 and 39.
"That's something we've seen in other parts of the world recently - younger age groups, perhaps people more likely to go to pubs and restaurants and meet up with friends, are testing positive in higher numbers," she said.
"These figures should be a reason for caution.
"I urge everyone, particularly people in their 20s and 30s, not to be complacent and to please follow all the rules."
The UK government imposed its new local restrictions, which include banning separate households from meeting each other at home, in the north of England after a spike in Covid-19 cases.
---
The areas affected by the local restrictions are:
Greater Manchester: City of Manchester, Trafford, Stockport, Oldham, Bury, Wigan, Bolton, Tameside, Rochdale, Salford
Lancashire: Blackburn with Darwen, Burnley, Hyndburn, Pendle, Rossendale
West Yorkshire: Bradford, Calderdale, Kirklees
---
Westminster Health Secretary Matt Hancock said the increase in transmission was due to people visiting friends and relatives.
Prime Minister Boris Johnson had given an update to the devolved governments on the reasons for the decision.
Ms Sturgeon said the Scottish government's decision to advise against all but essential travel to the area was not taken lightly.
"The connections between Scotland and the north of England are very strong, they are very important and they are highly valued by people on both sides of the border," she said.
She said all four nations agreed on the importance of information sharing.
"We have always been clear that localised flare ups are likely as we continue to supress the virus but by responding quickly and appropriately we can limit the effect these have on wider transmission," she said.
"I strongly advise anyone planning to travel to areas affected in the north of England, or anyone planning to travel to Scotland from those same areas, to cancel their plans."
Ms Sturgeon added that those whose travel was essential "should follow public health advice at all times".
Mr Hancock earlier told BBC Breakfast the UK government had taken "targeted" action based on information gathered from contact tracing.
The new lockdown rules, which came into force at midnight, mean people from different households will not be allowed to meet in homes or private gardens.
They also ban members of two different households from mixing in pubs and restaurants, although individual households will still be able to visit such hospitality venues.
The changes come as Muslim communities prepare to celebrate Eid this weekend, and nearly four weeks after restrictions were eased across England - allowing people to meet indoors for the first time since late March.
The same restrictions will apply in Leicester, where a local lockdown has been in place for the last month.
However, pubs, restaurants and other facilities will be allowed to reopen in the city from Monday, as some of the stricter measures are lifted.
Meanwhile, plans to ease more coronavirus restrictions across England this weekend have been postponed for at least two weeks.