Coronavirus: Scotland sees second daily jump in Covid-19 cases
More than 20 new cases of Covid-19 have been detected in Scotland for the second day in a row.
Saturday saw the biggest rise in nearly a month with 21 new cases - the largest daily increase since 21 June.
A further 23 confirmed cases were reported on Sunday.
However, First Minister Nicola Sturgeon said it was still a low number of cases and fluctuation was "to be expected". The proportion of positive tests remains well below 1%.
No new deaths were registered in Scotland following a positive test for the virus, meaning that only one death in the last 11 days has been recorded using this measure.
Responding to the latest figures, Ms Sturgeon tweeted: "This is still a low number of cases - and fluctuation is to be expected - but they will all be carefully examined, so that any patterns are identified.
"Test & Protect is also working to break the chains of transmission. But we must all play our part by remembering FACTS."
The Scottish government public health campaign acronym stands for Face coverings in enclosed spaces; Avoid crowded places; Clean your hands and surfaces regularly; Two-metre social distancing and Self-isolate and book a test if you develop coronavirus symptoms.
How much testing has there been over the last month?
Testing for Covid-19 in Scotland is carried out by NHS Scotland and UK government labs.
The UK government tests include mobile test units, drive-throughs, the care home portal and home tests.
Between 19 June and 8 July, the number of tests per day in Scotland varied from about 3,500 to almost 6,000.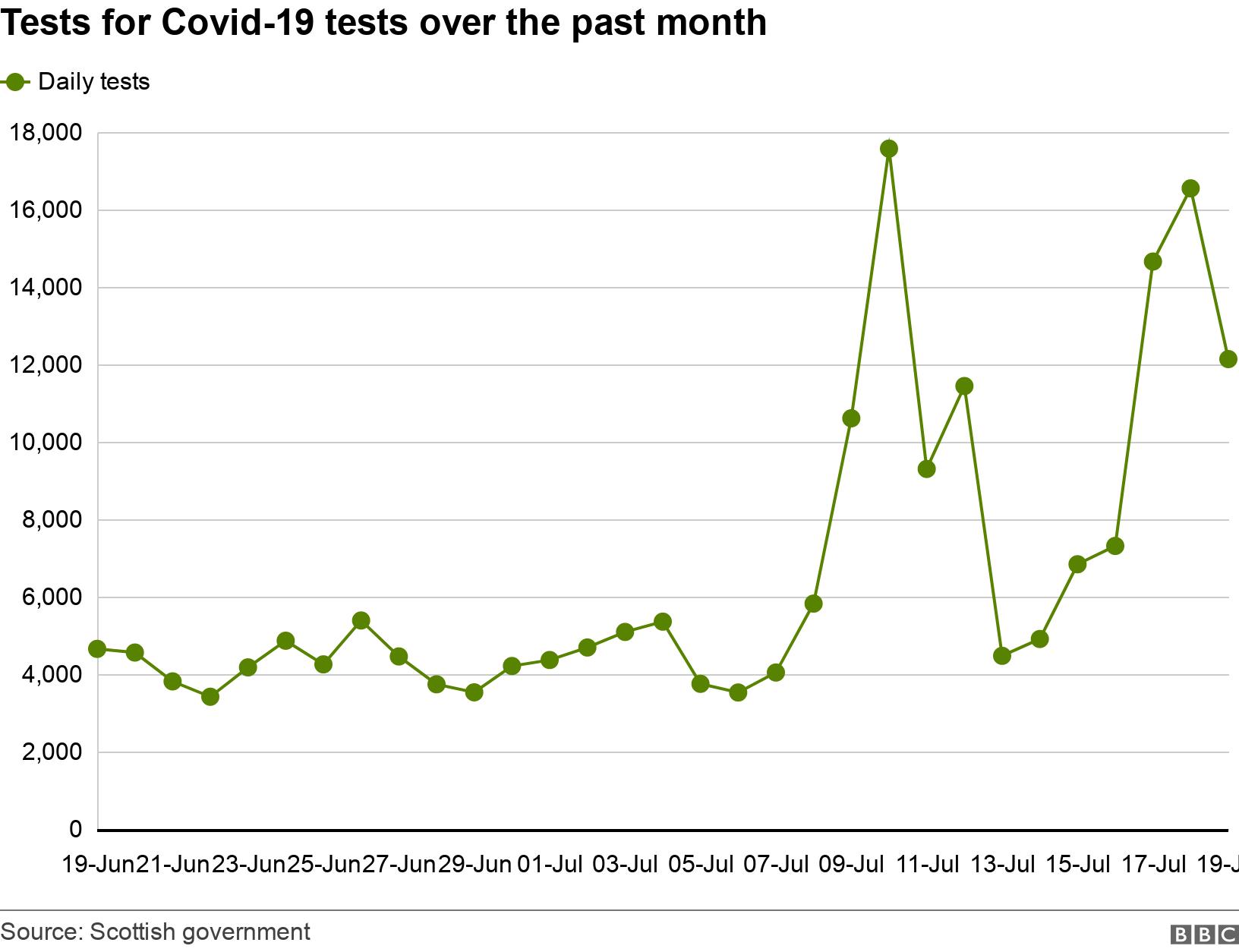 From 9 July, there was a sharp increase in tests - in part because of a backlog of results from the UK government testing programme which were not previously available.
Sunday's increase in confirmed cases follows more than 12,000 tests.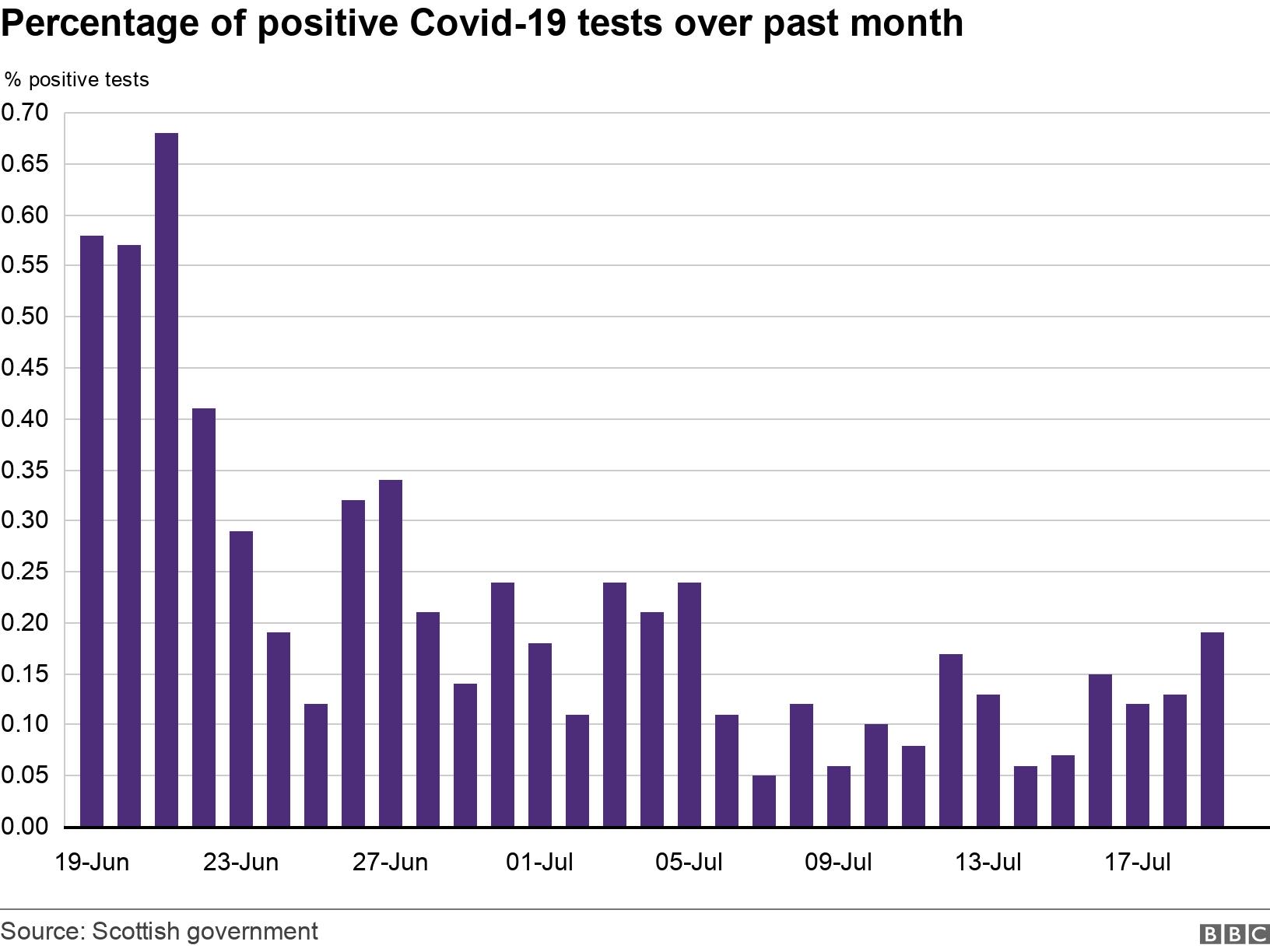 The proportion of positive tests in Scotland fluctuates daily, but has been below 1% since the 2 June.
The World Health Organisation says that one measure which can indicate whether an epidemic is under control is whether, with a comprehensive testing system, less than 5% of samples return a positive for Covid-19 over two weeks.
Linda Bauld, professor of public health at the University of Edinburgh, said Scotland was going through a "risky period" as lockdown restrictions were eased and people were interacting more.
Earlier this week, the Scottish government allowed the biggest easing yet of lockdown restrictions, with indoor pubs, cafes and restaurants reopening for the first time in almost four months.
But Prof Bauld told BBC Scotland that the rise in positive cases could be a factor of increased testing.
"Yesterday there were over 16,000 tests recorded," she said.
"So we've seen a big increase in testing over the last few days and when you have more testing you are going to find more cases."
The professor said Saturday's cases were spread around the country and not a cluster in a confined area, but despite that, the increases over the last two days were "slightly concerning".
"Let's emphasise they're not at a worrying level at all the moment, but we need to absolutely track it and be ready to respond if they go much higher," she added.