Coronavirus: Face coverings now compulsory in Scotland's shops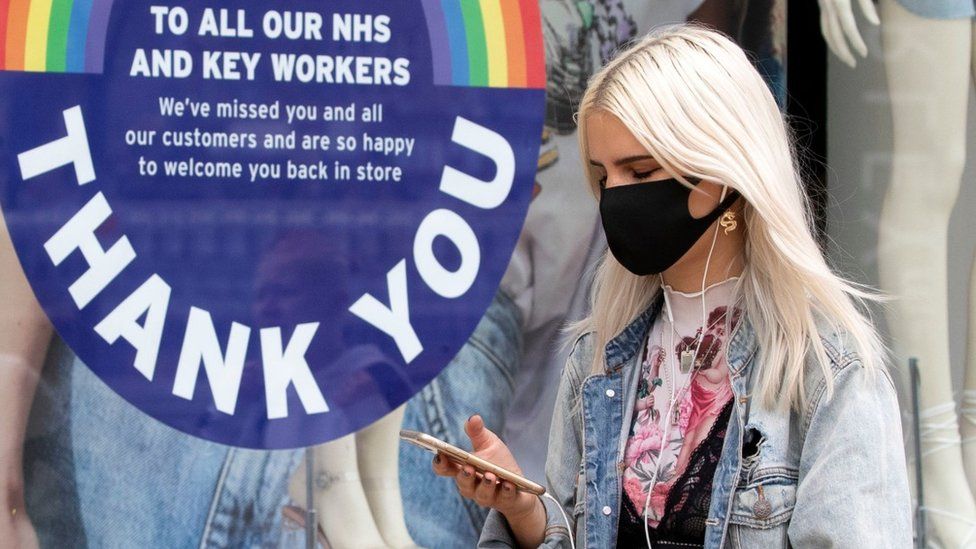 First Minister Nicola Sturgeon has urged people to follow the new law making it compulsory to wear a face covering in shops across Scotland.
She said the step had been taken now because the easing of lockdown restrictions meant that people were going out more.
"That brings much greater risk of the virus spreading," she warned.
The new law came into effect as Scotland reported the largest rise in new coronavirus cases for three weeks.
Ms Sturgeon said the number of people testing positive had risen by 18 to 18,333, although no new deaths had been recorded.
The first minister said the Scottish government would be "looking very closely" at the increase - which she said was a reminder that the virus had not gone away.
But she said the indications were that the new cases were spread across the country, and there did not seem to be any cluster.
People with certain medical conditions or disabilities, and children under five, will be exempt.
The Scottish government has said it hopes using face coverings will provide an additional layer of protection to lower the risk of coronavirus being transmitted.
But it insists face coverings are not a substitute for other measures to stop the virus from spreading, such as physical distancing and hand washing.
Ms Sturgeon said she was asking people to stick to the law "not from a fear of enforcement, but because it is the right thing to do".
"Please everybody comply with this, because it is for the good of all of us. It will help keep us safe and protect everybody," she said.
The first minister said she had been asked why the step had been taken now, when the virus had been suppressed to low levels.
"The reason is quite simple - we're now starting to go out and about a lot more, and that brings much greater risk of the virus spreading.
"So we have to put in place now mitigations that weren't as necessary when we were all staying at home all of the time."
'Take personal responsibility'
Police Scotland said it was asking people to "take personal responsibility to do the right thing".
It warned that it would enforce the law on face coverings but only as a last resort. In the first instance, anyone wishing to raise a concern should do so with shop staff.
ACC Gary Ritchie said: "We are asking people to take personal responsibility to do the right thing and remember the purpose of these measures is to aid the collective effort to stay safe, protect others and save lives by preventing the virus from spreading.
"Our officers will continue to engage with the public, explain the legislation and guidance and encourage compliance. We will use enforcement as a last resort only where there is a clear breach of the legislation.
"A number of exemptions exist that mean certain people are not required to wear a face covering in a shop.
"We would encourage people to raise any concerns with business owners or staff in the first instance."
Ms Sturgeon said that up to 20 people would be allowed to attend a wedding, civil partnership ceremony or funeral from Wednesday.
Restrictions on the category of people who could attend funerals are also being lifted.
"We know that the restrictions on funeral services in particular have been incredibly tough - in many cases utterly heartbreaking," said the first minister.
"I hope this change is a welcome one, though of course it still doesn't permit full-scale gatherings for weddings, civil partnerships or funerals."
Wedding receptions and funeral wakes are still subject to the rules that apply for indoor and outdoor gatherings.
The Scottish government has also announced the creation of a £2.2m fund to help grassroots music venues.
Economy Secretary Fiona Hyslop said it would provide "much-needed stability" to the music industry in the coming months.
Nick Stewart, Scottish co-ordinator for the Music Venue Trust, said it would stabilise venues in the short-term and prevent permanent closures.
Ms Hyslop also gave details of a £38m package to support high growth companies, including a £25m early stage growth challenge fund.
Quarantine lifted but not for Spain
From Friday, travellers arriving in the UK from dozens of countries no longer have to self-isolate for two weeks.
Scotland now requires people arriving back from Spain to quarantine, while England, Wales and Northern Ireland do not.
Travellers arriving into Scotland via an English port or airport will still need to quarantine if they have been in a country which is not on the exemption list.
Indoor meetings allowed again
For the first time since March, people in Scotland will now be allowed to go into another person's house.
Adults should continue to practice physical distancing with those they do not live with.
But children aged under 12 will no longer be expected to observe these restrictions.
In this phase, eight people from a maximum of three different households can meet indoors.
Adults are being advised not to meet people from any more than four different households in any single day.
Overnight stays are allowed, as long as adults maintain physical distancing between different households.
Surfaces should be cleaned after touching, and everyone must continue to wash their hands regularly.
People who are part of a non-cohabiting couple will no longer need to stay physically distant from each other, indoors or outdoors.
In addition, people who are shielding will no longer have to distance themselves from others living in the same house.
Related Internet Links
The BBC is not responsible for the content of external sites.