Coronavirus: Indoor visits and overnight stays to be allowed in Scotland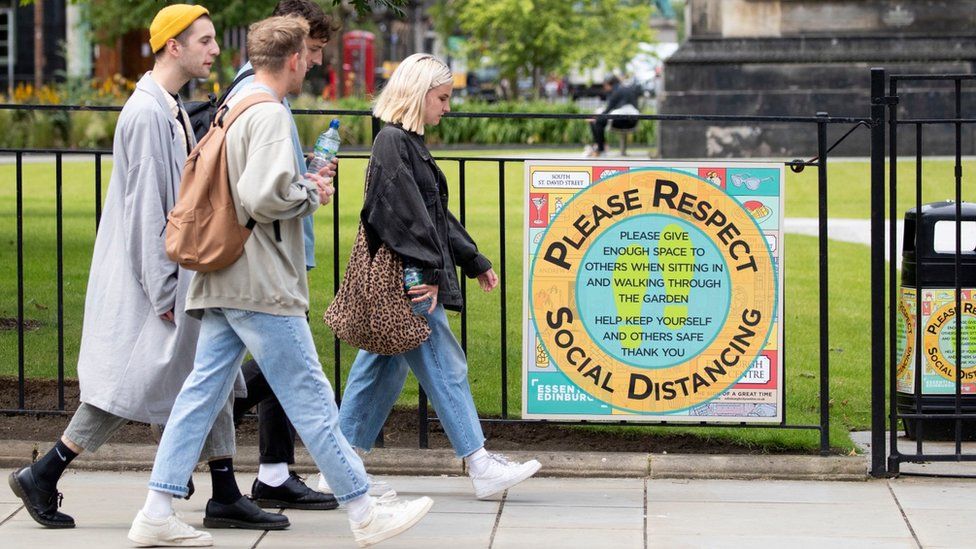 People in Scotland will be able to visit other households indoors and stay overnight as the country enters the next phase of easing the lockdown.
Nicola Sturgeon said coronavirus had been suppressed to a "low level".
People will be allowed to meet up in extended groups outdoors, and with two other households indoors, from Friday.
Couples who do not live together will no longer have to physically distance from Friday onwards, and dates have been set in the coming weeks for the reopening of bars and restaurants, hairdressers and barbers, and the tourist industry.
The first minister said it was still "essential that we all take the utmost care and strictly follow all public health advice", warning that "we mess with [coronavirus] at our peril".
The changes which take effect from Friday will increase the size of gatherings that will be allowed in Scotland, and let people meet up indoors for the first time.
A maximum of 15 people from up to five different households will be allowed to meet outdoors, as long as they stay 2m apart.
"Limited" indoor gatherings can also take place, with a maximum of eight people from three different households allowed to meet - again while staying apart physically.
People will also be allowed to stay overnight - although Ms Sturgeon described this as "one of the highest risk changes we have made so far".
She said: "We know that the risk of transmitting the virus indoors is significantly higher than it is outdoors.
"At all times try to avoid creating bridges that allow the virus to spread from one household to another."
Shopping centres will be able to reopen from Monday 13 July, when dentists and optometrists will be allowed to begin scaling up their work again.
Hairdressers and barbers will resume business from 15 July, with enhanced hygiene measures in place, and indoor areas of bars and restaurants can reopen the same day - along with libraries, museums and cinemas.
Places of worship can resume services at that point, although numbers will be strictly limited, singing and chanting will be limited, and physical distancing will have to be observed. Restrictions on how many people can attend funeral and wedding services will also be eased.
Ms Sturgeon also set a date for the first time for the reopening of personal retail services like beauticians and nail salons, which can happen from 22 July.
Universities and colleges can implement a phased return to campuses from that date, while Scotland's schools are due to reopen in full from 11 August.
However, no date has yet been set for the reopening of "non-essential" offices, indoor gyms, entertainment venues like theatres and bingo halls, or the resumption of live outdoor events.
Ms Sturgeon said a number of these activities "present particular challenges" and "will take a bit more time to work through".
The next review of lockdown restrictions is due on 30 July, but Ms Sturgeon said the current phase "may well last longer than three weeks".
She said all changes "depend on us keeping the virus under control".
She added: "This is undoubtedly a time for cautious hope. Scotland through our collective efforts has made great progress in tackling Covid-19.
"But I have a duty to be crystal clear with the country that this is also a time of real danger.
"We must remember that Covid - although currently at very low levels in Scotland - is still out there."