Coronavirus: Scottish lockdown easing to begin on Friday
People in Scotland will be able to meet their friends and family outside from Friday, First Minister Nicola Sturgeon has confirmed.
Ms Sturgeon said people from two different households will be able to meet, but must keep two metres apart.
They must also remain outdoors, and in groups of no more than eight.
People are still being urged to "stay at home as much as possible", with Ms Sturgeon warning that the virus "is still out there".
The lockdown easing was announced as Ms Sturgeon confirmed the country was ready to introduce the first phase of its four-phase "route map" towards reopening society while attempting to suppress the virus.
Scotland has been in lockdown since 23 March, and did not make major changes to restrictions when they were announced for England earlier this month.
Ms Sturgeon said there had now been a "sustained and unmistakable" downward trend in the spread of the virus over a number of weeks, meaning changes could now be made.
But she warned that "we have limited room for manoeuvre" and "need to get the balance right".
What restrictions are being eased?
Ms Sturgeon said "most outdoor work that has been put on hold can resume" from Friday.
This will see garden centres opening their doors again and site preparation beginning in the construction industry, with recycling centres re-opening from Monday.
Also from Monday, teachers and other staff will be able to return to schools to prepare for re-opening - although most pupils will not return until 11 August, when they will begin a "blended model" of education which will see learning split between the classroom and home.
Some outdoor leisure activities where physical distancing can be maintained will be allowed from Friday - including golf, tennis, bowls and fishing.
People will be allowed to sit out and sunbathe in parks and open areas, and travel within their local area for exercise - although there is "strong advice" not to travel more than five miles for leisure.
Ms Sturgeon said she did not want to see large numbers of people heading to beauty spots, warning that "crowds bring more risk than we judge is acceptable or safe at this point".
Members of two different households will be allowed to meet up so long as they remain outdoors "in a park or private garden" and stay 2m (6ft) apart.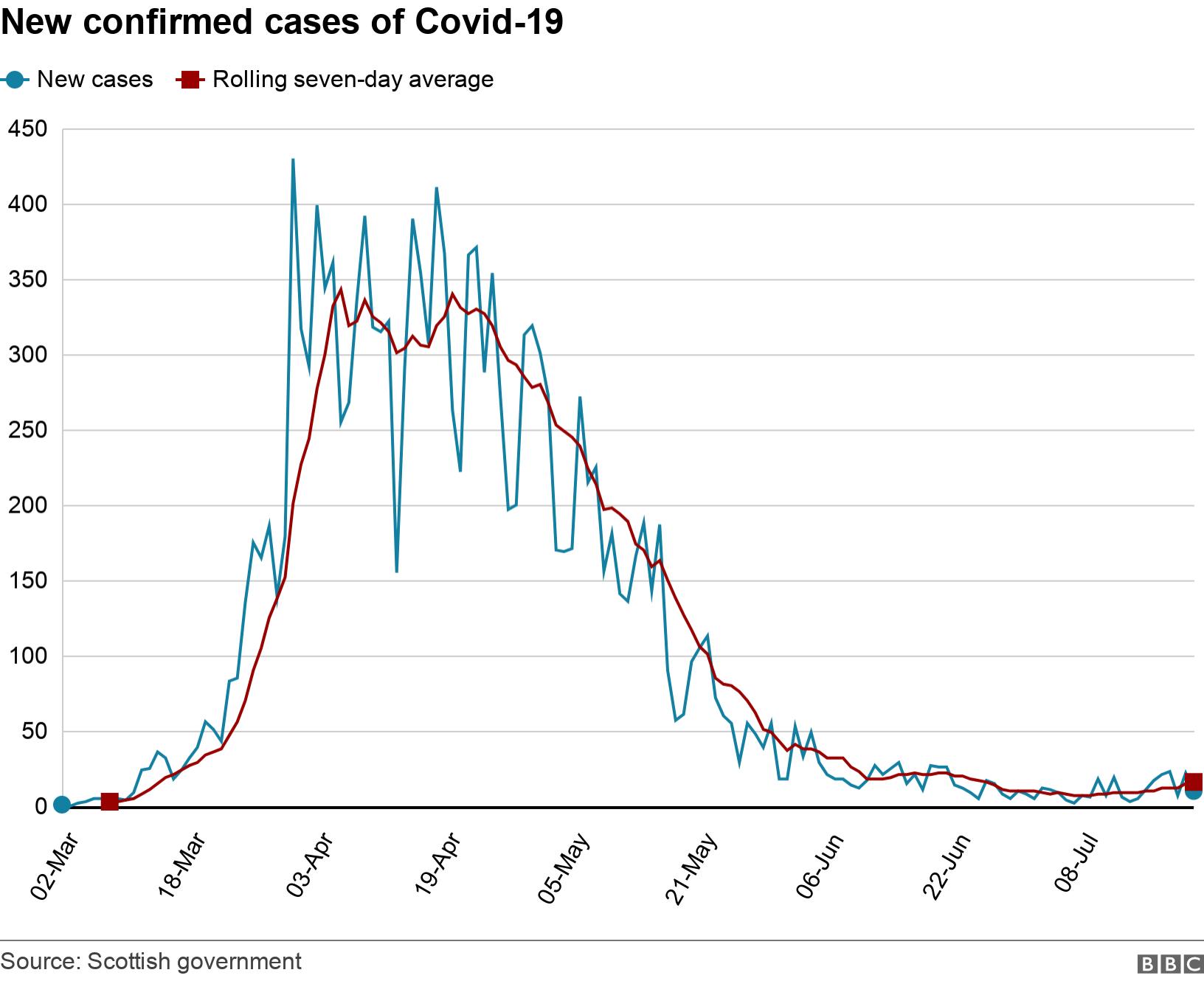 Ms Sturgeon said the total number of people taking part in any meeting should not exceed eight, and that it was "strongly recommended that you don't meet with more than one other household per day".
She also warned people not to enter each other's houses or to share picnic or barbecue materials, saying this could create "a bridge for the virus to spread from one household to another".
She said: "Please remember that we should still be meeting far fewer people outside your own household than we would in normal times."
The first minister said she was "a bit nervous" that limited changes to the rules could "lead to much greater change in reality", asking people to "please, please respect the parameters we are setting out".
She said people should continue to "stay at home as much as possible", adding: "The virus is still out there - lockdown is being modified slightly, but it is not over."
The first minister confirmed the easing of lockdown in Scotland at a podium bearing the words "stay at home".
She is not switching to "stay alert" or some other formulation at this stage.
When I asked her if the retained messaging still applied, Nicola Sturgeon insisted staying at home as much as you can remains the starting point.
What the new guidance published by the Scottish government does is to expand the range of reasonable reasons why you might leave the house.
That inevitably means that as we move into this new phase, ministers are counting on you to follow guidance and exercise good judgement, responsibility, restraint.
They hope that works and that new legally enforceable rules are not required.
But as the deputy first minister, John Swinney, put it earlier today - the gradual easing of lockdown is not a free for all.
The changes do not change the circumstances of those in the "shielding" group, those who are most vulnerable to the virus.
Ms Sturgeon said she realised this would be "hard" for them, and said ministers were trying "to move to less of a blanket approach".
She said: "I want you to know today that you have not been forgotten, and you are a central part of our thinking as we consider how we move forward."
The route map for easing lockdown
Phase 1: Virus not yet contained but cases are falling. From 28 May you should be able to meet another household outside in small numbers. Sunbathing is allowed, along with some outdoor activities like golf and fishing. Garden centres and drive-through takeaways can reopen, some outdoor work can resume, and childminding services can begin.
Phase 2: Virus controlled. You can meet larger groups outdoors, and meet another household indoors. Construction, factories, warehouses, laboratories and small shops can resume work. Playgrounds and sports courts can reopen, and professional sport can begin again.
Phase 3: Virus suppressed. You can meet people from more than one household indoors. Non-essential offices would reopen, along with gyms, museums, libraries, cinemas, larger shops, pubs, restaurants, hairdressers and dentists. Live events could take place with restricted numbers and physical distancing restrictions. Schools should reopen from 11 August.
Phase 4: Virus no longer a significant threat. University and college campuses can reopen in full, mass gatherings are allowed. All workplaces open and public transport is back at full capacity.
The easing measures were announced as Scotland launched its new nation-wide "test and protect" system of tracing and isolating people who may have the virus.
If someone tests positive for Covid-19, contact tracers will get in touch with those they have been in close proximity to, advising them to self-isolate for 14 days.
Ms Sturgeon said test and protect was a "crucial part" of the government's strategy to suppress the virus, but said people should still exercise caution.
She said taking precautions like hand washing, the use of face coverings and social distancing "matters even more" as rules begin to be relaxed.