Coronavirus: in Scotland: Concerns raised over impact of part-time schooling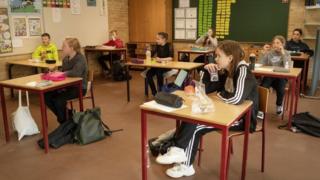 Plans for pupils to return to school part-time in August could "fall to bits" without the support of employers, a parent's organisation has warned.
First Minister Nicola Sturgeon has said pupils will return to a "blended model" after the summer holidays.
It will see children doing a mix of classroom and home learning.
But the Connect charity said it was concerned about a lack of detail about how this would work in practice.
And it said the move could potentially create new problems for parents, who could be responsible for more home-schooling while also being expected to return to work.
Connect represents parent councils, parent teacher associations (PTAs) and other parent groups across the country.
Its executive director, Eileen Prior, said most parents would welcome the easing of the lockdown - but there were still many questions to be answered about how the education system will work.
She said parents had been "extremely stretched" during lockdown while attempting to cope with home schooling alongside their own work, potential financial issues, illness and the general stress of the pandemic.
Ms Prior told the BBC's Good Morning Scotland programme: "I think most parents will be glad that an end is in sight, and that we're beginning to talk about children returning to what for them is normality.
"However, the path is still not clear. Part-time opening, whatever form that takes, is likely to create struggles for families and there are long-term impacts of this.
"If this doesn't work for parents in terms of their lives and the requirements of their employers to get back to work, then it will fall to bits."
Class Sizes
The plan unveiled by the first minister on Thursday would see teachers going back to schools next month to prepare for pupils returning when the new term starts on 11 August - a week earlier than planned for many schools.
Social distancing rules mean class sizes will be significantly reduced, so some children could attend in the morning while others will go after lunch.
Alternatively, different groups of children could attend on alternate days - or even alternate weeks.
When they are not in school, pupils will be expected to "distance learn" from home.
Larry Flanagan, the general secretary of the EIS teaching union, described the changes as the biggest challenge faced by teachers in the past 30 years.
And he said schools should only reopen if and when it was genuinely safe to do so.
Mr Flanagan said: "The time is very short and I don't think everything will be ready for August.
"We still don't know about the SQA qualifications, which is critical for what is on offer for senior phase pupils.
"Schools are busy in a normal scenario, so if pupils are attending for less than half the week it is going to have to be a very strong offer in terms of the remote learning to make sure they are kept on track."
Asked at her daily briefing how home schooling will work for parents who cannot do their job at home, First Minister Nicola Sturgeon said the government wanted to increase the number of spaces available at childcare "hubs".
The hubs are currently offered to the children of key workers and the most vulnerable youngsters.
'New model of learning'
She stressed the government was not going to be able to "take away all of the difficulties and challenges people will be facing", adding: "None of this is going to be easy in the weeks and months to come, there is no point me trying to pretend otherwise.
"But we have worked our way through a lot of difficulties in the last three months and shown we can do things we never believed we could do."
She said teachers would "start working through what the next term looks like, and what this new model of learning will look like" when they return in June.
Ms Sturgeon added: "Over the summer, we will be discussing with parents' organisations, teacher organisations, unions, local authorities and employers about how we try to work in a way that tries to align all of the different things we're doing well enough to mitigate these issues.
"We will communicate directly with all parents over the summer so that they've got a better understanding of exactly what schooling is going to look like and some of the support that we will try to put in place to help parents with the fact that it will not be back to school absolutely as normal."
Use the form below to send us your questions and we could be in touch.
In some cases your question will be published, displaying your name, age and location as you provide it, unless you state otherwise. Your contact details will never be published. Please ensure you have read the terms and conditions.