Coronavirus: Scotland aims to ease lockdown on 28 May
Coronavirus lockdown measures in Scotland could begin to be lifted from 28 May, Nicola Sturgeon has announced.
The first minister said this would mean people could meet someone from another household as long as social distancing is maintained.
More outdoor activities and sports like golf and fishing will also be allowed.
Ms Sturgeon also announced that coronavirus testing will be extended to everyone in Scotland over the age of five who is displaying symptoms.
Tests can be booked online and will be available at one of Scotland's five drive-in testing centres, or at one of the 12 mobile testing units.
Although anyone can now request a test, priority will still be given to key workers.
The Scottish government will publish more details on Thursday of its "phased approach" to easing the lockdown restrictions.
The first minister said that if progress was being made on suppressing the virus, the first phase would start from 28 May.
She said the aim would be to allow:
more outdoor activity, such as being able to sit in the park
meeting up outdoors with someone from another household, as long as people stay socially distant
some outdoor sporting activities, like golf and fishing
opening of garden centres and recycling facilities
the resumption of some outdoor work.
Ms Sturgeon said more information would also be given about when schools might reopen.
"Within two weeks, my hope is that we will be taking some concrete steps on the journey back to normality," she said.
"As I've said before, it won't be normality as we knew it because the virus will not have gone away, but it will be a journey to a better balance - I hope - than the one we have today."
She said that sticking with lockdown restrictions for "a bit longer" was important so the next steps could be taken with confidence.
The first minister added that current lockdown advice in Scotland remained in place.
People are also allowed to travel to other areas of England to visit destinations like parks and beaches.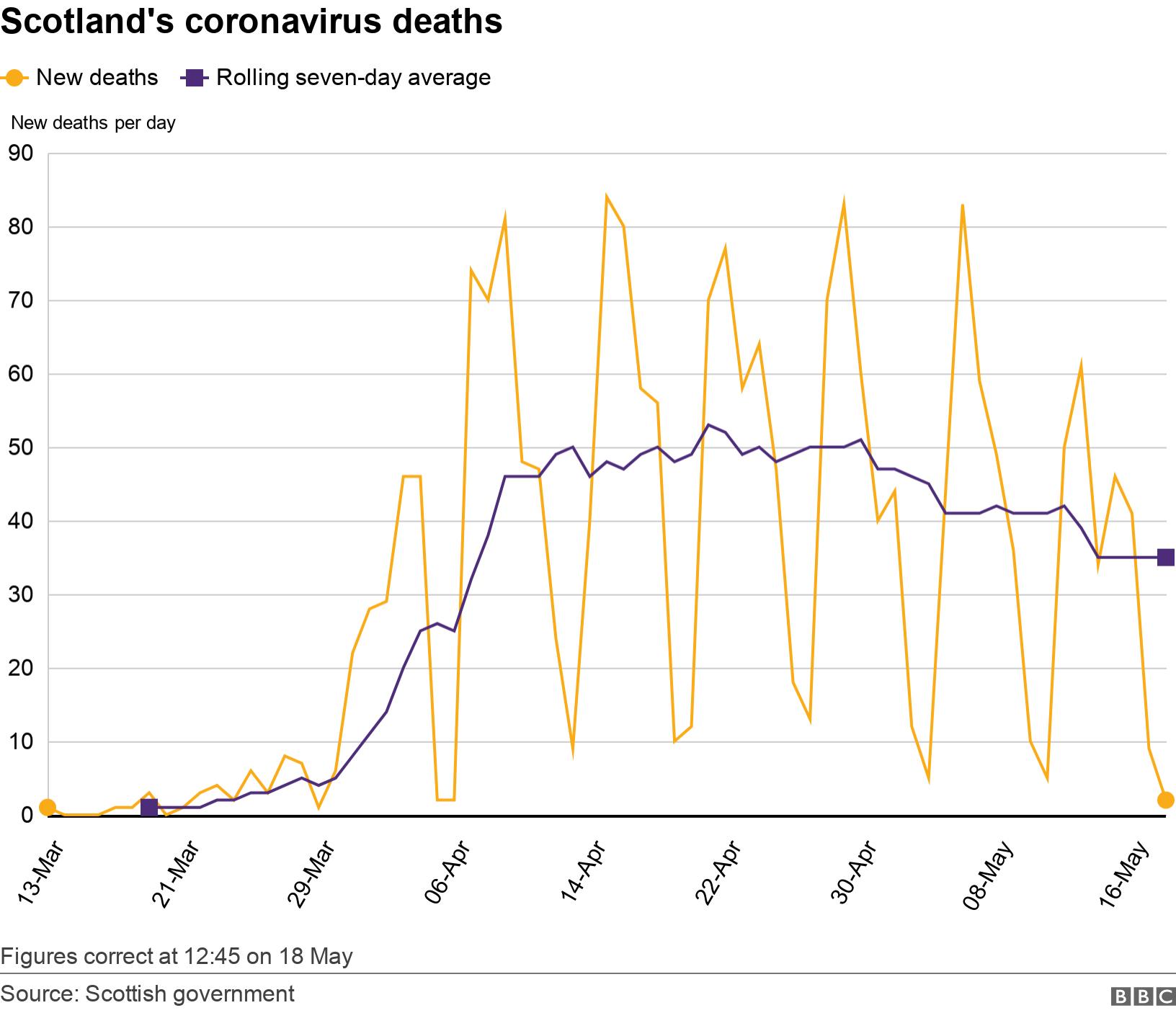 Thursday's "route map" will take into account the latest figures on the spread of the infection and the death rate data which will be published by the National Records of Scotland on Wednesday.
On Monday, Ms Sturgeon said 2,105 patients had now died in Scotland after testing positive for coronavirus, up two from 2,103 on Sunday.
But she issued a note of caution over the death figures, saying that registrations tend to be lower at the weekend.
There are now 1,427 patients in hospital with confirmed or suspected Covid-19, up 119 from 1,308 on Sunday.
Of these, 63 are in intensive care, a rise of four.