Church of Scotland moderator installed at service streamed online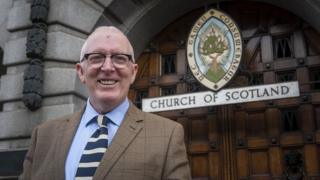 The new moderator of the General Assembly of the Church of Scotland has been installed at a service streamed online for the first time.
The Rt Rev Dr Martin Fair takes over from the Very Rev Colin Sinclair as the Kirk's ambassador at home and abroad.
The service in Edinburgh was held on what should have been the opening day of the church's annual general assembly.
It was cancelled due to the coronavirus pandemic.
The ceremony normally takes place before an audience of around 800 commissioners.
Instead only five people, a BSL interpreter and a skeleton camera crew were there, all following strict social distancing guidelines.
The moderator, who is the minister of St Andrews Parish Church in Arbroath, thanked the church for the "enormous honour" of the office.
He said: "I'm not sure I've ever felt a greater weight of responsibility but neither have I ever felt more supported, practically and by the prayers of God's people."
He added: "Let me assure the nation that the Church of Scotland, with our partner churches, will continue to pray for and support those who are most acutely affected.