Coronavirus: How will Scotland's testing and tracing system work?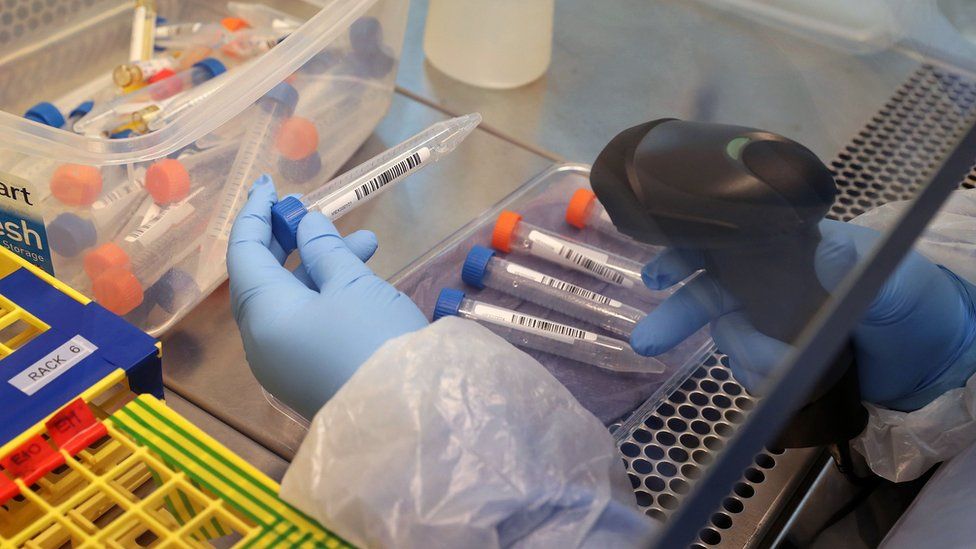 Nicola Sturgeon has announced the next phase in the coronavirus response.
The focus is moving to the strategy of "test, trace, isolate, support" which in Scotland will now be known as "test and protect".
The Scottish government has published details of the plan which will become ever more important as lockdown restrictions start to ease.
This is how it will affect us as the easing of lockdown restrictions begin.
What is Test and Protect?
Test and Protect is Scotland's plan for activating the new phase of the Covid-19 response, which is the "test, trace, isolate, support" strategy.
Its job is to break the chains of transmission of the virus within the community.
So far, lockdown - staying at home - has managed to help massively with that but as we restore some normality to life and get people back to work and school, it will become more important to contain any outbreaks as quickly as possible to stop the virus in its tracks.
Test and Protect will identify cases of Covid-19 through rapid testing, and as soon as a positive test is registered, all the people who have been in contact with that person for long enough to be exposed to the virus will be traced and asked to self-isolate
If they have picked up the disease, it is hoped this will stop them passing it on to others.
A contact is anyone who has been within two metres of an infected person for a period of 15 minutes or longer.
The basic advice remains the same. If you have any of the symptoms: a fever, a new persistent cough or a loss of smell or taste, you must self-isolate for seven days. The people you live with must self-isolate for 14 days. That means not leaving the house at all, even to exercise or to get food and medicine.
What has changed is that now, if someone has been found to have been in contact with someone who has symptoms, they will be asked by the NHS to self-isolate too, even if they have no symptoms.
How will people know they have been in contact with someone who has tested positive?
As soon as someone gets a positive test for Covid-19, the contact tracing system will be triggered.
The patient will be put in touch with the local contact tracing team to talk through and identify close contacts.
At present, most of this will be conducted by telephone calls. Phone apps are in development but Nicola Sturgeon has said that "old-fashioned contact tracing" will be at the heart of the system.
Close contacts, as well as household contacts, will be asked to self-isolate for 14 days.
The risk of the virus being transmitted is higher the closer the contact, the greater the exposure to respiratory droplets (for example from coughing), and the longer they have been in contact.
The self-isolation period is 14 days because if you have the virus, it may take that long for it to develop into an illness.
Do the family and friends of a close contact have to self-isolate too?
No. Not at this stage. The close contact should stay at home for the full 14 days. But family or people in the same household can continue to leave house on essential outings, but only if they are not showing any symptoms.
Is there enough testing available for this?
Ms Sturgeon said Scotland now had the capacity to do 15,000 tests for Covid-19 every day.
She said about 700 contact tracers would be needed in the first phase of project - although a pool of 2,000 will be in place by the end of the month.
How will this affect my work? Can my employer refuse to let me stay at home?
Announcing the Test and Protect service, Nicola Sturgeon said on Tuesday that the guidance would urge employers to "protect the income" of their staff who were self-isolating.
She said: "But there is also a role here for statutory benefits including statutory sick pay - we are not entirely in control of that and this applies to self-employed people and the benefits system as well.
"These are issues we are in discussion with the UK government about because it is really important that people have the support they need to isolate for periods that, I have candidly said before, may be multiple.
"We hope that is not the case, that the virus will continue to decline in the community and this will not happen to lots of people and certainly not happen on multiple occasions, but it is possible that it will."
Employers are being asked to make sure employees are aware of and able to follow the public health advice to self-isolate when asked to do so by the NHS. And they should make sure that staff do not have to, or feel that they have to, come in to work.
If you are able to and you are not unwell, your employer can ask you to work from home while you are self-isolating.
What happens at the end of self-isolation?
At the end of your 14 days, you can return to usual activities, practicing social distancing and other lockdown measures. If you had symptoms you will have spent the full seven days in self-isolation. For some people, a cough and loss of taste or smell may last longer even though the virus has cleared.
If you develop new coronavirus symptoms, you must go back to stage one of test, trace, isolate support and book a test. And you may be identified by another person as being a close contact and be asked to self-isolate again.
Who will have my information?
The contact tracing team will be operated as part of the NHS. This means your personal information will remain confidential. Nicola Sturgeon said even the Scottish government will not have access to your personal data.