Coronavirus in Scotland: Total number of deaths rises to more than 1,600
The total number of deaths in Scotland linked to coronavirus has risen to 1,616, new statistics have shown.
The National Records of Scotland figures include all deaths where coronavirus was believed to have been present, rather than just confirmed cases.
They showed that 651 deaths were registered between 13 and 19 April - up from 610 the previous week.
A third of the deaths were recorded in care homes.
The number of deaths linked to the virus in care homes has more than doubled in a week, from 237 to 537.
Of the 1,616 deaths where the virus has been mentioned on the death certificate either as a confirmed or suspected factor, 910 (56%) were in hospitals, while 537 (33%) were in care homes and 168 (10%) were at home or in non-institutional settings.
Almost three-quarters of the total deaths were of people aged 75 or older, with only 10 of those who died aged under 45.
Of all deaths to date involving Covid-19 in Scotland, 55% were male and 45% were female.
Scottish government data that was also released on Wednesday showed that there have now been a total of 2,085 suspected cases of the virus recorded in the country's care homes - an increase of 212 since yesterday.
The figures also showed that 495 (46%) care homes have recorded at least one suspected case - of which 308 have recorded more than one case.
More than a third - 384 or 35% - of care homes have a current outbreak of suspected Covid-19, meaning at least one resident has shown symptoms during the past fortnight.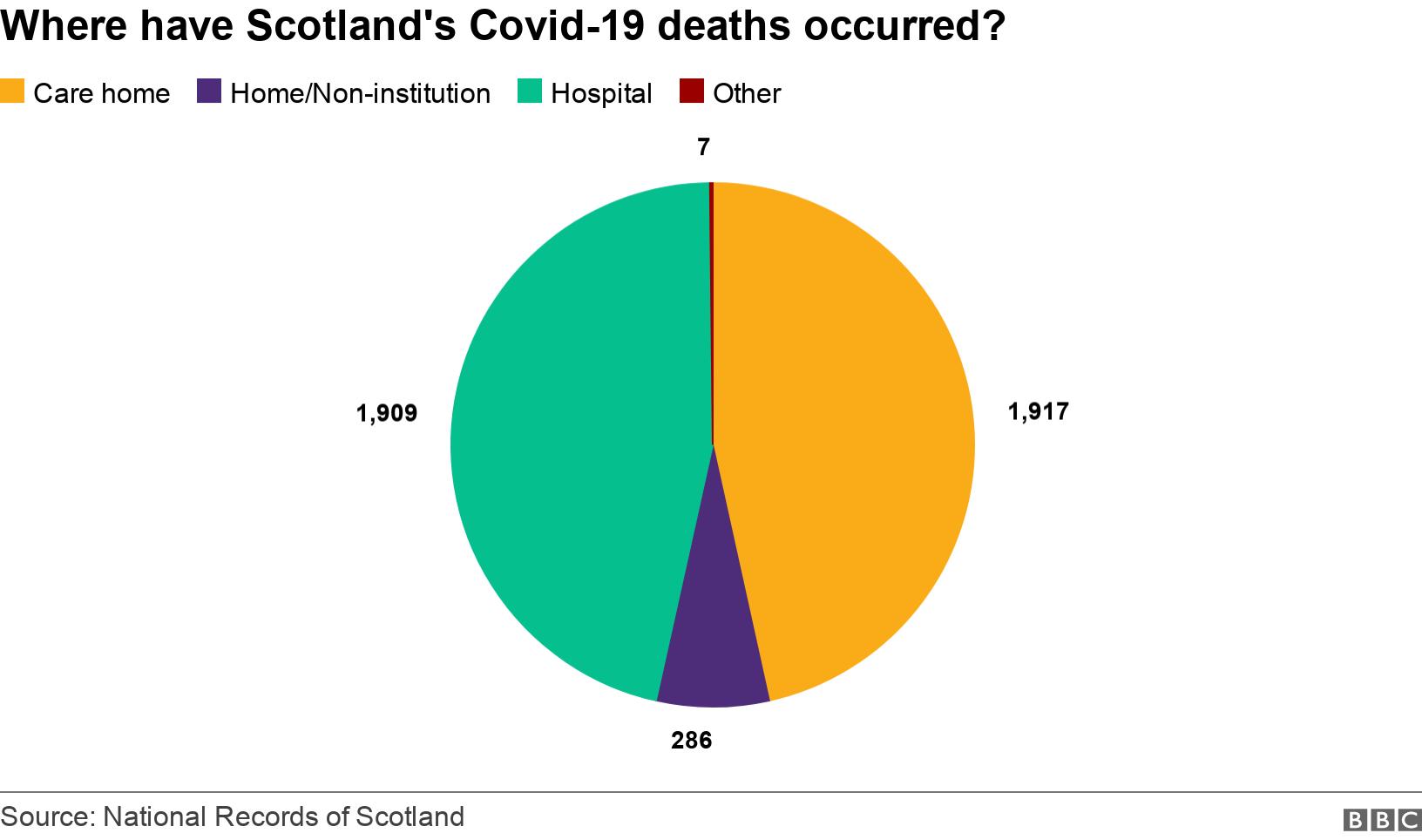 First Minister Nicola Sturgeon said the figures were "extremely difficult" to hear and were "higher than we would ever want to think about".
But she said the data was "really important" to provide as full a picture as possible of the spread of the virus.
Ms Sturgeon said: "It's not unusual for people to become sick in care homes. Residents are often frail and nearing the end of their lives.
"But that does not mean that we consider any of these cases to be inevitable or that we don't do everything we possibly can to prevent them.
"Older people in care homes require as much, if not more, support and protection as anyone else in our society and we're working with care homes and other partners to provide that."
Speaking at her daily briefing, Ms Sturgeon said 1,776 patients were currently in hospital with the virus, 155 of whom were in intensive care.
Both of these figures have been falling in recent days, which Ms Sturgeon said was "a cause for cautious optimism".
However, she warned that "even a very small easing up" in restrictions and social distancing "could throw all of that progress into reverse".
The National Records of Scotland (NRS) figures also showed that the total number of people who died in Scotland in the week to 19 April was 1,911 - nearly 80% higher than the average number registered in the same week over the past five years (1,067).
Of these 844 excess deaths, three quarters were deaths where Covid-19 was the underlying cause, while 38 were attributed to cancer and 83 to dementia and Alzheimers.
More than 100 of the "excess" deaths for that week are still to be explained, and Ms Sturgeon said "this is an issue we need to do further work on to make sure we understand it fully".
Where do these figures come from?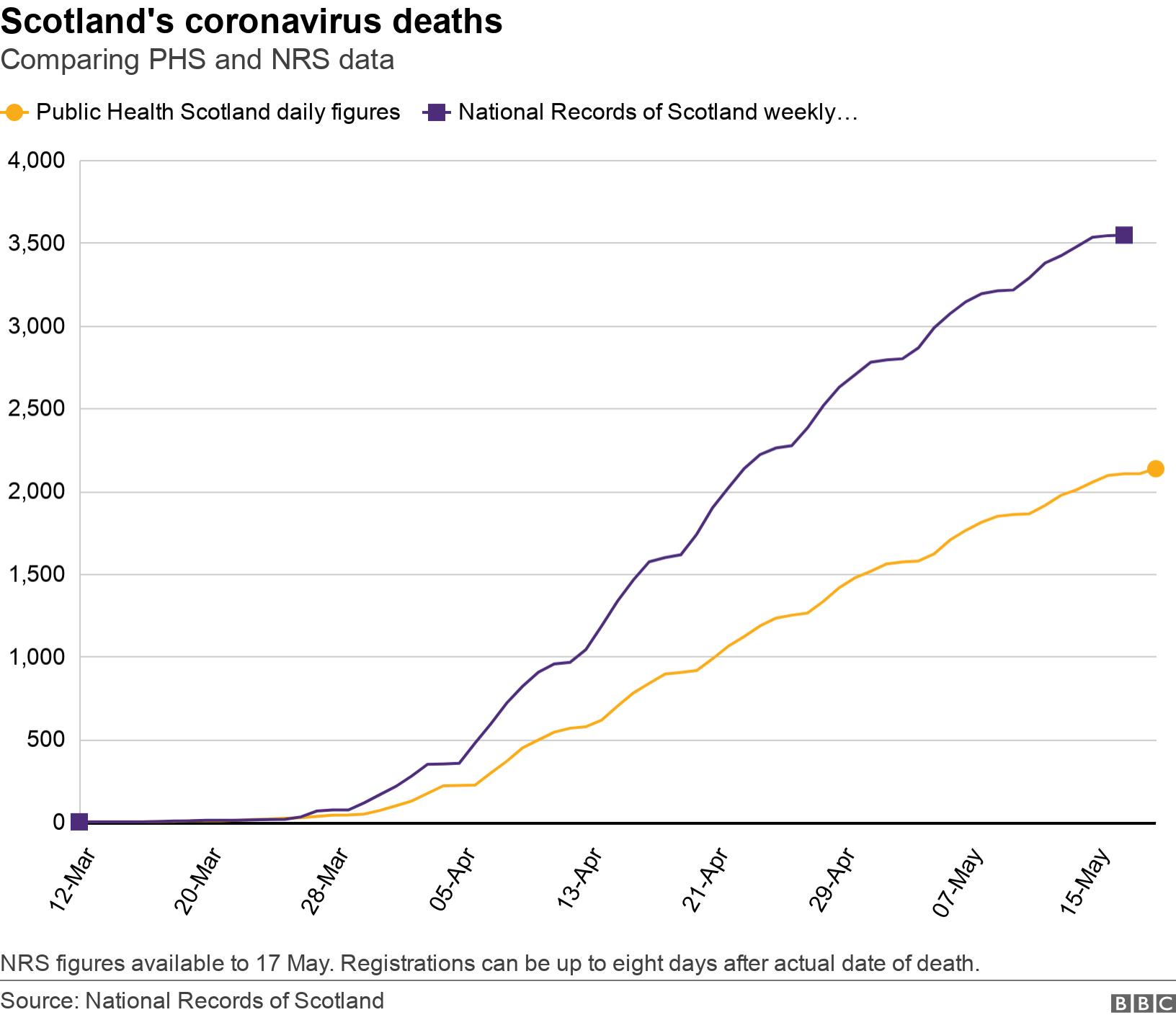 The figures announced each day by the Scottish government at its regular briefing come from Health Protection Scotland (HPS), and only include deaths where coronavirus has been confirmed by laboratory testing.
The stats which come out on Wednesdays from NRS provide a much wider picture, covering all cases where coronavirus is mentioned on a death certificate - even if the patient was not in hospital and had not been tested, and where the virus is suspected or assumed to have been present.
This is why they are referred to by NRS as cases "involving" coronavirus - the data captures all deaths where the virus was a confirmed, suspected or probable cause of death, either as an underlying cause or directly contributing to it.