Coronavirus deaths in Scotland rise by 74 to 296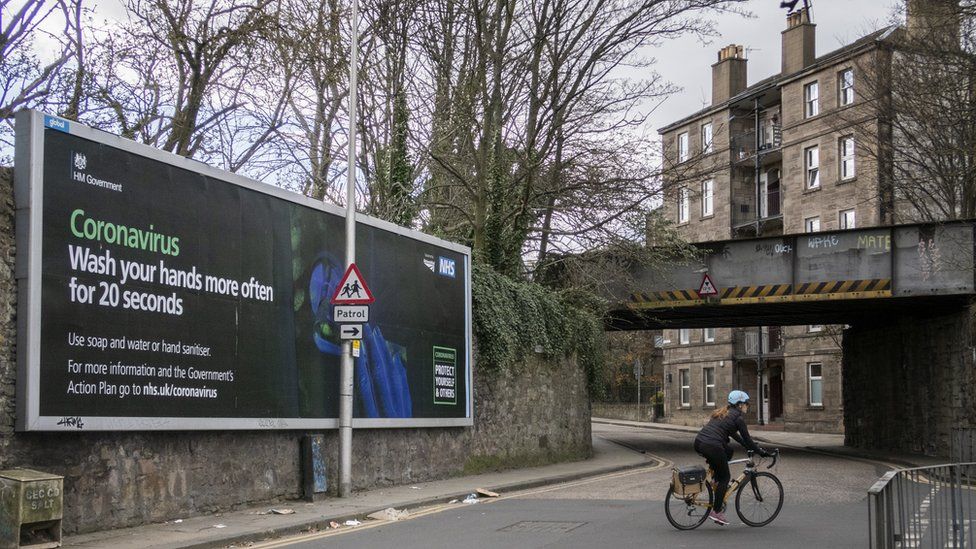 The number of people in Scotland who have died after contracting coronavirus has risen by 74 to a total of 296, Nicola Sturgeon has confirmed.
The first minister said 4,229 people had now tested positive for the virus.
Part of the rise is due to figures from the weekend only just being confirmed, although Ms Sturgeon warned that this would still be an under-estimate.
She also said there are 1,751 patients currently in hospital with the virus, 199 of whom are in intensive care.
Ms Sturgeon expressed her "deepest condolences" to all bereaved families and said she was "acutely aware" that every death was "much more than a statistic, it represents an individual human being".
The Scottish government is introducing a new system for recording deaths involving coronavirus, and Ms Sturgeon said this meant a "relatively large" number had been registered in the past 24 hours.
A new report on deaths in "community settings" such as care homes will be published on Wednesday, which will include for the first time cases where patients were "presumed" to have the virus.
The current statistics only include cases where a laboratory has confirmed that the patient died after contracting Covid-19.
Ms Sturgeon also sent her "very best wishes" to Prime Minister Boris Johnson, who was moved into an intensive care unit on Monday evening after his coronavirus symptoms worsened.
She said: "We are all willing you on, Boris - get well soon."
A spokesman for No 10 said on Tuesday that Mr Johnson was "in good spirits" and had been stable overnight. He is being given oxygen and is not on a ventilator.
The first minister said Mr Johnson's condition was a "terrible reminder that this virus simply does not discriminate".
"Absolutely anybody can get it, and anybody can pass it on to other people," she said.
"That's why we've put in place such severe lockdown restrictions.
"I acutely understand that these are incredibly tough measures, particularly as the weather gets better. But they are vital to reduce the number of people who fall sick, and vital in saving lives."
Ms Sturgeon was asked a series of questions about support for care workers in the wake of a spate of deaths in care homes, particularly in terms of the availability of personal protective equipment (PPE).
She said care workers were doing "a remarkable job in the most difficult of circumstances", and told them that "we will do all we can to support you".
The government has distributed six million items of PPE, although Chief Nursing Officer Fiona McQueen said "there are some areas where distribution hasn't quite got down to the final area".
Ms Sturgeon said supplies were "healthy", and that steps had been taken to "streamline and speed up the distribution" of kit to frontline workers and give them proper guidance on how to use it.
She also said more testing for health and care staff was being rolled out, saying that "we'll be taking steps of reminding NHS boards that care workers need to be given priority there too".
Can we protect our frontline workers?
The supply of personal protective equipment has become a key test for the government.
There are real problems. Scotland is just one part of a global supply chain in items such as masks, visors, gowns, aprons, and gloves. Countries all around the world are looking to equip healthcare workers at the same time.
Then there is the guidance for what should be used. That changed last week, adding requirements for eye protection in some circumstances, leading to concerns that staff had previously been using less than they should.
Demand for equipment is also crucial. This is going to surge and we are still not at the peak of infections.
Talking to health and care workers there seems to be a ripple effect. Last week I was speaking to medics concerned about hospital and ambulance supply, this week it seems to have moved on to home care workers and the police.
The Scottish government says all decisions are governed by the science, but the stakes are high.
So much depends on whether our frontline staff can be kept fit and working to deal with the coming peak in the next few weeks.