'Invaluable' chief medical officer stays in role - but out of public eye
Scotland's chief medical officer will step out of the public eye but remain in her role, the first minister has confirmed.
Dr Catherine Calderwood has faced calls to resign after travelling to her Fife second home during the lockdown.
She was the face of a public information campaign encouraging people to stay at home "to help save lives".
Nicola Sturgeon said the government will be "revising" its campaign to maintain public trust.
In a further move away from the spotlight, she will also no longer be present at media briefings from the first minister "for the foreseeable future".
Nicola Sturgeon said: "I am acutely aware of the importance of public trust in the advice the government is giving to stay at home in order to save lives and protect our NHS.
"[Dr Calderwood] will continue to provide the Scottish government with the scientific and medical advice on the spread of Coronavirus."
'Invaluable advice and expertise'
She later confirmed that she also made the trip to Fife with her husband last weekend.
Politicians across parties called on her to stand down, with one MSP calling her position "untenable".
However the first minister said that Dr Calderwood's advice and expertise were "invaluable" - adding that she needed the chief medical officer to stay in her post.
Dr Calderwood apologised "unreservedly" and reiterated she would not resign.
Ms Sturgeon said: "Over these past few weeks her advice and expertise was invaluable to me, if I am to do what I need to steer the country though this crisis to the very best of my ability, I need her to focus on the job she is doing.
"I'm not expecting you not to be angry, and nor is she. I am asking you to consider the wider importance to the government and by extension the country, of being able to count on the continued expertise of the chief medical officer at this critical time."
In a media briefing on Sunday, Dr Calderwood directed a further apology to the police, who visited her with a warning, and to NHS colleagues.
She called her actions "human error" and said there were "no excuses".
"I've seen a lot of comments from members of the public on Twitter today," she continued. "People calling me a hypocrite, people telling me about the hardships they've endured while following my guidance.
"My office has also received emails from members of the public making clear to me their disappointment and unhappiness at what I've done. People have told me I'm irresponsible, that I've behaved as though my advice does not apply to me.
"I want people to know that I have seen all of that and I've heard the comment.
"What I did was wrong, I'm very sorry and it will not happen again.
"I have a job to do as chief medical officer to provide advice to ministers on the path of this virus, and to support the medical profession as they work night and day to save lives."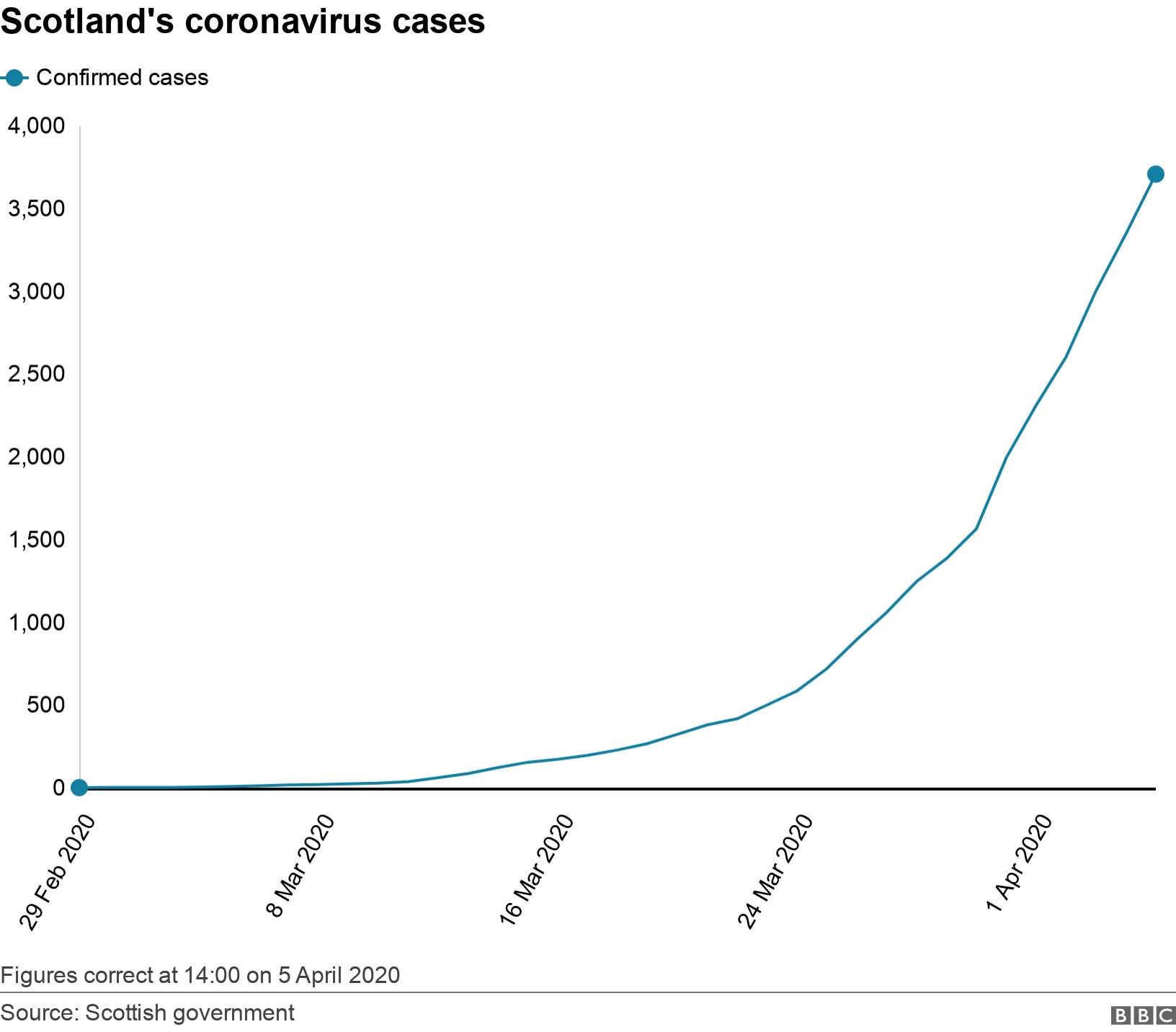 The first minister also announced the number of coronavirus deaths in Scotland had risen by two, to 220.
She said the figures were "not be taken as representative of events over this weekend".
Ms Sturgeon confirmed 3,706 people have tested positive for the virus, an increase of 361 on Saturday.
She also said there are 1,590 patients currently in hospital who have been diagnosed with the virus, of whom 197 are in intensive care.