Coronavirus: 'Not yet known' when virus will peak - Sturgeon
Nicola Sturgeon has said it is not yet known when the peak of the coronavirus epidemic in Scotland will come.
The first minister dismissed speculation that special measures could begin to be phased out soon.
She was speaking as new figures confirmed a further 46 people with coronavirus have died in Scotland, taking the total number to 172.
Ms Sturgeon said 3,001 people had now tested positive for the virus, an increase of 399 from Thursday.
There are 1,321 patients in hospital who have been diagnosed with the virus, including 176 who are being treated in intensive care.
The first minister told the Scottish government's daily coronavirus briefing that she hoped to give "more certainty" over when the virus could peak in "the next couple of weeks".
And she said modelling of how the epidemic is likely to play out was moving away from computer simulations to models populated with "real data" as more cases of the virus are diagnosed.
She added: "I want to be clear, and I can only speak for Scotland, that nothing I have seen - absolutely nothing - would give me any basis whatsoever that this virus will peak in a week's time.
"I know there will be media messages across the whole of the UK today that people will be hearing, and if I have to continue to ask people to do the right thing it's important I'm doing that on the basis of frankness.
"I don't want people to hear something that, in my view, for Scotland is not the case."
Ms Sturgeon also thanked people for adhering to the lockdown measures so far, and urged them not to be tempted to relax their social distancing over the Easter period.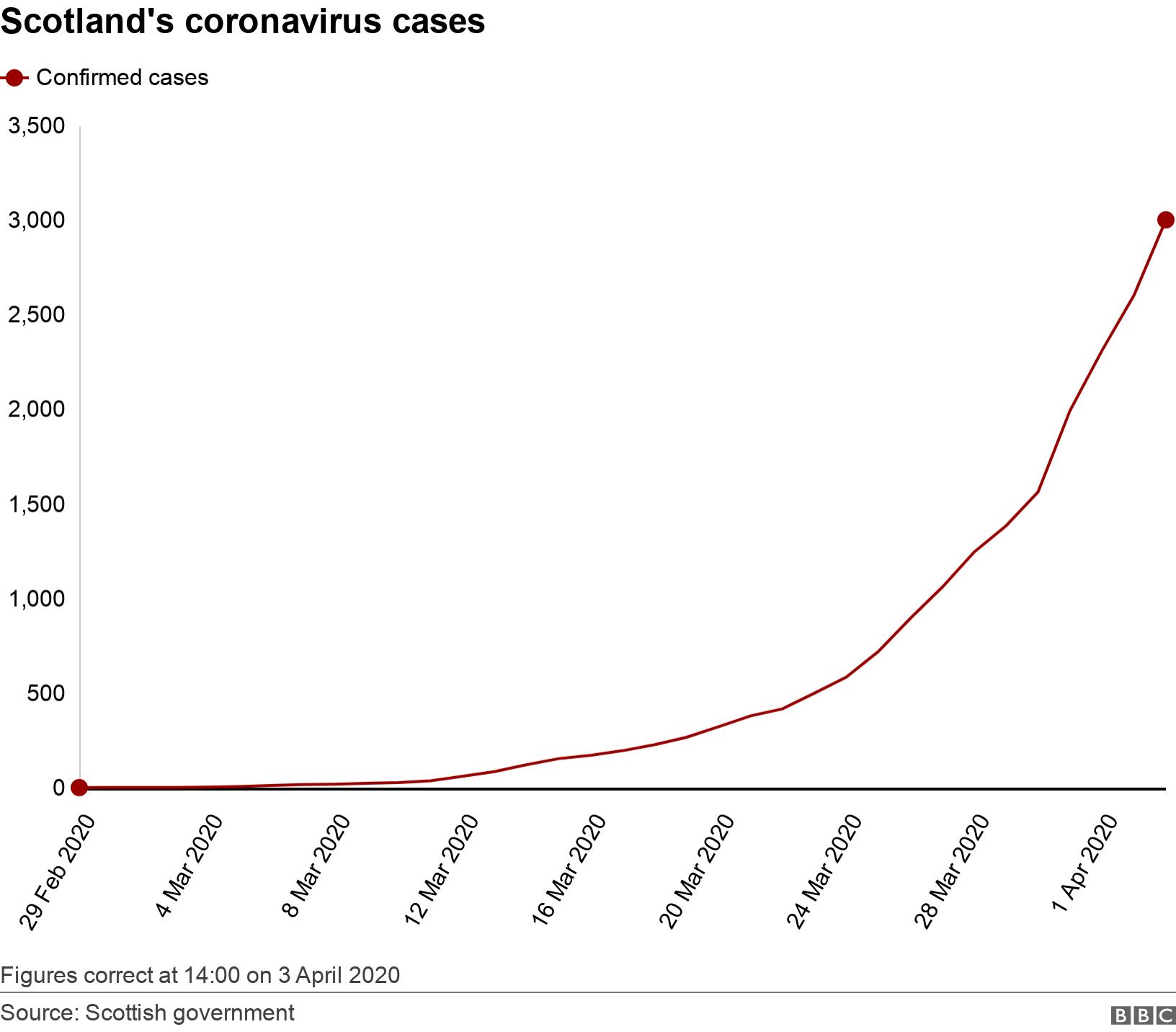 Ms Sturgeon's view was echoed by Scotland's chief medical officer, Dr Catherine Calderwood, who said it would be "many months" before the country is able to "get on top of this virus" without the risk of it re-emerging.
She said: "Each day we are announcing more people infected with the virus than the day before, more people being admitted to hospital and intensive care and more deaths day-on-day as we go through this epidemic.
"So at the moment we will not be able to give a clear date of when the peak would be.
"What we would look for first is a slowing in the rate of those people becoming positive, and we are not seeing that yet. In fact, the proportion of people being tested who are positive is increasing day by day and has done so for the past two to three weeks."
Ms Sturgeon has said that NHS Scotland's testing capacity would increase from 1,900 a day to at least 3,500 "by the end of this month at the latest", and denied that this was less ambitious than other parts of the UK.
UK health secretary Matt Hancock has set a target of 100,000 tests a day in England - but Ms Sturgeon said it was not fair to compare this to the Scottish government's 3,500 target.
She said: "The 3,500 target that we have set for the end of this month at the latest was equivalent to the first pillar of the five pillars that Matt Hancock outlined yesterday.
"The UK's target is 25,000 by the end of April so, proportionately, our target is a bit more ambitious than the UK's."
"It is over and above that where the UK gets to 100,000, and what I'm saying is that, through those same measures, Scotland will get to a position that is proportionately the same."
More cases, more people in hospital, more deaths. This sombre briefing underlines the grim fact that coronavirus is spreading fast, and infecting more people
Yesterday the UK government set out plans for NHS England to test 100,000 people every day, by the end of April. Nicola Sturgeon was pressed on the Scottish target and gave a robust response.
She insists the Scottish target - 3,500 per day by the end of this month - is more ambitious than the English target.
She said the correct comparison with England is tests done in NHS and public health laboratories - what's called their "pillar one" target - which is 25,000 tests a day.
The rest - pillar two - would be made up by universities and private sector partners such as Amazon and Boots. That, the first minister says, means Scotland will out-test England.
The NHS continues to prepare - and we're told Scottish hospitals now have 500 ventilators for critically ill patients. Orders are in place for more, we're told, and there's no upper limit on how many the NHS will buy.
There's no end in sight. Easter is approaching - and as the weather improves the current lockdown will be harder for many to bear.
But Nicola Sturgeon was at pains to make clear there's no sign the danger and death toll will peak by Easter. She said it's still uncertain when it will be - and restrictions will be in place for "a long number of weeks".
Current testing is only reliable in confirming someone has coronavirus, but both the Scottish and UK governments hope a reliable antibody test that tells whether you have previously had the disease will soon become available.
The Scottish government is also considering plans around antibody testing, but the first minister cautioned against expectations that such a scheme could start any time soon.
"That kind of test doesn't currently exist," she said. "We hope it will do soon, but the fact is that might still be some time away."