Coronavirus: Almost half of NHS Scotland staff absences Covid-19 related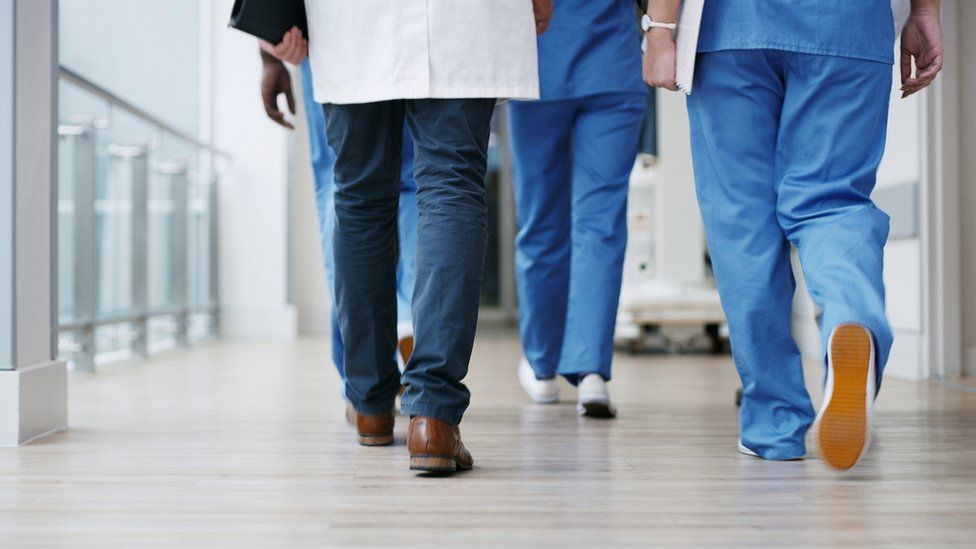 More than 14% of NHS Scotland staff are currently off work, according to the Scottish government.
About 41% of those absences - equating to 9,719 people - are related to coronavirus, official figures show.
The total work force of NHS Scotland is about 166,000 people.
NHS Scotland said nursing and midwifery staff had been hit hardest by absences related to coronavirus, with 4,354 off work. Administrative services were hit second hardest, with 1,903 staff off.
A spokeswoman for the Scottish government said: "As of 1 April, there were a total of 23,665 NHS Scotland staff recorded as absent from work, for any reason.
"Of these, 9,719 were recorded as coronavirus-related."
What areas have the highest rates of absence?
Nursing and Midwifery - 4,354
Administrative Services - 1,903
Support Services - 1,049
Allied Health Professions - 832
Medical and Dental - 467
Healthcare Sciences - 468
Other Therapeutic - 363
Dental Support - 188
Personal and Social Care - 53
Medical Support - 30
Senior Managers- 6
Unallocated - 6
Scotland has already started testing some health care staff, but resources are limited at present.
During a briefing on Thursday, First Minister Nicola Sturgeon confirmed that so far 3,400 NHS workers or their family members had been tested for Covid-19.
She added that this figure was expected to "rise considerably in the days to come" as capacity for testing increased.
Scotland's testing capacity has increased from 390 samples per day at the beginning of the outbreak up to 1,900 tests per day now, with a view to test 3,500 samples per day by the end of April at the latest.
The first minister also explained that the type of testing that was available at the moment could only confirm whether someone with symptoms had Covid-19 - it was not effective for someone who is not showing symptoms, who was in the incubation period or who had recovered.
For example, if an NHS worker is self-isolating due to a member of their household displaying symptoms, then the current tests - called PCR tests - would not be useful for testing the healthcare worker.
Nicola Sturgeon said this meant that in some cases family members of NHS workers who had symptoms were being tested, so that if they tested negative, the health worker could return to work.
She added that antibody tests, which establish whether someone has already had the virus, were still being assessed for reliability, but it was hoped they could be used at some stage in the future.
Testing 'absolutely vital'
The first minister's comments follow calls by the Royal College of Nursing in Scotland for more testing of frontline NHS workers.
Speaking on BBC Radio Scotland's Lunchtime Live, Ros Shaw said having so many staff off at once was a huge worry and nursing was short-staffed.
While pleased with improvements made on testing, the senior officer with RCN Scotland said it could have been taken forward a bit quicker.
"It's absolutely vital as many nurses and healthcare workers as possible can be tested," she adds.
Sickness absence is having an impact on patient care, with Ms Shaw revealing one care home with 60 residents currently only has one registered nurse.
In a car park at a Fife hospital, drive-through testing for NHS workers is under way.
The test centre at Cameron hospital near Leven has been open for the past week.
The testing point inside a temporary tent is staffed by four nurses each wearing personal protective equipment including gloves, aprons, eyewear and masks.
The test centre is there for either NHS staff or one of their family members if they are showing symptoms, meaning they are in isolation unable to work.
After making an appointment, they drive their cars into the test area and have their noses and mouths swabbed through the car window.
Charge nurse Craig Orr completes the swabs and puts them into a container and sent for testing. The results could be available the next day.
Only a limited number of these tests are being done at the moment, the capacity in Fife is about 70 day, but the aim is to increase this number rapidly and extend to social care workers too.
With 14% of NHS staff off at the moment, either with symptoms or in isolation, a negative test could mean that they can return to work on the frontlines dealing with the coronavirus crisis.