Coronavirus: 'Life should not feel normal'
The first minister has warned that stringent new measures to prevent the spread of coronavirus should not be considered "optional".
Nicola Sturgeon said guidance about social distancing and self-isolation should be regarded as a "set of rules".
It comes as she confirmed the number of coronavirus deaths in Scotland had reached 10, with 416 known cases.
Ms Sturgeon said: "life should not feel normal", and if it did, you should ask "if you are doing the right things".
Speaking at a press briefing in St Andrew's House in Edinburgh, Ms Sturgeon said: "Let me be clear, the advice should not be considered optional, it should be seen instead as a set of rules to be followed."
The Scottish government has said up to 200,000 people in Scotland with extreme health vulnerabilities would be contacted in the coming days with advice to isolate for 12 weeks and details of how they will be supported.
It follows similar measures announced by Public Health England to inform 1.5m people in a similar position south of the border.
That has prompted Police Scotland to warn it would serve emergency closure orders on any premises defying the advice.
Deputy chief constable Malcolm Graham said remaining open was "absolutely reckless and endangers not only the lives of customers, but wider communities".
Ms Sturgeon said although it was ok to be outside, people should not crowd together. She said: "If you go out in the sunshine follow the social distancing guidance on your own or with one or two others.
"Beaches should not be busy, parks should not be full."
Ms Sturgeon also clarified guidance around the opening of schools to accommodate S4-S6 pupils trying to complete course.
Education Secretary John Swinney last week confirmed there would be no exams in Scotland's schools for the first time since the system was launched in 1888.
Ms Sturgeon said that new guidance was issued in light of "the escalation of the public health advice around social distancing".
She added: "With immediate effect, no young person with coursework to complete should attend school to do so."
Scotland's chief medical officer Dr Catherine Calderwood, who was also present at the briefing, said Covid-19 appeared to be spreading faster in the UK than in China.
She said it had become clear that the UK had been under-estimating the doubling time of the virus.
She added: "That means that each individual is infecting more people. So we had estimates of one person infecting two to three other people, but they're actually infecting more people than that.
"So actually that explosion of cases, that acceleration, is actually likely to be more more than we realised."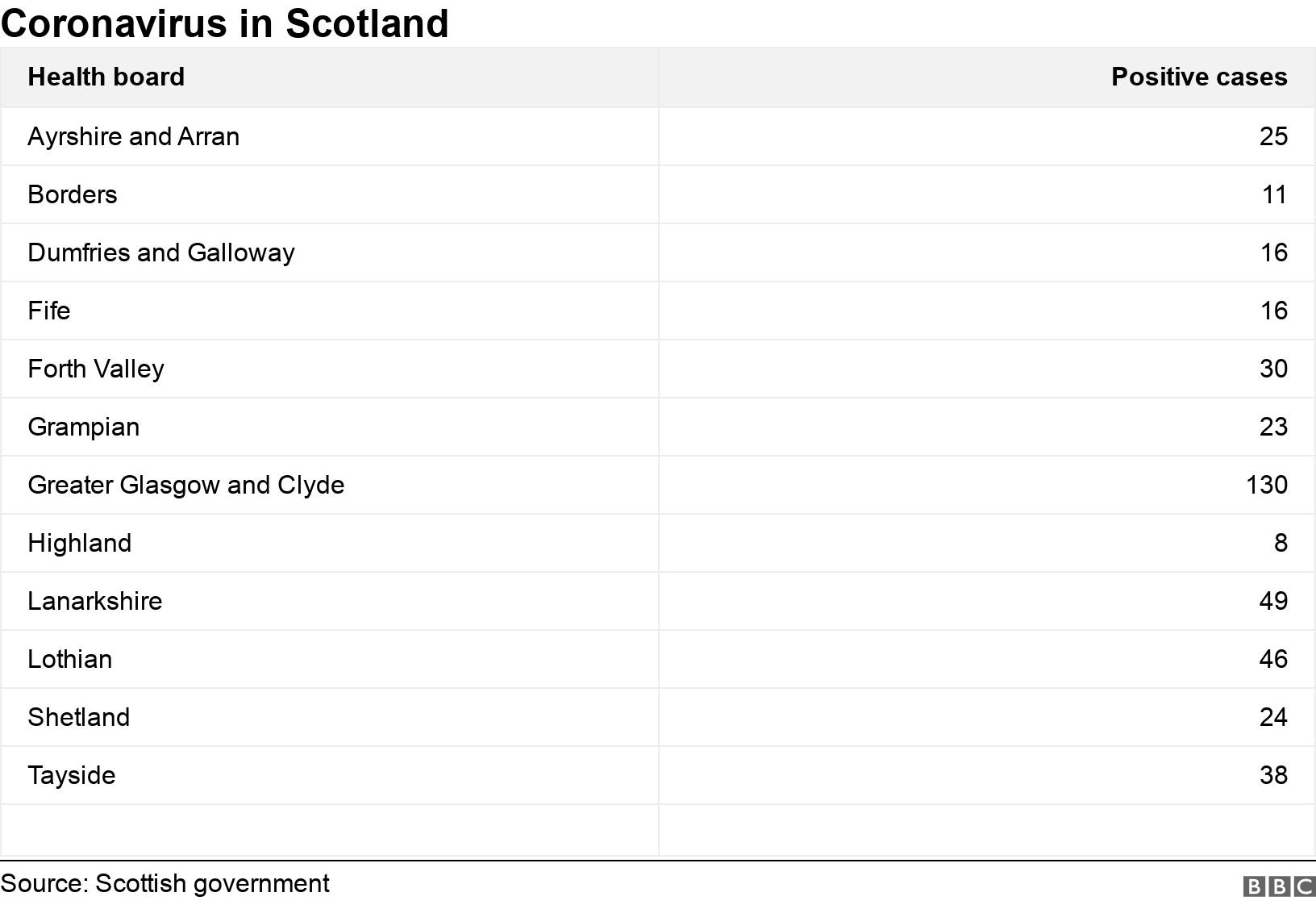 Three more patients in Scotland have died after testing positive for coronavirus, bringing the total number of deaths to 10.
The number of known cases of Covid-19 has risen to 416, an increase of 43 on Saturday.
The Scottish government said a total of 8,679 tests had been carried out across the country.
Greater Glasgow and Clyde has the highest number of confirmed cases with 130, a rise of 20 in the past 24 hours.
The Lanarkshire total remains the same at 49, while Lothian recorded two more cases, bringing the total to 46.
The number of cases in Shetland remains 24.
People have tested positive in 12 of the country's 14 health board areas, with the exception of Western Isles and Orkney.