Trains, buses, ferries and trams face service cuts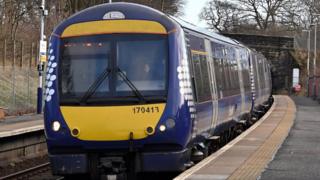 Transport operators across Scotland have announced reductions to services in response to the coronavirus outbreak.
Rail services in Scotland will move to a reduced timetable from Monday, while bus operator McGill's will introduce "emergency" timetables on the same day.
Edinburgh Trams will bring in a reduced service from Sunday.
Meanwhile, ferry operator Calmac said it had stopped taking new bookings on all of its services up to 15 July.
The moves came as Scottish Transport Secretary Michael Matheson said Scotland was reaching a point where services would be reduced to essential journeys only.
The reduction in ScotRail services will be similar to a Sunday service, with some additional early and late trains for key staff.
The rail operator said the changes would ensure there were "more than enough seats to meet current demand levels".
It added that the new arrangements would be "kept under regular review".
In a statement published on its website, ScotRail said rail workers were "working flat out to provide transport for people delivering essential services".
It said staffing levels at ScotRail and Network Rail Scotland had been affected by the "unprecedented global crisis", as well as customer demand.
McGill's, which operates more than 110 bus routes throughout the west of Scotland, said "almost all services" would continue to operate from Monday, most at half of their normal frequency.
It added: "Precautions have been taken to ensure all journeys are still possible at this time."
The company has published the revised timetables on its website.
Edinburgh Trams reported that from Sunday, it would run a reduced service between Edinburgh Airport and York Place, with trams every 15 minutes.
In a statement, Edinburgh Trams said: "Due to the current government guidelines surrounding the spread of Covid-19 (coronavirus) and the use of public transport we have seen a reduction in customer demand.
"We have decided to tailor the service to the needs of the customer, while taking into account the availability of staff."
Updates on services can be found on the tram operator's Twitter page, the Transport for Edinburgh app and at edinburghtrams.com
Meanwhile, CalMac has stopped taking new bookings on all of its services up to and including 15 July.
The ferry operator said bookings that had already been made up to that period would be "honoured where services are running", adding that it would now be operating a "turn up and go" service on all of its routes.
CalMac has also stopped serving hot food on board "to free up our staff to crew our vessels".
Managing director Robbie Drummond said: "Whilst we are currently able to continue operating our normal timetabled service, we have to plan for the impact of the virus on our staff at ports, on vessels and within our support services.
"It has been prudent, therefore, to pause our ability to offer customers advance bookings."