Coronavirus: £320m rescue package for business from Scottish government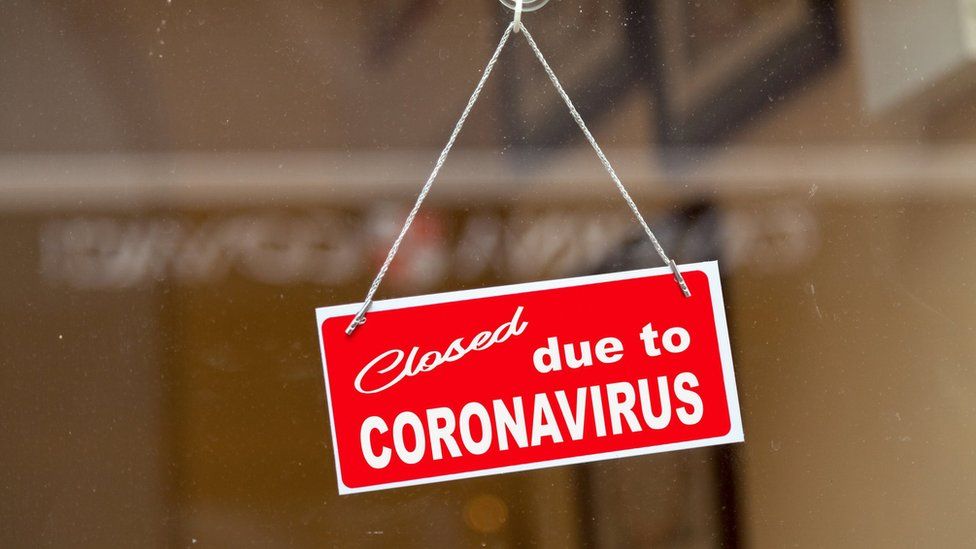 Scottish Finance Secretary Kate Forbes has announced a £320m rescue package for businesses.
The cash is being made available to support business through the Covid-19 outbreak.
She also revealed that a £50m hardship fund will be made available to people who lose their jobs as a result of a downturn caused by the virus.
The action has been taken to try to limit the impact of the pandemic on Scotland's economy.
The first Scots fatality was confirmed on Friday after an elderly patient with underlying health issues died in the NHS Lothian area.
During the 2020-21 financial year, business will be boosted with:
75% rates relief for retail, hospitality and leisure sectors with a rateable value of less than £69,000 from 1 April 2020
£80m fund to provide grants of at least £3,000 to small businesses in sectors facing the worst economic impact of Covid-19
1.6% rates relief for all properties across Scotland, effectively reversing the planned below inflation uplift in the poundage from 1 April 2020
Fixed rates relief of up to £5,000 for all pubs with a rateable value of less than £100,000 from 1 April 2020
The finance secretary will also write to all local authorities urging them to respond positively to requests from ratepayers for payment deferrals for a fixed period.
Ms Forbes said: "Covid-19 will have challenging implications for businesses and the economy over the coming weeks and months.
"As well as following the latest health and travel advice, it's also crucial we consider the latest economic analysis and listen carefully to what the business community is telling us. We know that the tourism and hospitality sectors are facing immediate pressure, which is why we have directed support to them in particular."
She said that all ratepayers would benefit from a relief that effectively reversed the planned inflationary uplift that was due to come into effect in April.
She also said the Scottish government was preparing a £50m fund for people who lose their jobs as a result of measures taken to limit the spread of the virus. This makes up the rest of the £360m-plus grant given by the Treasury in last week's budget.
She told BBC News: "£50m will go to a hardship fund which will be announced shortly. That will look at, for example, people who are self- employed or people who have lost their jobs.
"We have allocated every consequential penny we have received towards business support but I would believe and hope that further support comes to help us meet business needs."
David Lonsdale - Scottish Retail Consortium
"In dealing with this unprecedented scenario the Scottish government has listened to business and has taken steps which should improve cashflow and confidence for those impacted by the virus. These are the right decisions for the present, albeit both the UK and Scottish government may have to take further steps as this very unpredictable and unprecedented situation evolves."
Andrew McRae - Federation of Small Businesses Scotland
"While the shape of this help is slightly different to the support being offered to businesses south of the border, it is a substantial attempt by ministers in Edinburgh to help perfectly sound businesses facing severe short-term cashflow problems. Time is of the essence, so this new money must be easy to access. This is no time for bureaucratic hold-ups. Further, should this initial package of measures prove insufficient, we must not hesitate in delivering a further expansion."
Liz Cameron - Scottish Chambers of Commerce
"The Scottish government have outlined an initial number of measures that will be welcomed by businesses - particularly in the most affected sectors such as retail, hospitality and tourism - following on from the measures introduced in the UK Budget earlier this week. This is a positive initial response by the Scottish Government, but the situation needs to be reviewed on a daily basis to identify what additional support is required, particularly around how business can retain employees and the cost of businesses changing their operating models, for example to flexible working practises.
Tracy Black - CBI Scotland
"These are substantive steps from the Scottish government that will be hugely welcomed by business. Sector-specific support is vital in hospitality, leisure and retail. Freezing rates and introducing direct grants are also important elements - and more may be needed, as knock-on effects are emerging daily in sectors and businesses of all sizes. So the scale of response must keep pace with the impact. Agility is essential."
"We recognise that the Scottish government is taking action to mitigate the impacts of coronavirus and the measures announced today will help local businesses and communities. Cosla will continue to work closely with the Scottish government and other agencies to ensure our businesses and communities across Scotland are supported during this exceptionally challenging period."
Related Internet Links
The BBC is not responsible for the content of external sites.