Woman says Alex Salmond kissed her after doing zombie impression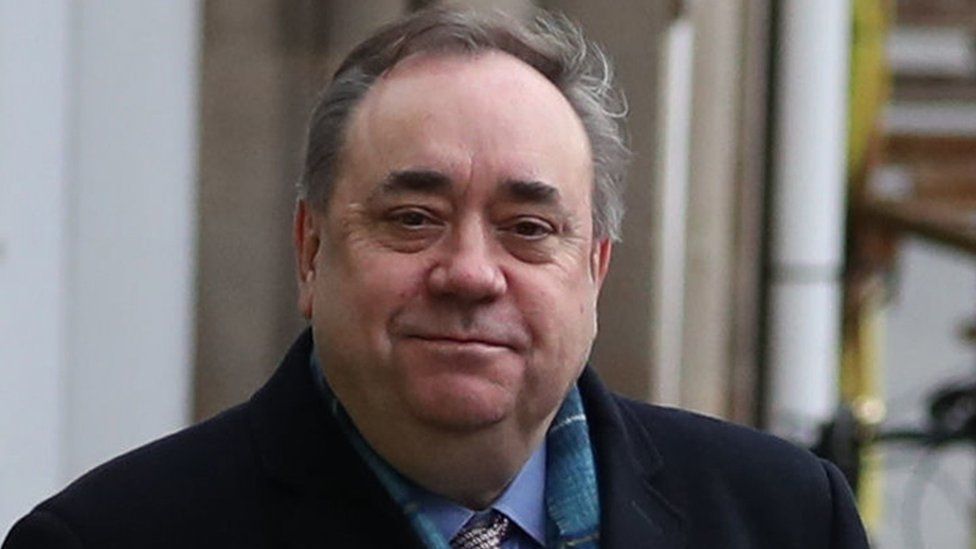 An SNP party worker has claimed Alex Salmond did an impression of a zombie before kissing her on both cheeks then trying to kiss her on the mouth.
The witness, known as Woman J, said the alleged incident - shortly before the independence referendum - had been "like an awful nightmare".
She also alleged that Mr Salmond later asked if she wanted to "stay over" at his Bute House residence.
Mr Salmond denies sexually assaulting Woman J in September 2014.
He has also pled not guilty to a further 13 charges of sexual assault against nine other women.
The alleged offences are all said to have happened when Mr Salmond was serving as Scotland's first minister and the leader of the SNP.
Woman J told the High Court in Edinburgh that she had been working with Mr Salmond in Bute House when she left the room to go to the toilet.
When she returned, she claimed to have "utterly froze" after finding Mr Salmond "lying on the ground, between the dining table and the back of the sofa."
She alleged that Mr Salmond had a pen and paper next to him, and told her to "come here and work on this speech".
Woman J said she lay on the ground some distance from Mr Salmond because she did not want to anger him.
The witness alleged that they were both working on the speech when "out of the blue" he asked: "Have you seen that zombie movie?"
She claimed that Mr Salmond told her to stand up before he "stretched his arms out straight towards me and did an impression of a zombie walking towards me".
She added: "He put his arms on my shoulders and leaned in to kiss me on one cheek and then proceeded to move me out of the way to kiss my other cheek.
"Then he leaned in to kiss me on the lips."
Woman J said she raised her arms to break his connection on her shoulders, and had attempted to act like nothing had happened.
But she alleged that Mr Salmond had later touched her briefly on the leg and face.
And she claimed he had said she could "stay over" if she wanted to - to which she had thought there was "no way in hell I was".
Under cross-examination from defence lawyer Shelagh McCall QC, Woman J agreed that Mr Salmond was a "touchy feely, tactile person" who had sometimes kissed members of the public, and that she had thought that this was inappropriate.
Ms McCall put it to the witness: "This incident with the zombie film, he says that never happened. You're going to tell me it did?"
She also agreed that she had continued to work with Mr Salmond after the alleged incident.
Earlier in the day's evidence, a former civil servant known as Woman K claimed that photographs were taken of her as Mr Salmond grabbed hold of her bottom.
She said the photographs were taken at an event at Stirling Castle shortly before Mr Salmond stood down as first minister in November 2014.
Woman K claimed that Mr Salmond had been "very insistent" that she have her photograph taken with him.
She alleged that, as they were standing in front of the photographer, Mr Salmond put his arm around her before he "reached down and grabbed hold of my backside".
Woman K said Mr Salmond had done this "quite forcefully with his full hand" and it had felt "very deliberate".
She said she had felt "shock and disbelief" but had tried to "just keep smiling".
She said: "I just want to do my job and feel proud of myself doing my job and it felt like I was being demeaned.
"It was unprofessional but there was nothing I could do about it."
The court was shown a series of photographs of the woman with Mr Salmond.
She appeared to have her eyes shut in several of them, and to be looking at Mr Salmond in another.
Woman K told the court that she looked "very embarrassed" because of "what had just happened".
She said another photograph shown to the court showed a "look of disbelief" on her face.
The witness said she had no choice but to get on with her job, but the next day she told her manager what had happened "to make sure he was aware".
What has the trial heard so far?
Woman K later agreed with defence lawyer Gordon Jackson QC when he put it to her that she had thought the alleged incident "wasn't sexual, it was about power".
She said: "That was my interpretation. The first minister grabbed by backside because he could."
She also agreed that she had once described Mr Salmond as "genuinely concerned and nice" when she became unwell at work.
And she agreed that she had phoned Mr Salmond the next day to thank him for helping her.
Woman K also said that she had already contacted the Scottish government before it set up a helpline for people to report any allegations of inappropriate behaviour.
But she agreed that at that stage she wanted the complaint to go through the government rather than the police.
A third complainer, a Scottish government civil servant known as Woman D, told the court that it was a "fairly regular occurrence" for Mr Salmond to put his hands on her bottom when they were walking together, and that he had touched her face, hair and arms.
She said it made her feel uncomfortable, but she had put up with it because "he was the leader of the country" and she was worried it would damage her career if she put in a complaint.
Woman D went on to claim that she had once dozed off while in a car with Mr Salmond during a foreign trip - and had felt "shocked" and "pretty icky" when she woke up to find him stroking her face.
And she alleged that Mr Salmond had reached out to touch her face in a lift, before a colleague knocked his hand away and said something like "What do you think you are doing?"
Defence lawyer Gordon Jackson QC asked Woman D if she had once shown Mr Salmond a holiday picture of herself in a "somewhat skimpy bikini".
When she replied that she had only done so because Mr Salmond had asked to see her holiday photos, Mr Jackson replied: "I take it you don't just take bikini photos? Why show him that one?"
Woman D replied: "I don't know."
Mr Salmond says he is innocent of all the allegations against him.
He has entered not guilty pleas to all 14 of the charges against him, which include one charge of attempted rape, one of sexual assault with intent to rape, 10 sexual assaults and two indecent assaults.