Alex Salmond trial: Woman claims former first minister gave her 'very sloppy' kisses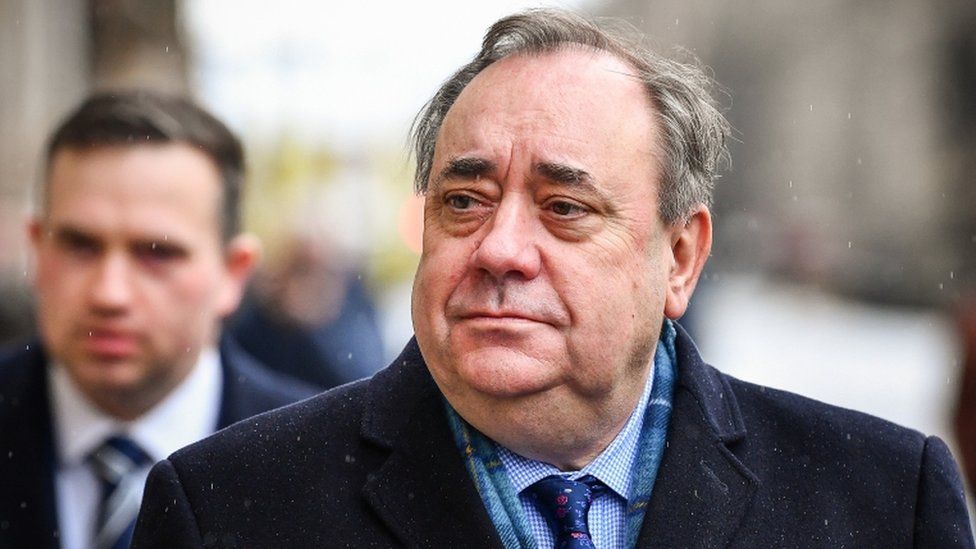 A senior Scottish government official has told the Alex Salmond trial that he had given her "very sloppy" kisses on the mouth and touched her bottom.
The woman, known as Woman A, said she had been employed by the SNP at the time, and had regularly worked with Mr Salmond.
She said Mr Salmond would "often" greet her by kissing her on the lips, which she said made her feel "disgusted".
Mr Salmond denies a total of 14 sexual assault charges against 10 women.
He says he is innocent of all the allegations against him, which are said to have happened while he was serving as Scotland's first minister and the SNP leader.
Woman A is the second of the 10 complainers to give evidence during the trial at the High Court in Edinburgh.
She told the court that she had worked alongside Mr Salmond "almost every day" while they were campaigning in 2008.
The witness said Mr Salmond would "often come to greet me in a very familiar way - giving the impression he was going to give me a kiss on the cheek and normally end up kissing me on the lips".
She said she did not encourage this and did not want it to happen, and had felt "quite disgusted and embarrassed and kind of quite humiliated by it".
The woman also said the "very sloppy and kind of unpleasant" kisses did not happen if other people were there, so she sometimes tried to take people with her to meet Mr Salmond.
She also claimed that, on three or four occasions, Mr Salmond would put his hand on her back and move it so it was "on the side of my chest or on my bum".
The woman added: "I took the view it was deliberately. I had been around politicians in public places and nobody else did it. There was no need for it."
She said she began to carry a bag so it was between her and Mr Salmond when they were in the street, making it harder for him to reach her.
When asked by prosecuting lawyer Alex Prentice QC why she had not asked Mr Salmond to stop, she replied: "I liked my job, I didn't know him very well and he was the most powerful man in the country.
"I didn't know what would happen if I said 'no' or 'get off'. I had experienced volatile mood swings and behaviour from him and it was always easier to move away than risk infuriating or antagonising him."
Woman A went on to describe an alleged incident that she claimed happened at a nightclub in Edinburgh in December 2010.
She claimed that Mr Salmond "ran his hands down the curve of my body, over my hips, commenting: 'You look good, you've lost weight'."
Gordon Jackson QC, who is leading Mr Salmond's defence team, put it to Woman A that Mr Salmond also kissed members of the public on the lips, because "that's the sort of man he was".
Mr Jackson also said that the alleged incidents were "absolutely nothing, they were not distressing in any way, shape or form".
Woman A responded by saying that Mr Jackson's interpretation was "categorically wrong".
And she denied suggestions from Mr Jackson that she had encouraged other people to make complaints against Mr Salmond in an attempt to "turn things that were trivial, nothing, into criminal charges".
The witness said: "I was not encouraging people to make a complaint. Some people asked me for advice, but in every case I said it was their decision to make."
Another of the complainers, an SNP politician known as Woman C, later told the court that Mr Salmond had once given her and her husband a lift in his ministerial car.
Woman C said her husband was in the front seat next to Mr Salmond's driver while she sat next to Mr Salmond in the back. She said Mr Salmond put his hand on her leg, above her knee.
She said she had been "embarrassed" by it and hoped he would move his hand - but claimed he had instead left it on her leg until they arrived at their destination.
Woman C refuted suggestions from Mr Salmond's lawyer that she had not told anyone about the incident at the time because it had not actually happened.
She said: "I suppose when you look back at things you realise how much you excuse a person because of who they are. It is so hard to explain how much he meant to our party, and you just put things to one side.
"I didn't think it was nothing, it was because of who he is and what he was. Who on earth was I going to tell and what on earth were they going to do about it?"
Earlier on Wednesday, a third complainer denied ever having had a consensual sexual encounter with Alex Salmond.
Mr Salmond denies sexually assaulting the former Scottish government official, known as Woman H, in May 2014 and attempting to rape her a month later.
Giving evidence for a third day, Women H said she had "never been a willing participant of Alex Salmond's advances towards me".
Woman H had previously told the court that Mr Salmond "pounced on her" after a dinner at the first minister's official Bute House residence in June 2014.
She alleged that he pulled her clothes off, pushed her on to a bed and then lay naked on top of her despite her protests.
Woman H has previously denied suggestions by defence lawyer Shelagh McCall QC that she was not at the dinner in June 2014, and that there was no incident.
On Wednesday morning, Ms McCall put it to the witness that the dinner in question had actually been at Bute House in August 2013, and had led to a consensual sexual encounter with Mr Salmond.
Woman H replied: "That's not true. I have never been a willing participant in Alex Salmond's advances towards me, and never will be."
Woman H denied suggestions by Ms McCall that she had started to unbutton Mr Salmond's shirt as they were saying goodnight, kissed him and helped to pull his trousers down to his knees.
The witness insisted: "I spent a large part of that evening trying to dodge his advances."
Ms McCall said the truth of the matter was that Mr Salmond's underpants were not down, just his trousers, during the encounter.
But Woman H said: "Absolutely not, as I have got this horrific image of him being fully aroused and lying over me."
Woman H also said that the evening had ended with Mr Salmond "passing out drunk, snoring, exhausted by his attempts to get me to sleep with him, which I kept saying no to".
She denied that there had been a discussion with Mr Salmond about how she had got "carried away", and that he had told her not to worry about it.
The court was later shown a video of a police interview with a celebrity who said he had been at a dinner in Bute House with Mr Salmond. He said he believed Woman H and a businesswoman were also there.
When he was asked whether the dinner had been on the same date in June 2014 that Mr Salmond is alleged to have attempted to rape Woman H, the celebrity replied that it "sounds about right".
The celebrity said that the four people had shared a bottle of wine between them at the "jovial" dinner, but they were "not really" under the influence of alcohol.
He said he left Bute House at about 23:00. He said the businesswoman had already left by then, and that he remembered Mr Salmond and Woman H still being in the building.
He also said he had not seen anything that caused him any concern.
Also on Wednesday, the trial heard evidence from a businessman who said he had been at various Bute House dinners and remembered Woman H being "friendly and comfortable" with Mr Salmond.
And a former member of Yes Scotland staff told the court that Woman H had never mentioned to him that she had been at a dinner with the celebrity.
Mr Salmond has pled not guilty to one charge of attempted rape, one assault with intent to rape, 10 sexual assaults and two indecent assaults.
The offences are alleged to have happened at various locations in Scotland between June 2008 and November 2014.