Coronavirus: First case confirmed in Scotland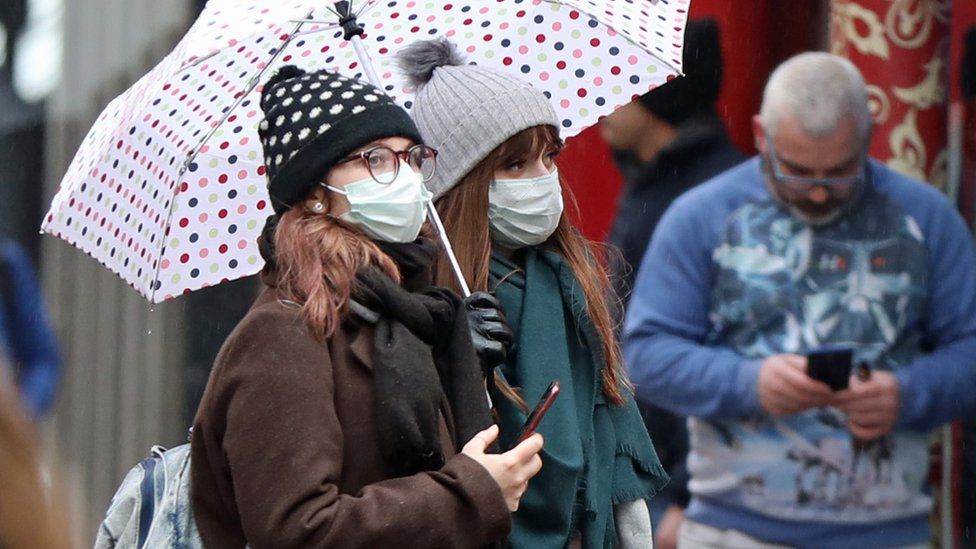 The first case of coronavirus has been confirmed in Scotland after a patient was diagnosed having recently travelled from Italy, the government has said.
The patient, from the Tayside area, tested positive and is receiving treatment in isolation in hospital.
They are "clinically well" and were moved to hospital as a precaution, Scotland's chief medical officer said.
Details of people they have been in close contact with since returning to the UK are being gathered.
First Minister Nicola Sturgeon said: "Scotland is well prepared for a significant outbreak."
A total of 36 people have been diagnosed with the virus in the UK.
"The people who have been in [close contact] will be contacted by our health protection teams. We'll have a conversation with them and offer testing if that was deemed to be appropriate," she said.
The virus is contracted through close contact, either face-to-face or by spending more than 15 minutes within two metres (two yards) of an infected person, the government has said.
Dr Calderwood added that NHS Scotland was well prepared for the outbreak and she did not anticipate any problems with capacity.
"We would expect at least 80% of people have a very mild illness that they will recover quickly from. It's a very small number of people who would need hospitalisation," she said.
"So there's no no issue at all with our NHS services, or capacity at the moment."
What do I need to know about the coronavirus?
Ms Sturgeon chaired a meeting of the Scottish government's resilience committee on Sunday evening and is expected to take part in the UK government's Cobra meeting chaired by prime minister Boris Johnson on Monday.
There have been a total of 698 negative tests in Scotland since the outbreak in the Chinese city of Wuhan.
Health officials are to begin testing some people with flu-like symptoms for the virus even if they have not visited affected areas.
Ms Sturgeon said: "Our first thoughts must be with the patient diagnosed with coronavirus, I wish them a speedy recovery.
"Scotland is well prepared for a significant outbreak of coronavirus but there is currently no treatment or vaccine.
"Early detection measures will continue to be vital in helping to prevent the spread of the virus."
Related Internet Links
The BBC is not responsible for the content of external sites.