Drug consumption rooms are a 'distraction' says UK minister
Plans for drug consumption rooms to get addicts off the streets have been called a "distraction" by the UK government minister for crime.
Kit Malthouse said the drug deaths crisis gripping Scotland demanded "a more assertive approach".
Glasgow's plan for a special facility to allow users to take their own drugs under medical supervision are backed by the Scottish government.
But drug legislation is reserved to the Westminster government.
It has refused to allow Glasgow City Council to pilot the scheme, which the council says would encourage the hundreds of users who inject heroin or cocaine on the city's streets to enter a safe and clean environment.
It is hoped the special room would encourage addicts into treatment, cut down on heroin needles on city streets and counter the spread of diseases such as HIV.
However, ahead of a UK-wide summit on drug deaths being held at Glasgow's SEC, Mr Malthouse told BBC Radio's Good Morning Scotland: "We have to recognise this is a complicated problem and there is no silver bullet solution.
"To me, drug consumption rooms are a bit of a distraction."
He said research from around the world showed "mixed" results for consumption rooms.
"They are quite small scale and the scale of the problem demands a much more assertive approach," he said.
Mr Malthouse called for more drug treatment alongside education and support.
He also said that more needed to be done to disrupt drug supplies, especially online and social media, using "intelligent enforcement".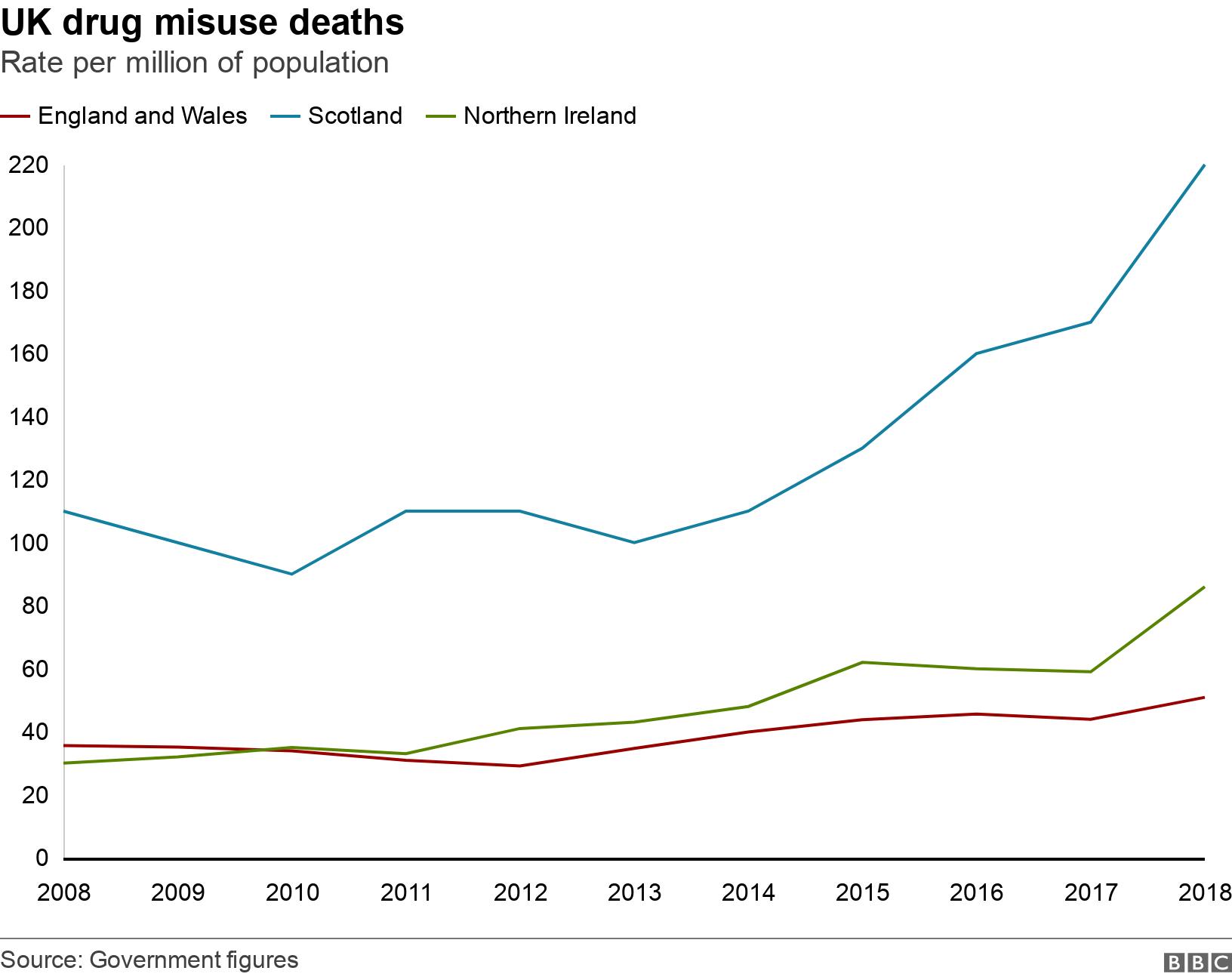 Almost 4,300 people died from drug misuse across the UK in 2018, a record figure, and the numbers for last year are expected to be just as high.
Deaths in England and Wales increased significantly but the rate remains much lower than in Scotland.
Scotland accounted for more than a quarter of UK drug deaths, which was far higher than its share of the population.
The latest figures showed an average of more than three people a day dying of drug overdoses in Scotland.
Scotland's Public Health Minister Joe FitzPatrick told the summit in Glasgow that an extra £20m in government funding would be made available for drug rehabilitation and mental health support for addicts.
He said he remained convinced that "a public health approach to this emergency is the right way forward" rather than trying to punish users for breaking the law.
Save lives
The minister added: "The UK government has made it clear at their summit that they are not willing to consider the bold, innovative approaches to this problem that I feel are needed.
"However, that doesn't mean we will stop fighting for what we believe is right and this extra investment will help us in our efforts to save lives."
It is more than three years since Glasgow City Council first proposed drug consumption rooms.
The leader of Glasgow City Council, Susan Aitken, said her city had the most drug deaths in the UK, 280 in 2018.
"This is a critical situation for our entire city - we are in the throes of a crisis and an emergency response is required," she said.
Ms Aitken called on the UK government to support new approaches, such as safe consumption rooms, in an attempt to get addicts off the streets.
Dr Saket Priyadarshi, from Glasgow Alcohol and Drug Recovery Services, said a drug consumption facility would be a good way to reach people with whom they have no contact to begin recovery.
He said it was urgently needed and could not see an argument against it.
Analysis by BBC Scotland social affairs correspondent Chris Clements
Both the UK and Scottish governments agree that tackling addiction and rising drug death levels should be a priority.
However, both remain at odds over how best to help some of the country's most vulnerable addicts.
At the heart of the Scottish government agenda is a public health approach, exemplified by the drastic reduction in drug deaths in Portugal.
It involves decriminalising possession of small amounts of drugs, wrap-around services and potentially the introduction of so-called "fix rooms" - facilities where addicts can inject drugs safely under supervision.
But to do this, says the Scottish government, it requires devolution of drug policy and changes to the Misuse of Drugs Act. The UK government's Home Office are reluctant.
As well as Tory unwillingness to appear "soft" on drugs, Home Office policing minister Kit Malthouse has already said divergence in drug policy north of the border would be encouraging for English gangs seeking more opportunity to flood Scottish towns with illegal drugs.
Recovery charities have expressed fears that these two summits could end up being another political point-scoring exercise. If that's the case, the ones losing out are the ones dying.