Scotland records coldest night of the year in Braemar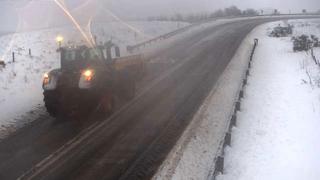 Scotland has recorded its coldest night of the year so far with a low of -10.2C at Braemar in Aberdeenshire.
There has also been heavy snow across parts of southern Scotland, making driving conditions difficult during the morning commute.
The Met Office has predicted accumulations of up to 8cm (3in) in some areas of southern Scotland.
It follows several days of weather-related disruption in Scotland, which began with Storm Ciara last weekend.
The stormy weather looks set to continue over the weekend, when the UK is expected to bear the brunt of Storm Dennis.
What's the latest forecast?
BBC Scotland's weather forecaster Gail McGrane said ice and frost was affecting the north of Scotland, with a band of rain, sleet and snow sweeping across the south.
Further "significant" falls of snow are expected across the southern uplands throughout the morning, especially on high level routes and the hills, she said.
Gritters were out on roads overnight, but police warned that untreated roads could be affected by ice.
The Met Office said the biggest snowfalls were likely to be on higher ground but some were possible at lower levels.
In Dumfries and Galloway, two primary schools - Dunscore and Hutton - have been shut because of the snow.
Police in Nithsdale have warned of poor conditions on the A75, with snow and ice affecting the road.
The wintry weather follows an amber warning for snow for much of Dumfries and Galloway and the Scottish Borders on Tuesday.
When will it end?
Scotland is subject to further Met Office yellow weather warnings over the next four days.
On Friday there is a warning that heavy rain and snow melt could lead to further travel disruption in the south of Scotland.
A larger swathe of southern and central Scotland is expected to be hit by strong winds and rain on Saturday.
And Storm Dennis will hit on Sunday, bringing very strong winds and transport disruption through until Monday morning.
It comes after significant disruption in Scotland this week, including the closure of the Queensferry Crossing across the Firth of Forth after ice fell from overhead cables on to eight cars. It reopened on Wednesday.
Severe weather
Preparing for severe weather: