Queensferry Crossing reopens to traffic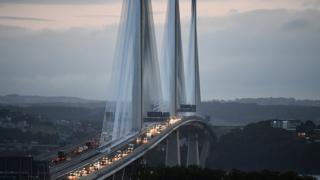 The Queensferry Crossing has reopened after being closed since Monday evening because of falling ice.
The bridge connecting Edinburgh and Fife was shut after ice falling from the cables damaged eight vehicles.
Amey, the bridge operators, said its engineers were now "confident" that the risk of further snow and ice build-up had passed.
It was the first time the bridge had been closed since it was opened in August 2017.
Mark Arndt, from Amey, said: "We thank drivers for their patience and understanding during this closure.
"Safety had to come first, however the data we have gathered has improved our understanding of the issue and will help us to improve predictions and refine operating procedures in future."
He said that engineers would continue monitor the bridge as wintry weather continued over the next few days.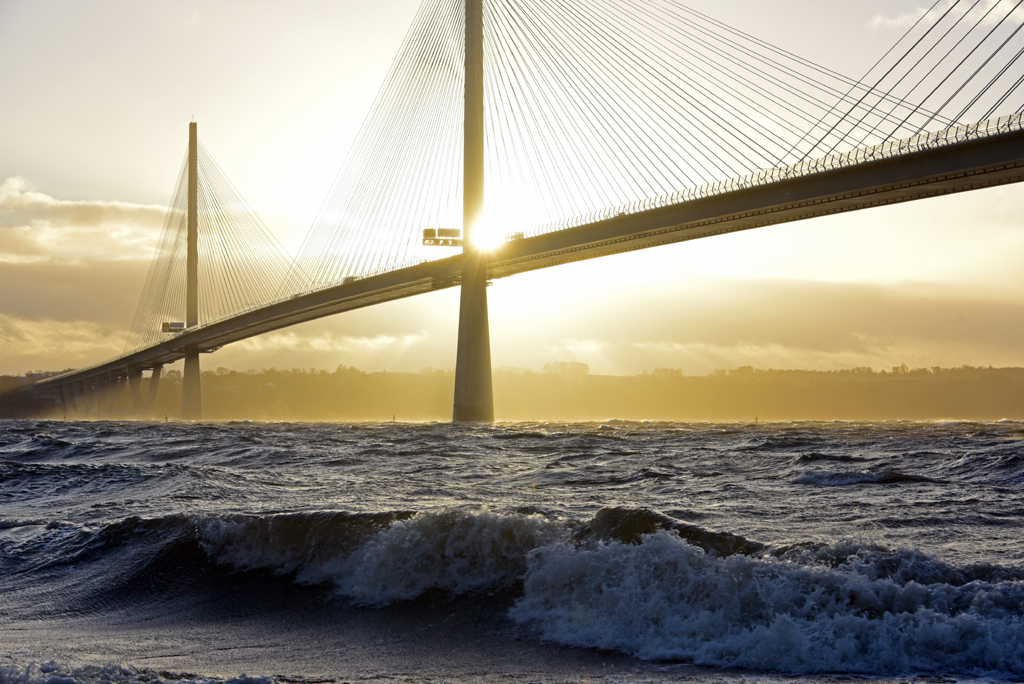 Getty Images
Queensferry Crossing
Key facts
2.7km span over Firth of Forth

207metres high

37,000km of cabling

24mvehicle journeys a year
Source: Scottish government
At least three car windscreens were smashed by falling ice and snow on Monday evening.
The southbound carriageway of the bridge was closed just before 18:00 on Monday after the reports of falling ice and was shut in both directions later that evening.
It reopened fully at 10:45 on Wednesday.
Mr Arndt said a "very specific" combination of wind direction, temperature and relative humidity had caused snow and ice to build up on the cables on Monday, making it "really challenging" to predict.
Three car windscreens were smashed by falling ice 11 months ago, but the bridge remained open.
Mr Arndt told BBC Radio Scotland's Good Morning Scotland programme that engineers had collected data in 2019 and this week which would help them predict the risk of similar conditions in the future.
Sensors which will help detect ice build-up are due to be installed on the bridge in the next few months.
Mr Arndt said Amey had been consulting with bridge operators around the world on ways ice could safely be removed from the structure once it was detected.
The Port Mann Bridge in Vancouver, Canada, suffers from a similar problem and uses chains sliding down the cables to remove ice.
But Mr Arndt said this might not work for the Queensferry Crossing.
"To release a chain down the cable here would damage the cables because of the way it's been designed.
"We've got over 70km [43 miles] of cable here and if it forms quickly you then have to get the chain back up - and if you're knocking ice off you would then have to close the bridge at the same time."
Other options include heating the cables, applying de-icer or coating the cables in material - though Mr Arndt said engineers would need to guard against the "unintended consequences" of any solution.
During the bridge closure, drivers were forced to take a 35-mile (56km) diversion over the Kincardine Bridge, leading to lengthy tailbacks.
The Forth Road Bridge (FRB) remained open for public transport, but Transport Scotland said it was not possible to divert general traffic on to it as it was "currently undergoing significant renovation work".
A spokesperson added: "Opening the FRB up to general traffic is likely to have resulted in increased congestion for all vehicles and leave the crossing vulnerable to lengthy delays as a result of any accidents or breakdowns. This would have a significant negative impact on journey times for public transport over the Forth.
"Following the recent closure of the Queensferry Crossing we will investigate the feasibility of reopening the Forth Road Bridge to general traffic under emergency circumstances, once the remaining works are complete and the contraflow is removed."