Coronavirus labs to begin testing in Scotland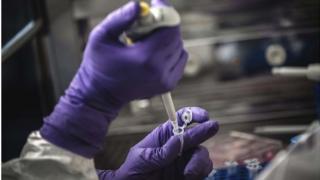 Two new testing facilities for the coronavirus have been created in Scotland.
Until now, all samples taken from people suspected of having the virus in Scotland had been sent to England.
Scotland's chief medical officer said laboratories at Glasgow Royal Infirmary and at the Royal Infirmary of Edinburgh would begin testing samples.
So far 57 people in Scotland have been tested for the virus with all confirmed as negative.
Despite the new facilities, if someone does test positive for the virus, a confirmatory test will be carried out at Public Health England's Colindale laboratory in London.
Dr Catherine Calderwood has warned that while there had not been any confirmed cases of the virus in Scotland, it was "highly likely" that a patient would test positive at some point.
The announcement came as it was confirmed that four more people have tested positive for the virus in the UK, bringing the total to eight.
The Department of Health in England described the coronavirus as a "serious and imminent threat" to public health.
Dr Calderwood told the BBC Radio Scotland's Good Morning Scotland programme that it was "just a matter of time" before a positive case of coronavirus was confirmed in Scotland.
"We are asking people who have returned from those areas of south-east Asia to be aware of symptoms - shortness of breath or a cough or a fever," she added. "And, if they have symptoms, to self-isolate and ring either a GP or NHS 24 and we will give instructions on what to do."
These areas include mainland China, Thailand, Japan, the Republic of Korea, Hong Kong, Taiwan, Singapore, Malaysia and Macao.
Dr Calderwood added: "This has been well publicised. There is a lot of information on NHS Inform and on the Health Protection Scotland website so we are confident that the message is getting to people to know what to do.
"This is a new virus in humans so we're learning about it all the time. We have an expert group from all across the UK which is meeting several times every week to give us the latest information.
"It is uncertain because we haven't seen this virus before, but we are learning about it all the time."
Quarantine powers strengthened
In addition to the eight people who have tested positive for coronavirus in the UK, a British man in Majorca and five Brits in France have also tested positive.
In China where the outbreak began, the death toll from the virus has risen to more than 900.
The UK government has announced new powers to keep people in quarantine to stop the spread of the virus.
Officials have told the BBC the announcement uses legal language to keep people who have travelled from Wuhan in quarantine in Milton Keynes and the Wirral, the BBC's health editor Hugh Pym said.
A Department of Health spokesman said: "We are strengthening our regulations so we can keep individuals in supported isolation for their own safety and if public health professionals consider they may be at risk of spreading the virus to other members of the public.
"This measure will rightly make it easier for health professionals to help keep people safe across the country."