Scotland's deer population 'should be cut'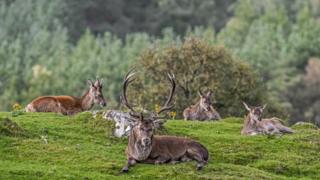 The number of deer in Scotland should be cut sharply, a report has recommended.
A review into the management of Scotland's deer said Highland populations should not exceed 10 per square kilometre.
This amounts to a halving of the population in some areas.
The review has recommended a series of measures, including abolishing the close season for males and reducing it for females.
The Scottish government ordered the review of deer management because of concerns of a population explosion.
In the Cairngorm National Park, the report says that current levels are at 15 to 20 or more of red deer per square kilometre across many areas of open hill land.
The Deer Working Group (DWG) said more culling should be encouraged to reduce the risk of Lyme Disease which can come from ticks that live on deer.
The report's authors also want to see a removal of the ban on night sights being used to hunt deer and a relaxation of the restrictions in place around night shooting.
Members of Scottish Environment Link - a network of environmental and recreation groups - have welcome the report, but the Association of Deer Management Groups said the proposals would have a "devastating effect" on an important rural industry for Scotland.
How are deer culled?
In Scotland, the annual cull of deer is carried out by shooting or by "live capture".
According to the Deer Working Group, more than 100,000 deer are shot each year, but only a small number are captured live.
Some campaigners have called for deer numbers to be controlled by contraceptive darts rather than shooting.
However, a report for the Deer Initiative, a partnership dedicated to managing deer numbers in England and Wales, found that the use of such darts would have a limited immediate impact on population levels.
The DWG argues that there should be "greater investment in improving deer management" as it would eventually result in "substantial savings" as the cost of fixing damage caused by deer was reduced.
"As Scottish Natural Heritage [SNH] has concluded, the available evidence indicates that if deer densities were lower across much of Scotland, the benefits arising from deer could be largely maintained and many of the costs reduced, leading to enhanced public benefits," the report says.
SNH is the public body responsible for implementing Scotland's deer legislation.
The working group recommended that SNH should be allocating a "significantly greater share of its resources" to the management of deer.
It should also adopt a more flexible approach to how deer are managed locally rather than relying on existing deer management groups.
Environmental organisations argue that these existing groups tend to be dominated by landowners heavily invested in sports shooting.
SNH said it was considering the recommendations of the report.
A spokesperson said: "We appreciate all the hard work behind this significant report, and look forward to working with the Scottish government and other stakeholders to improve the way deer are managed in Scotland."
Four species of wild deer occur in mainland Scotland - red and roe deer, which are native to Scotland, and fallow and sika deer, which are not native to Scotland.
The total population could be approaching one million, according to the working group.
Mike Daniels, head of land management at the John Muir Trust which aims to conserve wild places, praised the "courage and clarity" of the report, saying it confirmed that Scotland's existing deer management procedures needed "major reform".
"If we were designing a new system of deer management today in the context of climate change, biodiversity loss and the depopulation of fragile rural areas it would bear little resemblance to the 'traditional sporting estate' model found in large parts of the Highlands," he said.
Ramblers Scotland said it "broadly welcomed" the findings.
'Demonising' deer
The organisation's director, Brendan Paddy, said: "Many people will enjoy spotting deer while out walking in Scotland's hills, and deer also play an important role in our rural economy.
"However, deer numbers have been too high for many years, causing lasting damage to the environments in which we love to walk - as well as an-on over-reliance on ugly, access-restricting deer fencing."
But Richard Cooke, chairman of the Association of Deer Management Groups, said there was a danger of overlooking many other impacts on Scotland's environment if deer continued to be "demonised".
He added: "Sheep for example, despite heavy reductions, still outnumber deer two to one across the hills of northern Scotland and share their habitat with deer. Let's also not forget the significant value of deer as an asset not least in terms of tourism and as a healthy food source."
Mr Cooke also questioned calls for a "drastic cull", saying that an SNH report in November found that deer numbers were at an average of 9.3 per sq km across Scotland, which is less than the proposed maximum in the report.