Advice on universal credit in Scotland more than doubles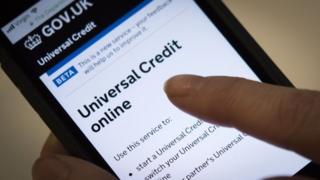 Advice issued on universal credit more than doubled in Scotland in the last year, according to new data.
Citizens Advice Scotland gave guidance 40,000 times in 2018/19, its state of the nation report shows.
It comes as the charity demands the next government helps with the cost of living, especially for low-income households.
Chief executive Derek Mitchell said people were also struggling with debt, social security and energy.
The report also showed the charity gave more than 100,000 pieces of advice issued in relation to debt.
Universal credit is being introduced in stages across the UK.
It was launched in 2010 to simplify the benefits system, but has proved controversial almost from the beginning.
More than 40,000 pieces of advice were issued in Scotland in relation to employment last year - with pay and entitlements the top concern.
The charity also made more than 13,000 referrals to food banks in 2019.
Overall, Citizens Advice Scotland helped 272,000 people with over 700,000 individual pieces of advice and released over £130m in financial gains.
'Boosting incomes'
Mr Mitchell added: "We're an independent and impartial charity but the data from our state of the nation report makes clear that the next UK government simply must have living standards at the heart of its agenda.
"Boosting people's incomes while dealing with rising costs must be a priority for policymakers - particularly with big challenges around cutting emissions in the future.
"People should know that their local CAB is there to help. We're for everyone and offer free, confidential, impartial advice."
Labour party leader Jeremy Corbyn has said a future Labour government would scrap universal credit - which merges six benefits into one payment.
He promised an interim benefit payment after two weeks, across the UK, to replace a five-week waiting period.
The Conservative government said Labour's plans were "reckless" and amounted to "political point-scoring", but acknowledged there was work to do to improve the system.
What is universal credit?
Universal credit is a benefit for working-age people, replacing six benefits and merging them into one payment.
It was designed to make claiming benefits simpler.
A single universal credit payment is paid directly into claimants' bank accounts to cover the benefits for which they are eligible.
Claimants then have to pay costs such as rent out of their universal credit payment - though there is a provision for people who are in rent arrears or have difficulty managing their money to have their rent paid directly to their landlord.
The latest available UK figures show that there were 2.3 million universal credit claimants as of 11 July. Around a third of claimants were in employment.