FlyLolo: Hundreds of holidays hit by cancelled flights from Glasgow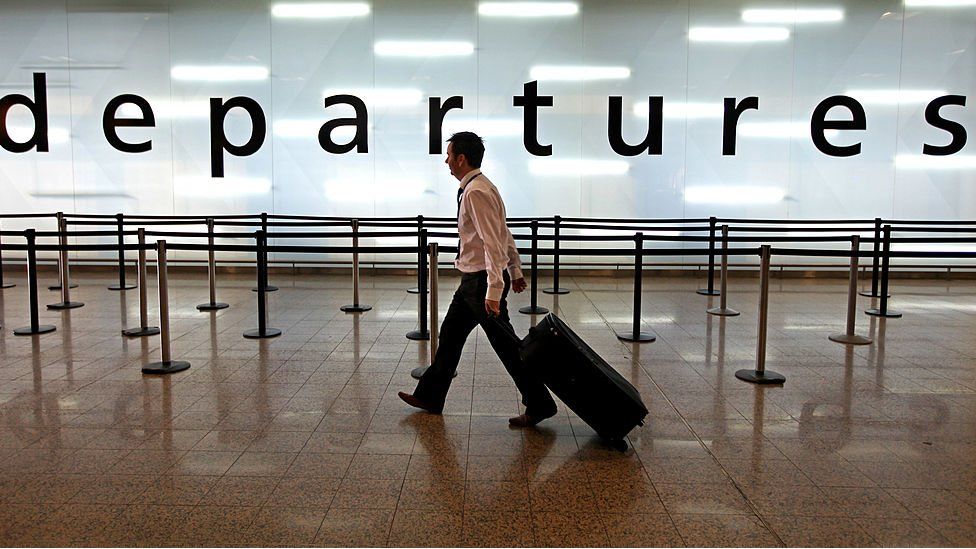 More than 900 people have had their travel plans disrupted after last-minute cancellation of FlyLolo flights from Glasgow Airport.
The airport said four flights - three to Tenerife and one to Lanzarote - with about 230 passengers booked on each would not go ahead.
The operator apologised but said it was unable to provide the aircraft.
At least one of the families affected had already been caught up in the Thomas Cook collapse.
Chris McDonald said they had been looking forward to their first overseas break in three years, but with all the extra expense he was now trying to book a caravan holiday instead.
"I've been pushing night shifts and working that extra bit harder thinking the holiday was something to look forward to, then this happens," he said.
Passengers whose flights have been cancelled are being urged to contact the flight operator directly.
They have been promised refunds within 10 working days but that may come too later for many families who were trying to get away for the October break holiday.
The flights affected included the 08:30 departure on Friday to Tenerife South Airport, as well as the 07:00 and 06:10 on Saturday departing to the same airport.
The 09:00 flight to Arrecife Airport in Lanzarote was also cancelled.
A Glasgow Airport spokesman said they had been made aware on Thursday evening that several FlyLoLo flights would not go ahead.
Absolutely gutted. Holiday to Tenerife cancelled because there are no flights. Only heard through media. @OntheBeachUK no communication whatsoever. Bags packed with nowhere to go😢@Flylolo useless.

— Irene (@sarahsophiejack) October 11, 2019
'My three-year-old still thinks we are going on a plane'
Chris McDonald was due to travel with his family to Tenerife on Friday, having originally booked £2,000 flights with Thomas Cook.
The trip was to be the first for Chris, his partner Danielle and their three children, in three years.
However, less than 12 hours before take-off, the 36-year-old was told their FlyLolo flight was cancelled.
He said: "I should be there by now. I spoke to Paul Dendle [FlyLolo's chief executive] who seems to be the only one dealing with this. He said they were having bother because they had upgraded their flights.
"I asked 'could you not have told us this and given us our money back'? If he'd given us this information last Friday we'd have had a better chance of booking something else."
He added: "They never gave us any chance to rectify this mess, they just kept us in the dark."
Chris says the stress of their recent travel woes has put a strain on the whole family.
On top of the pending refund from Thomas Cook, he says he's spent £1,700 on the FlyLolo flights and a non-refundable £1,500 stay in a hotel, plus airport transfers.
"I'm just disappointed - my three-year-old still thinks we're going on a plane, but my oldest has been asking why we just don't book another flight and all his friends are going," he said.
"We've been trying to book something else like a caravan holiday and we're struggling with that."
John Dempster, who booked his journey home from Tenerife with FlyLolo - said the company cancelled his flight at the last-minute forcing him to book an alternative flight to Manchester.
Mr Dempster said: "Fortunately we have a credit card and can do so, I feel more sorry for those missing out on their holiday.
"We have now been told we will receive a full refund within 10 working days. We have now booked to Manchester tomorrow and will be roughly £700 out of pocket."
Mr Dempster called on the authorities to investigate the company, adding: "I understand this is not the first time this has happened."
'Questionable' business plan
FlyLolo, which also operates from Gatwick, Manchester and Southampton, specialises in "peak season-only" flights during school holidays.
Travel journalist and broadcaster Simon Calder said this meant the business model was not sustainable.
He said: "Aviation experts say this whole business plan looks very questionable."
He continued: "There's a lot of problems getting the aircraft because of the Boeing 737 Max aircraft being grounded worldwide after two fatal crashes and the whole thing about peaks is they're at peak demand when there is little capacity available.
"Add to that, the fact that people would have been, had these flights taken off, flying to the Canaries.
"Those aircraft would then be flying back empty - that's an extremely costly operation and it's difficult to see how anybody can offer low fares on that basis."
Mr Calder also explained that while there were a number of planes stationed at airports after the collapse of Thomas Cook, they could not simply be brought in as an alternative.
He added: "It's just not as easy as saying lend us these planes and we'll pay you thousands of pounds because you need a whole lot of things lined up. The aircraft owners are not interested necessarily in such short-term offerings."
The company's chief executive Paul Dendle said the Glasgow flight cancellations stemmed from contractual issues with the aircraft providers.
He added: "All clients' monies are fully protected and held in a CAA Trust and refunds will take 10 working days.
"I have been working 18-hour days to try and resolve this issue, but alas it was impossible.
"I apologise for the disruption and disappointment caused, I sincerely feel for the affected clients."
Mr Dendle said the airline was working to notify all those affected.
FlyLolo can be contacted on 08444 720737.