Flooding closes West Coast mainline between England and Scotland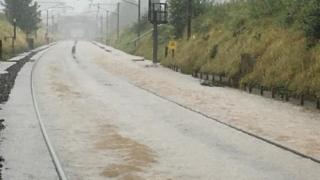 Travellers have been hit by widespread disruption as rail operators across the country battled hazards caused by wet and windy conditions.
Passengers on five trains were trapped for a time after heavy rain caused the temporary closure of the West Coast mainline between England and Scotland.
Network Rail said water levels had risen a foot above the track between Penrith North Lakes and Lockerbie.
They warned services were likely to be affected until the end of the day.
Network Rail said the line had reopened in both directions after water levels dropped, however, 5mph speed limits would be in place for a time.
It comes amid fresh Met Office warnings of rain and thunderstorms across the UK.
Elsewhere in south east England, trees have caused damage to various train lines resulting in speed restrictions being put in place.
There was disruption between Ashford International and Hastings; Guildford and Reading; Newbury and Westbury and between Ipswich and Lowestoft on Saturday morning.
More than 1,200 households have been left without power in Wales after windy weather caused disruption.
The worst affected area was around Ebbw Vale in Blaenau Gwent where almost 700 customers lost power and Glynneath in Neath Port Talbot where more than 300 homes were cut-off.
The Scottish Environment Protection Agency has also issued 14 flood alerts across Tayside, the east, west, central and southern Scotland.
In Dumfries and Galloway, a landslide resulted in the closure of the A7 south of Langholm. Drivers were being urged to avoid the area.
Heavy rain also caused flooding for road users on the A74 in Dumfriesshire.
The issue resulted in long delays for a time at Eaglesfield after two lanes were closed southbound on the route as a result of flooding.
In Dumfries and Galloway, residents in Castle Douglas were forced to use sandbags to keep flood water out of their homes.
Up to three inches of rain fell in some parts of the region during 12 hours of downpours.
In Renfrewshire, engineers worked to repair overhead wires that had left 200 passengers stranded on three trains on Friday.
The loss of power had impacted on services through Bishopton.
Network Rail said services were gradually being reintroduced to the line on Saturday after engineers worked through the night to reopen the tunnel between Langbank and Bishopton.
On Saturday railings came loose and a tree fell onto a black cab in Russell Square, central London.
Met Office meteorologist Greg Dewhurst said heavy rain and thunderstorms across northern England and Scotland would continue for the rest of the day, with further heavy rain forecast until about mid morning on Sunday.
The yellow weather warning across almost all of Scotland and northern England will come to an end at midnight, but a yellow rain warning will be in force until 10:00 on Sunday in the Glasgow area.
On Friday, organisers of cycling's Women's Tour of Scotland, taking place for the first time, were forced to abandon the first stage of the event - from Dundee to Dunfermline - due to "extreme weather conditions".
Stage two of the event - from Glasgow to Perth - went ahead as planned on Saturday.