Scottish exam results: Pass rate falls for Highers but rises for National 5s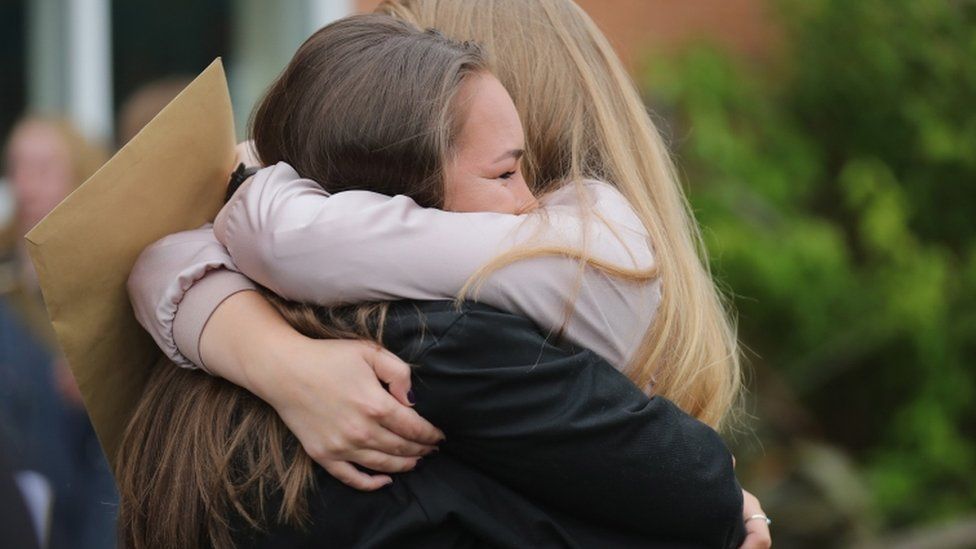 Pass rates have fallen for Highers but risen for National 5 qualifications as Scottish students receive their exam results.
More than 133,000 candidates were finding out their results on Tuesday, with 60,000 of them learning their grades by text and/or e-mail.
The Scottish Qualifications Authority has also revealed the overall pass rates for courses and qualifications.
Deputy First Minister John Swinney said the yearly variation was "expected".
A total of 185,914 pupils sat Higher exams this year. Of them, 138,972 (74.8%) achieved an A to C pass mark - down from 76.8% in 2018.
The number of students sitting Advanced Highers decreased from 24,331 to 23,460, and the pass rate fell from 80.5% to 79.4% over the last year.
Pass rates also fell among those who studied for National 2, National 3 and National 4 qualifications.
Among the 288,552 students who sat National 5 exams, the pass rate rose from 77.4% last year to 78.2% in 2019.
There was a 4.4% increase in passes for English and a 1.3% rise in passes for Maths at National 5.
What advice is available?
It will be open from 08:00 to 20:00 on Tuesday and Wednesday, then from 09:00 until 17:00 on weekdays until 14 August. It can be contacted on 0808 100 8000.
Many of the queries tend to be from young people who failed to meet their conditional offers from universities.
However, the helpline can also give advice to those whose marks were better than anticipated.
Children's charity Childline also has counsellors available to help pupils who are worried about their grades.
SQA chief executive Fiona Robertson said the body was encouraged by pupils achieving through a "wide variety" of routes.
She added: "I would like to congratulate each and every candidate who received results today.
"Qualifications play an important role in allowing young people to pursue their ambitions, whether that be continued education and training, or entering into employment."
Mr Swinney also welcomed the "strong set of results".
He said: "I am pleased to see an overall rise in the pass rate for National 5 with increases in passes for maths and English. At Higher level we have seen a welcome upturn in the collective number of passes for the sciences - something we have focused our efforts on for some time.
"Our learners now have a much wider range of choice than ever before, allowing them to find the route into employment or further education that is right for them.
"This year for the first time we saw the removal of unit assessments at Higher level, a move that was broadly supported by the education sector. If the pass rate only ever went up people would rightly question the robustness of our assessment system.
"We need to continue to ensure teachers have the right support in place to help them provide the best learning and teaching experiences for our young people."
Analysis by Jamie McIvor, BBC Scotland education correspondent
The fall in the Higher pass rate merits investigation, but at this stage care is needed to avoid presuming cause and effect.
In recent years, the Higher pass rate has normally been around 77% and inevitably the figures fluctuate.
There were small declines in 2017 and 2018 - which could almost be counted as marginal - but the 2% fall this year is obviously more significant.
Experts will want to ensure that any contributory factors are properly explored and understood.
The SQA tries to ensure standards are consistent so this is unlikely to be about exams becoming more difficult.
But there are other things that may well be examined. For instance:
Is it unhelpful to be teaching Highers and National 5s together in the same class, as sometimes happens?
Are problems filling vacancies in some schools and subject areas in part to blame?
Are all candidates sufficiently well prepared for the demands of a Higher course by the time they reach S5?
There may also be questions over whether candidates are being "taught to the test" too much, so they may find unfamiliar exam questions more of a challenge.
This year's drop does not mean the system is in crisis - next year's figure could well show a rebound.
But another significant fall would certainly set off alarm bells.
It is also worth noting that the 2015 pass rate of 79% for new Highers was exceptional and needs careful handling.
That year, both the new style Highers and their predecessors were available. Decisions by individual schools or teachers on which one to use may have skewed this figure.